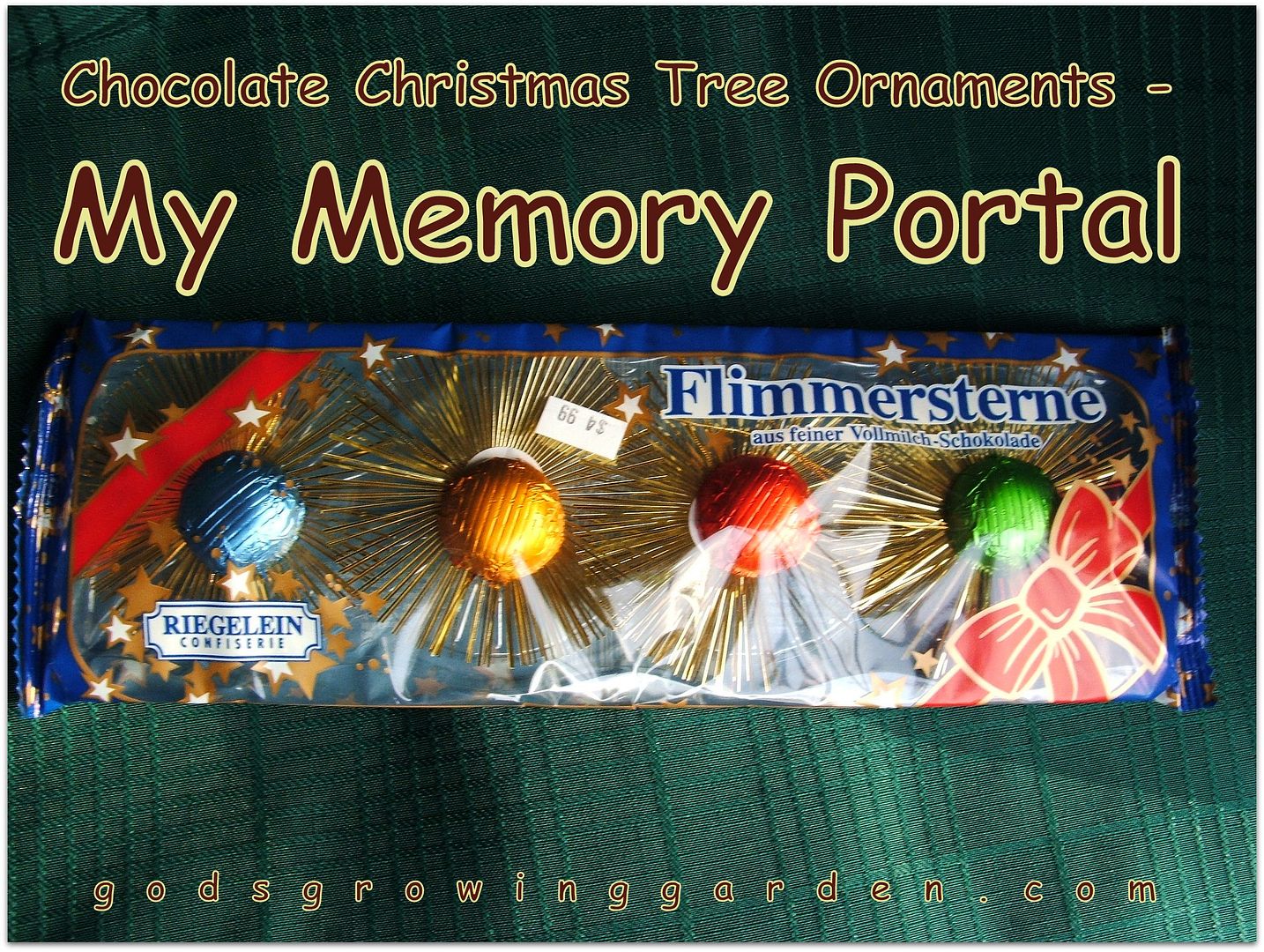 Chocolate Christmas Tree Ornaments - My Memory Portal
It was a few weeks before Christmas and I was on a hunt to find "Hirschhorn Salz" (an ingredient that I needed to make Pfeffernuesse Cookies). The only place in my area that has German items for sale is a little authentic German Meat Market called "Kilgus Meats."
As I entered the store I looked around and realized that it looked exactly the same as it did eight years earlier, which was the last time that I had been there. In the middle of the store is a double-sided shelf with non-meat items. As I walked around this shelf I passed German rye bread, Zwieback Crisps and some noodles before I found the baking area. There I found Vanilla Sugar, pudding mixes, yeast and as I was rummaging through these baking necessities I glanced to the left where the chocolate and cookies were located. Flimmersterne!! - chocolate Christmas Tree ornaments that always hung on my Omi & Opi's (or Oma & Opa - German for Grandma & Grandpa) Christmas Tree!! I had not seen or thought of these decorations in literally decades!! Tears suddenly began to well up in my eyes - I quickly shook them away and proceeded to take another turn around this middle shelf. As I glimpsed these chocolates a second time my eyes again flooded with tears - "I must have these!" I said out loud. I hurriedly purchased this Holiday Treat (even though they were $5!! Five Dollars!!!) and rapidly left the store.
A few days later I opened the bag from the Meat Market; looked at these ornaments and I was immediately transported to my childhood. There I sat on the Berber carpet in my Grandparent's living room watching TV. My grandfather was a carpenter and he created this cubbyhole in the bedroom closet that butted up against the living room and he transformed it into a TV cabinet of sorts. It was perfect for lounging on the floor and watching television because your neck wasn't strained from having to look up. Did I mention that this TV was in color?!! Just above the TV on the wooden shelves that he created was the tiny dinner bell. That was my job - to announce that dinner was ready. I would ring that bell and proclaim "Komm und essen"!! (which means "come and eat").
Christmas Eve dinner was always super special, actually any meal made by my grandmother was special because she was a master cook and baker (at least that's what I thought). I remember always making sure not to eat too quickly because if you had a blank spot on your plate my grandmother would fill it with more food whether you asked or not!! Don't get me wrong, as I said earlier we all loved her food but there is a limit to how much one can eat. We learned to hover over our plates in hopes that we would create a protective dome. However, somehow my grandmother always found a way to zoom in and drop another potato bomb on our plates - Nobody ever left her house hungry!
While we were sitting around the dining room table eating I recall looking to the left at the Christmas Tree and staring at the Flimmersterne (shiny stars). After dinner we all helped ourselves to a few sweet treats from the tree before eating Christmas cookies or "Coffee & Cake". Maybe it was the motion of looking to the left and seeing these treats from my past that transported me to an earlier time. Whatever the reason I am thankful for this opportunity to time travel with you.
ENJOY!!