PARABLE of the Sower - SEEDS ON ROCKY PLACES

"The Parable of the Sower" is about faith & unbelief. It's about sharing our faith with others and dealing with the trials and tribulations that come along with witnessing. We are all part of God's Growing Garden and the types of seeds that we are planting in His garden are: grace, mercy and forgiveness.
In this Parable there are 4 different ways to receive the gospel or 4

different sorts of people who come in contact with the gospel

. Today we will be focusing on the seeds sown on rocky places.
The seed is always the same: the gospel is the seed, which is the saving grace and mercy of Jesus Christ our Lord and Savior. The soil types are different. I was going to say that we are the soil but I think that the environment that we live in is the soil. Once this seed sprouts and a plant appears - this symbolizes our birth as a Christian. How that plant continues to grow is the type of believer that we become. Together we are all part of the garden which is the family of God.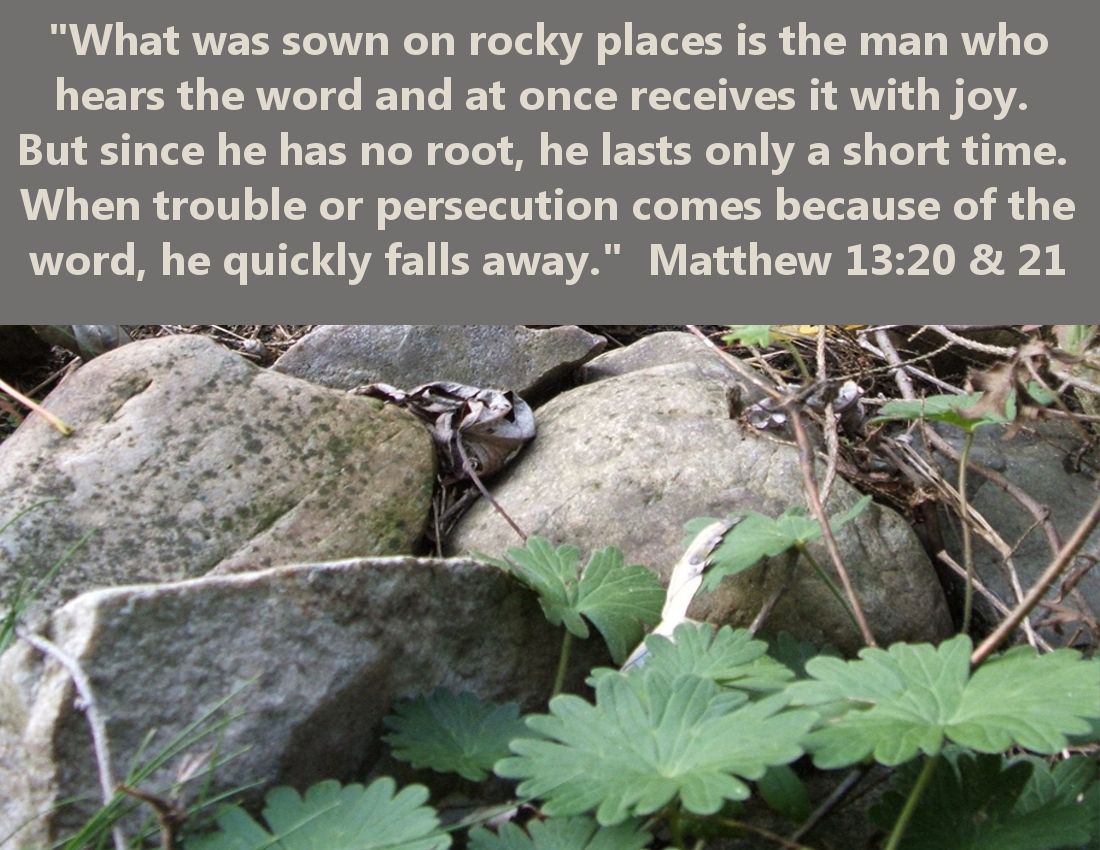 Explanation
ROCKY PLACES: When you are planting any kind of seed you must first consider 3 things:


-the soil type (sandy or clay)




-the soil location (part shade or full sun)




-the moisture content or water availability




In these Bible verses, the soil was good enough for the seed to germinate but as soon as the day started to heat up with the sun beating down - this little plant was scorched. Also, this new tender plant had no access to water and withered away.




This is like the type of person who hears God's Word and believes but when times get tough, this person withers back into their old life. When hardships happen, this type of person will turn their back on Jesus instead of enduring bad times by digging deep into God's Word and being refreshed by the Water of Life.





If you are in a rocky place - dig down deep into the Bible (God's living Word).
Through prayer - be refreshed daily.
Previous PARABLE posts:
PARABLE OF THE VINE - "The True Vine & the Father Gardener"
PARABLE OF THE VINE - "Be a Fruitful Branch Instead of a Withering Branch"
PARABLE OF THE VINE - "Producing Joyful Fruit - God's Love Remains Forever"
PARABLE OF THE VINE - "Everlasting Fruit & Everlasting Friends"
The Prodigal Son PARABLE - The Son Who Ran Away
The Prodigal Son PARABLE - The Son Who Stayed Home
PARABLE of The Good Samaritan - Love God First
PARABLE of the Good Samaritan - Love Others
PARABLE of the Sower - Along the Pathway
__________________________________________________________________
"Prayer Warriors United" is a google+ Community where Christians come together in prayer.
C
lick HERE to view or join this community
If you need prayer please fill out this