Fruit bearing: I was just thinking about how many different items that I make from one type of fruit - jelly, jam, juice, sauce, relish, frozen, dried .......the list goes on and on. What is made from fruit lasts longer than one season and through preservation that crop is still enjoyed and extended for months and months to come. I like to think of my actions as fruit. And that "fruit" affects other people. Our actions can also last and can benefit other people for months and months. For example: You might help out a neighbor who is going through some illness - maybe you bring over a few meals and maybe you drive your neighbor to a few doctor appointments. That neighbor might remember these actions for years to come.
There are also two types of fruit: healthy fruit or rotting fruit. Healthy fruit = good actions and rotting fruit = bad actions. Our "good fruit" glorifies God. Thinking about it that way certainly makes me strive to be more Christlike.
Jesus glorified the Father's love through his sacrifice on the cross and we strive to replicate the same pattern and glorify Jesus by living a Christ like life. When we "remain in God's love" we desire to be Christ-like, to do His will and to follow his commands. This is following that same pattern.
The meaning of "JOY" - "Intense and/or exultant happiness. The expression or manifestation of such feeling."
Our joy is dependant on the Master's joy - remember Jesus is the vine, we are the branches and our heavenly Father is the Master of the vine. The "sap" that runs through the vine is the joy that makes us fruitful.
It's an expression or manifestation - this "complete joy" is not something that we keep inside - we can't keep it bottled up. We must let this joy overflow and be shared with others.
Jesus is the example of love - Jesus is love. Jesus who died on the cross that we might have forgiveness is our motive. It's our motive to follow God's commands and to live for His glory because the power of God's love for all of us is so strong and true. We are so loved by God that we will want to "love each other as Jesus has loved us" - the ultimate command - it covers everything.

Lord help us as we share this Joy that is from you.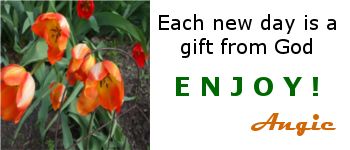 ______________________________
"Prayer Warriors United" is a google+ Community where Christians come together in prayer.
C
lick HERE to view or join this community
If you need prayer please fill out this