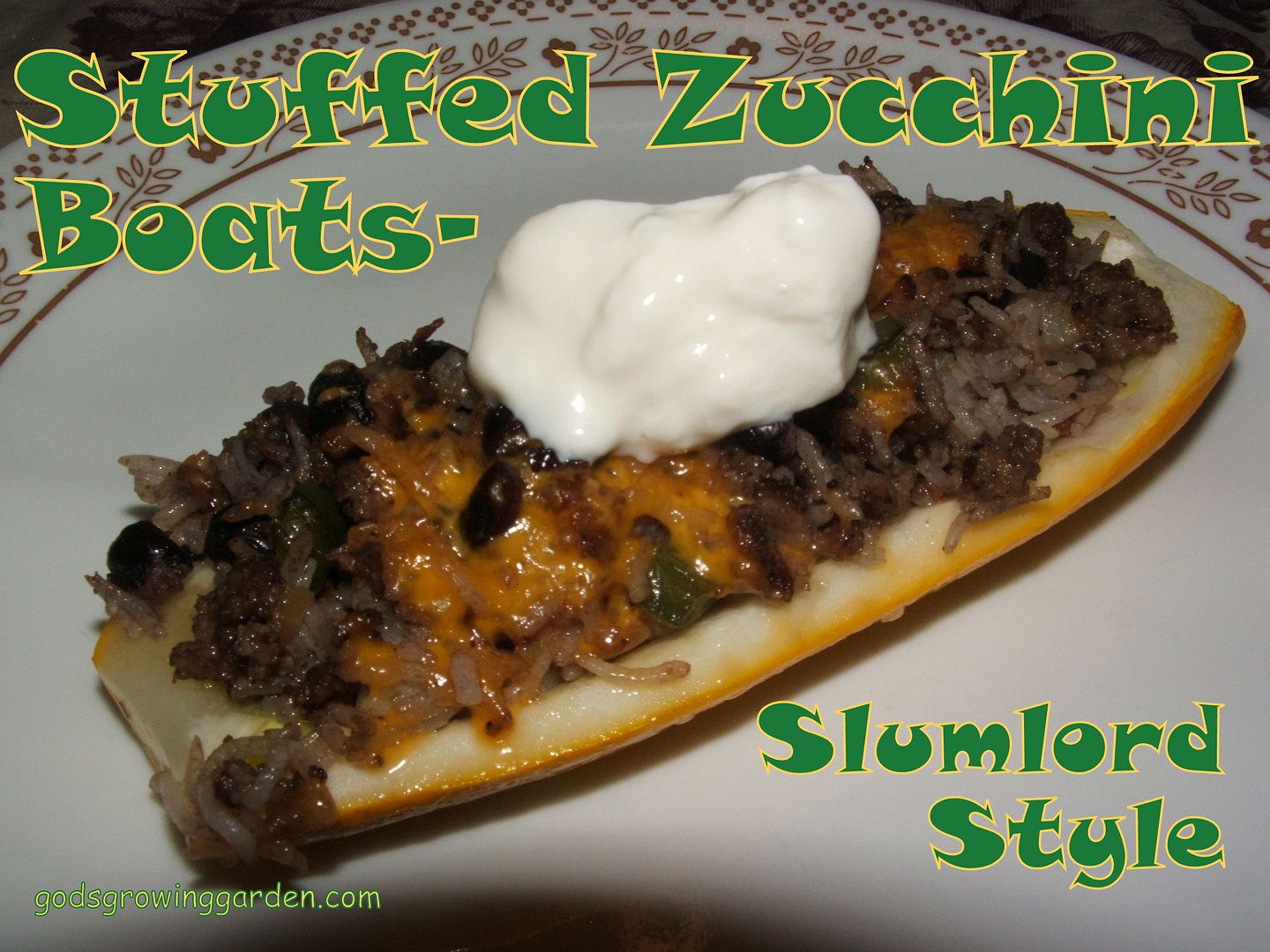 Stuffed Zucchini Boats - Slumlord Style
We have had a record breaking zucchini harvest this summer! So, I am sharing yet another one of my zucchini recipes. I need to explain why this is "Slumlord Style": when my husband & I were first married we rented an old rundown farmhouse that just happened to be beside the muskrat eating landlord's house. Of course, like any other couple just starting out we didn't have much money so our cheap go-to dinner was rice, beans & sausage. My husband named this dinner: "Slumlord". (on a side note - even though that house was rundown - we are very thankful that we were able to live there at that time).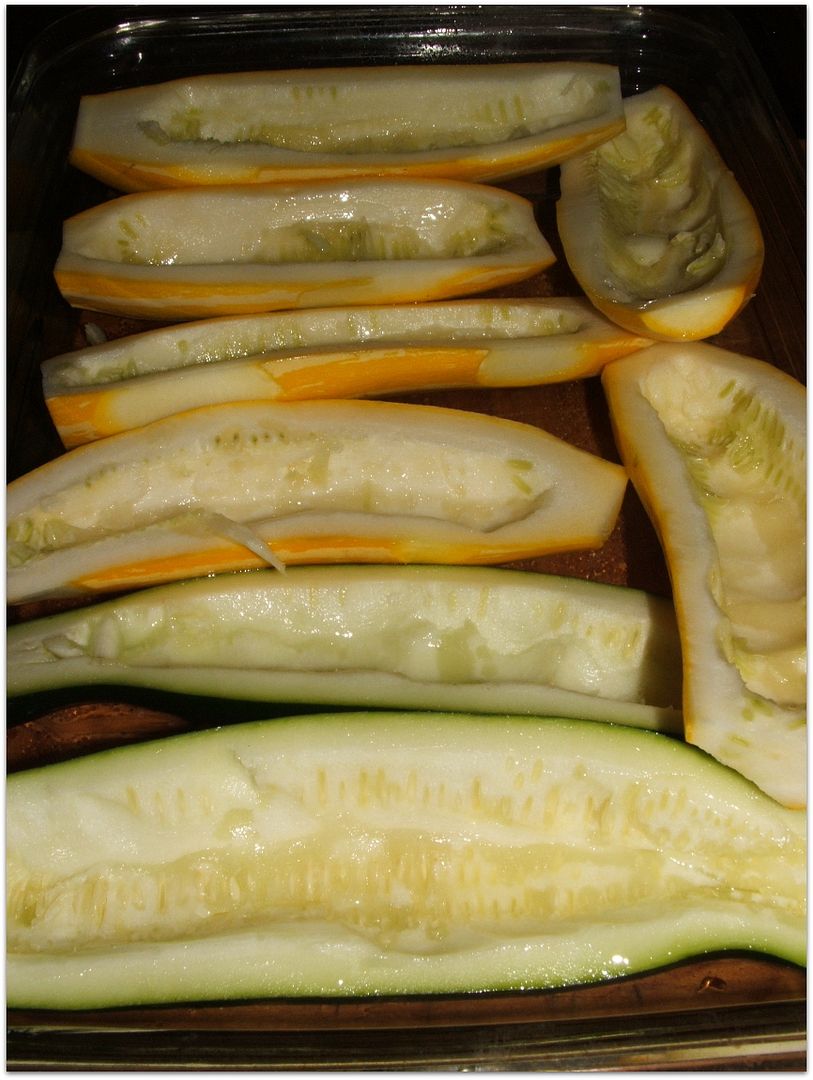 Printable Recipe
2 cups cooked/steamed rice
1 lb bulk spicy sausage (fried & fat drained) (the sausage needs to be spicy because you will not be adding any other spices)
1 can (15 oz) black beans or kidney beans (drained)
2 cups cheddar cheese (shredded)
1 medium onion (peeled & chopped)
1 large green bell pepper (washed, seeds removed & chopped)
8 to 10 medium sized zucchini (or use 4 zucchini & then save 1/2 of the filling)
sour cream or salsa as a topper (optional)
(Salt note - I did not add any salt because the sausage, beans & cheese are very salty - you may add salt later if desired)
Begin by preparing the zucchini (NOTE - the filling amount is enough for 8 zucchini but I only used 4 zucchini & saved half of the filling for a different meal) - remove the ends & discard/compost, cut each zucchini in half length wise and then scoop out the middle seedy sections with a melon baller (see pictures above) (SAVE THE SCOOPED OUT INSIDES FOR SMOOTHIES). Coat all zucchini boats with olive oil and place in a large sprayed/oiled pyrex baking dish - cover with foil & bake in a preheated 350 degree oven (for about 40 minutes).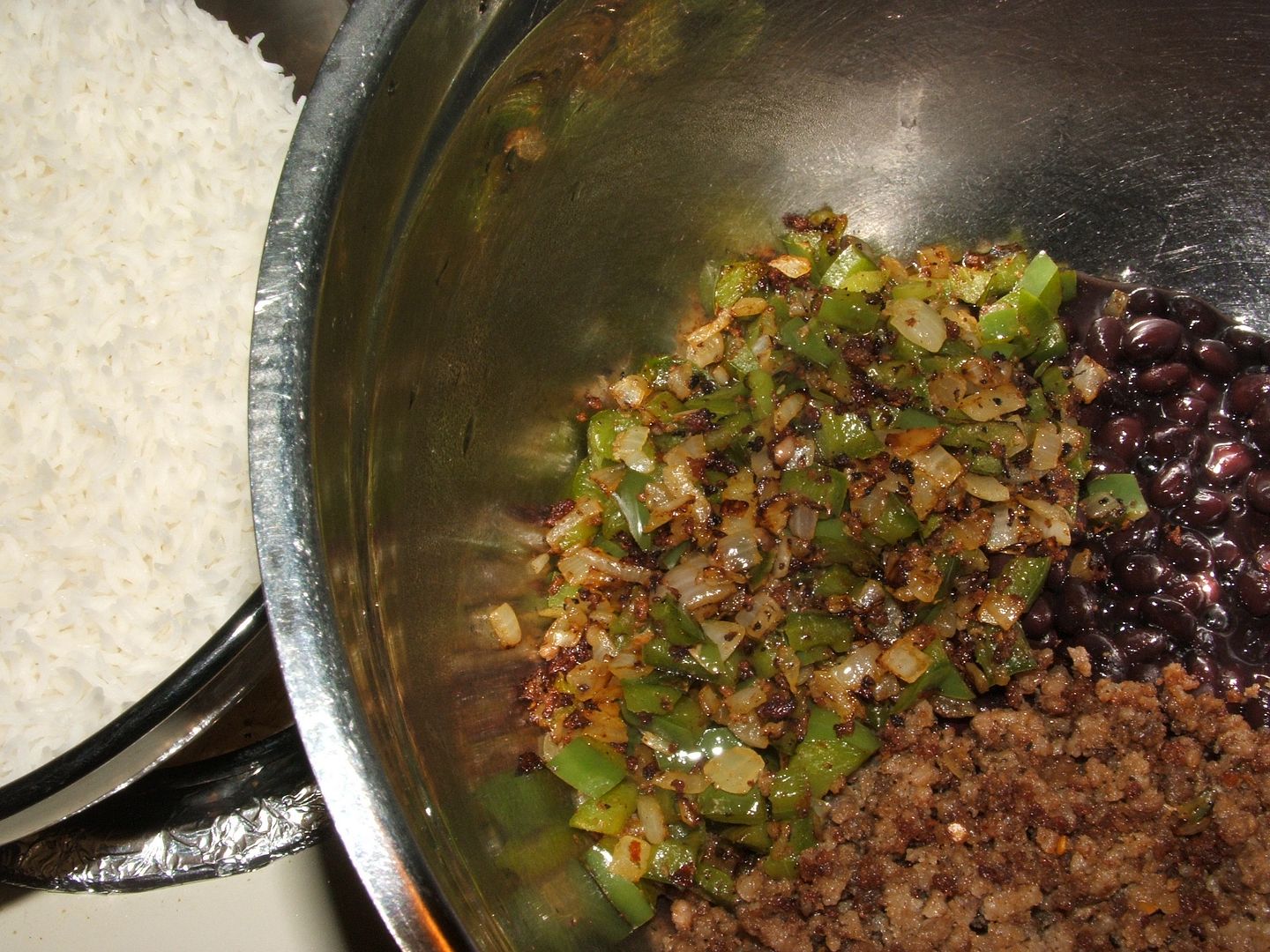 While the zucchini boats are baking - prepare the remaining ingredients see ingredients list (cook the rice, fry the sausage, drain the beans - etc). Prepare the onion & pepper (wash, chop etc - see ingredient list) & sauté in a little olive oil just until al dente. Now, in a large bowl mix together the already prepared/cooked/fried rice, sausage, beans, onion & pepper (see picture below).
Remove the zucchini from the oven and fill with the hot rice filling that you just finished preparing (again - if you are using 4 zucchini then you will have filling left over for a meal later on in the week). Top each filled zucchini boat with the shredded cheese (see picture below)
Bake in a preheated 425 degree oven for 10+ minutes (or until desired melted cheese is achieved) (IMPORTANT - the filling must be hot when you are stuffing the zucchini otherwise 10 minutes in the oven will not be enough time to warm the stuffing)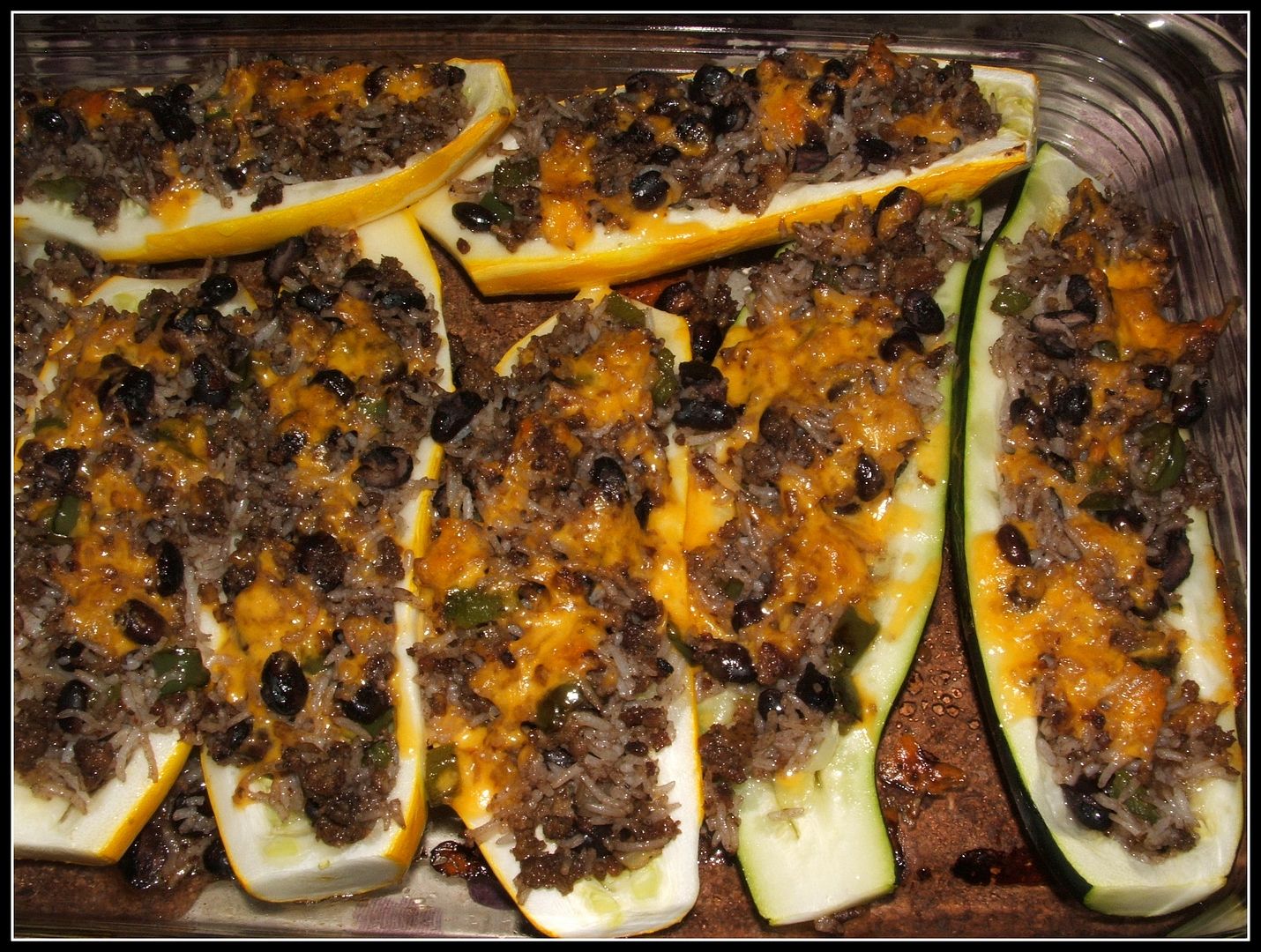 Serve immediately, dollop with sour cream or salsa & ENJOY!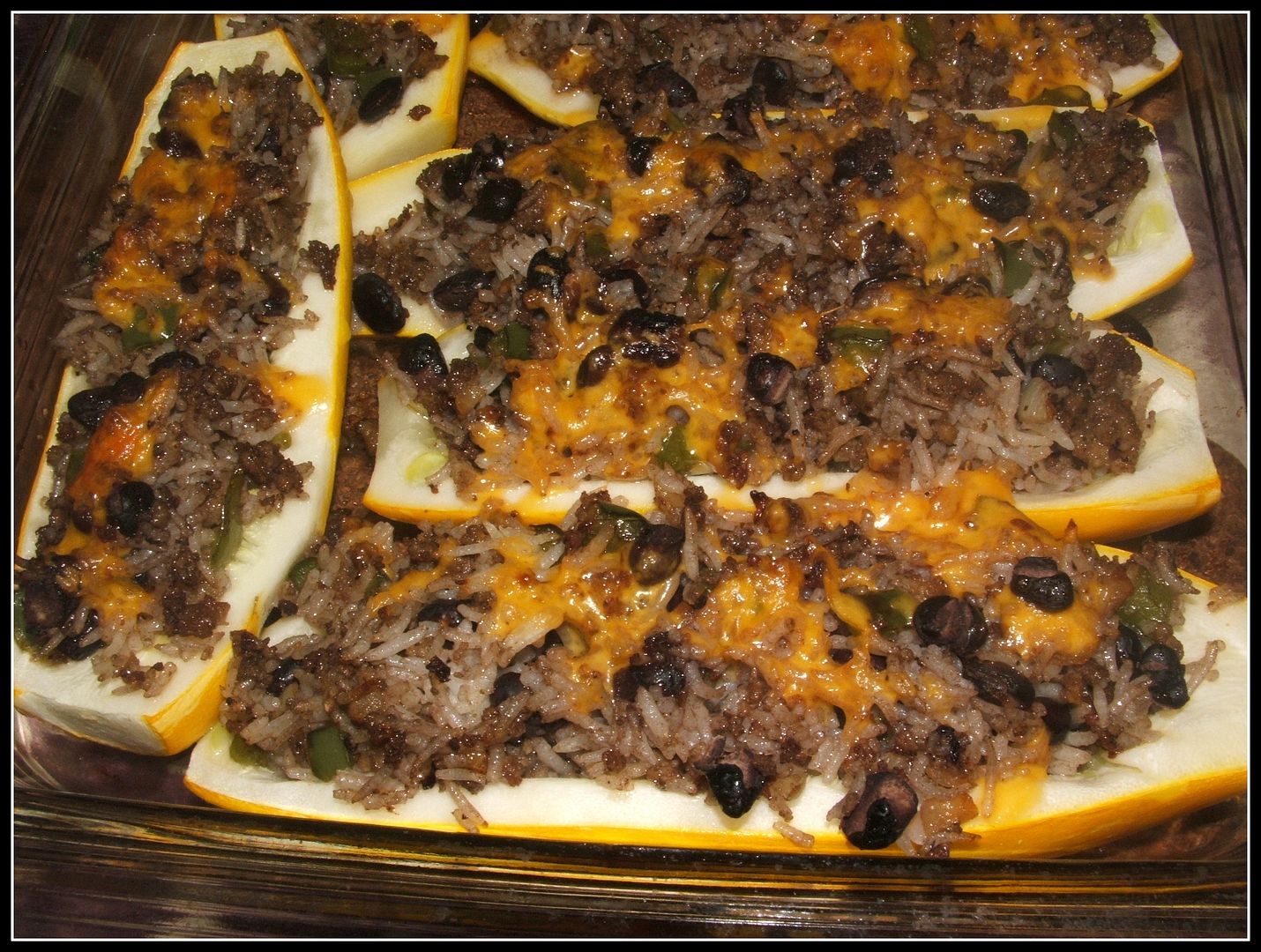 Copyright, Permissions & Disclaimer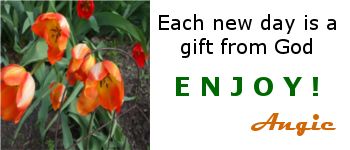 Linked to:
Tuesdays with a Twist
Tickle My Tastebuds
#WakeUpWednesdayLinky
Freedom Fridays
Weekend Retreat Link Party
No Rules Weekend Blog Party
Happiness is Homemade
What's For Dinner Sunday
_______________________________________________________________
Grow with us on the CLIMB blog hop!
It's a month long networking Linky!