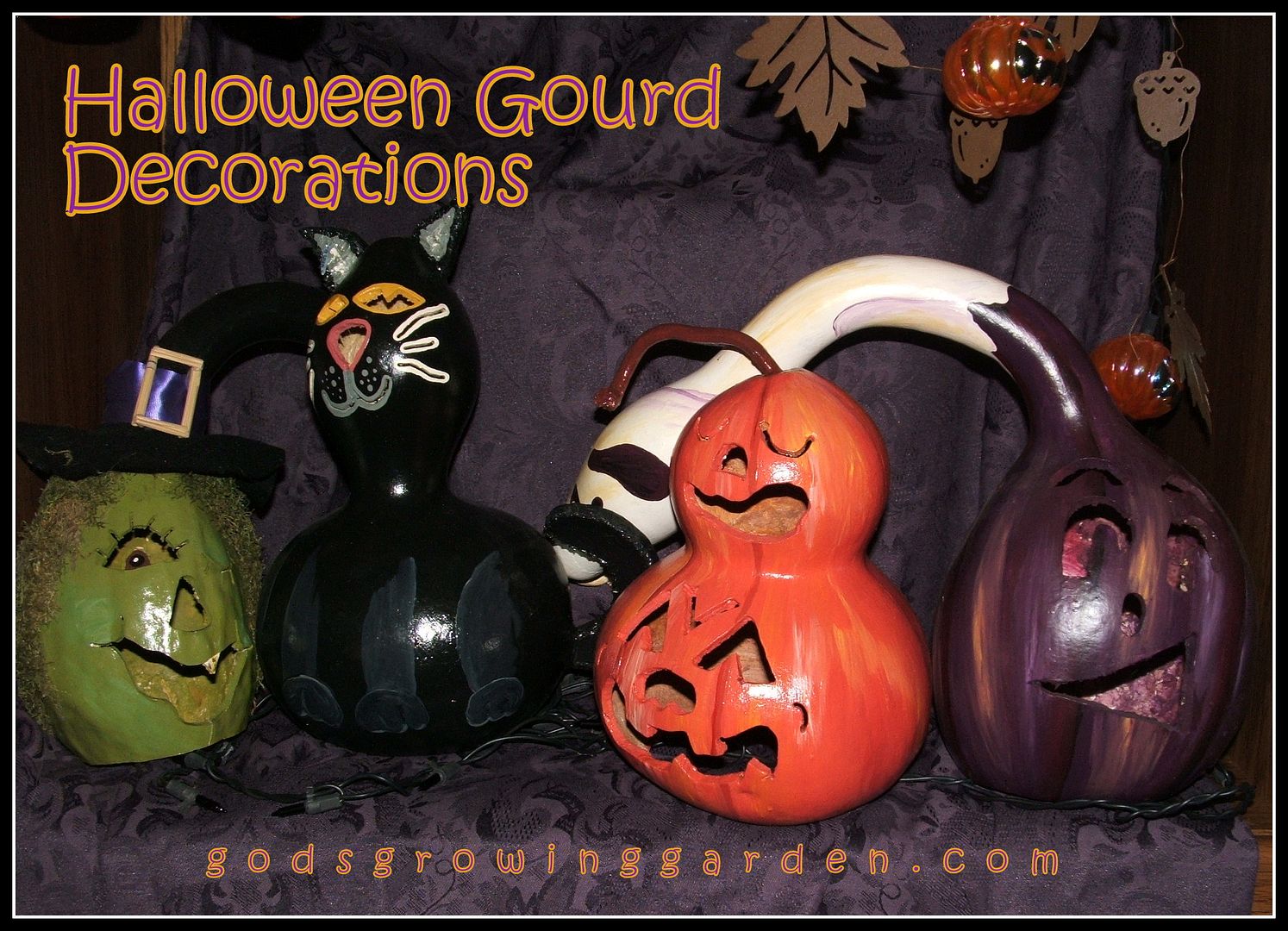 Halloween Gourd Decorations That Light Up
I have been growing gourds in my garden for decades now. Many of you may not know that I am a Gourd Artist as well as a Blogger. I create many unique items with gourds......(see the picture below of gourds growing in my garden). I have been making these "Gourd-o-lanterns"

©

for about 20 years.
As a Christian I do not believe in the "true" meaning of Halloween but I love the Autumn season & I love the deep dark colors of the Fall. I always try to make my "Gourd-o-lanterns"
©
goofy or funny as opposed to scary or nasty.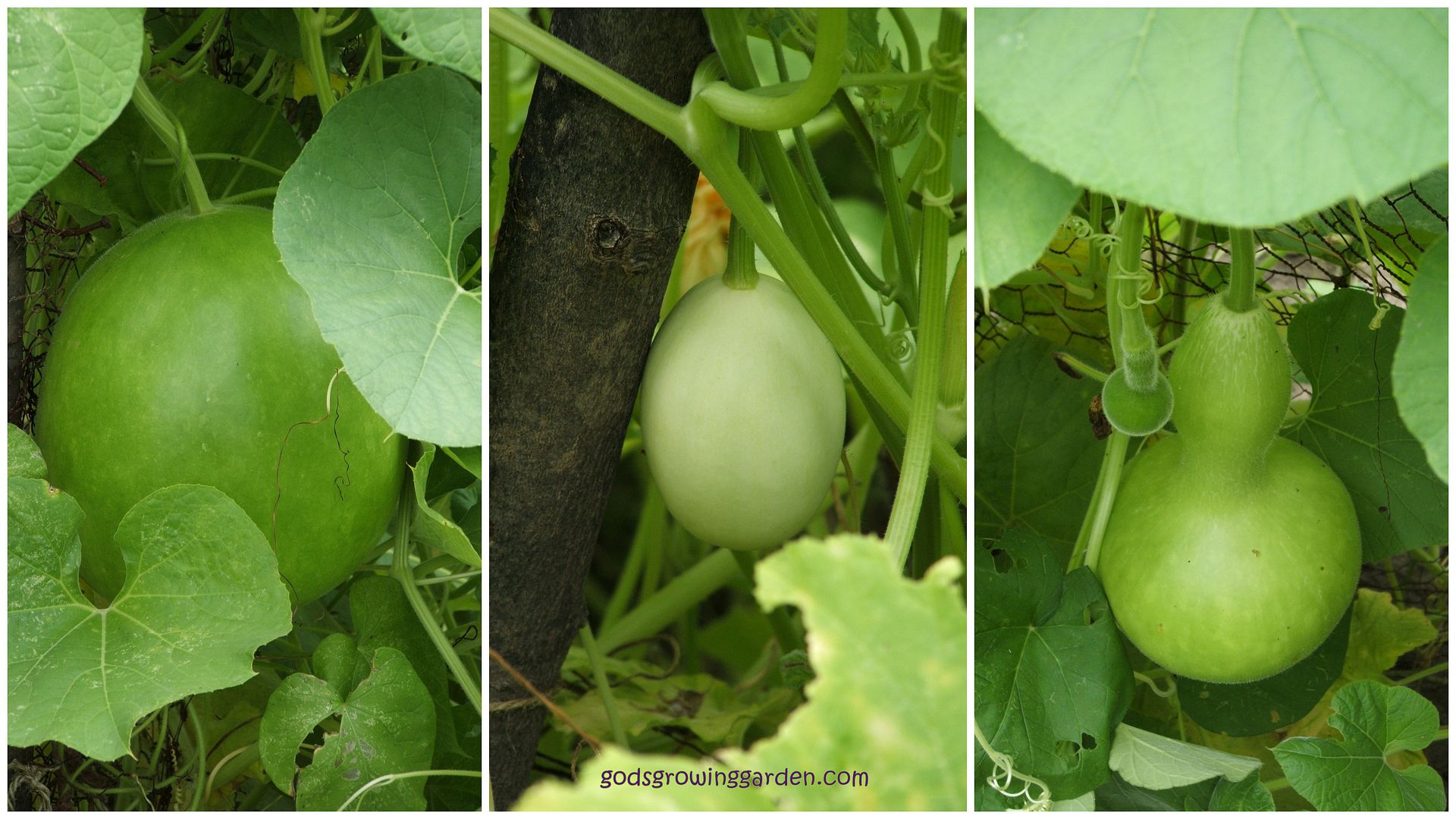 W
hat is a gourd-o-lantern you might ask?:
From first frost to all Hallows Eve the Gourd-o-lanterns are a welcome guest to any house harvest time.
NEVER put a candle inside
ONLY use low voltage lights – eg. Christmas tree light strand (bunched up and placed inside), night-light etc.
NEVER leave light plugged in/turned on while unattended
(all gourds were grown in my garden & all pictures & artwork that you see below are the sole creation of Angie Ouellette-Tower. See "copyright, permissions & disclaimer" at the end of this post)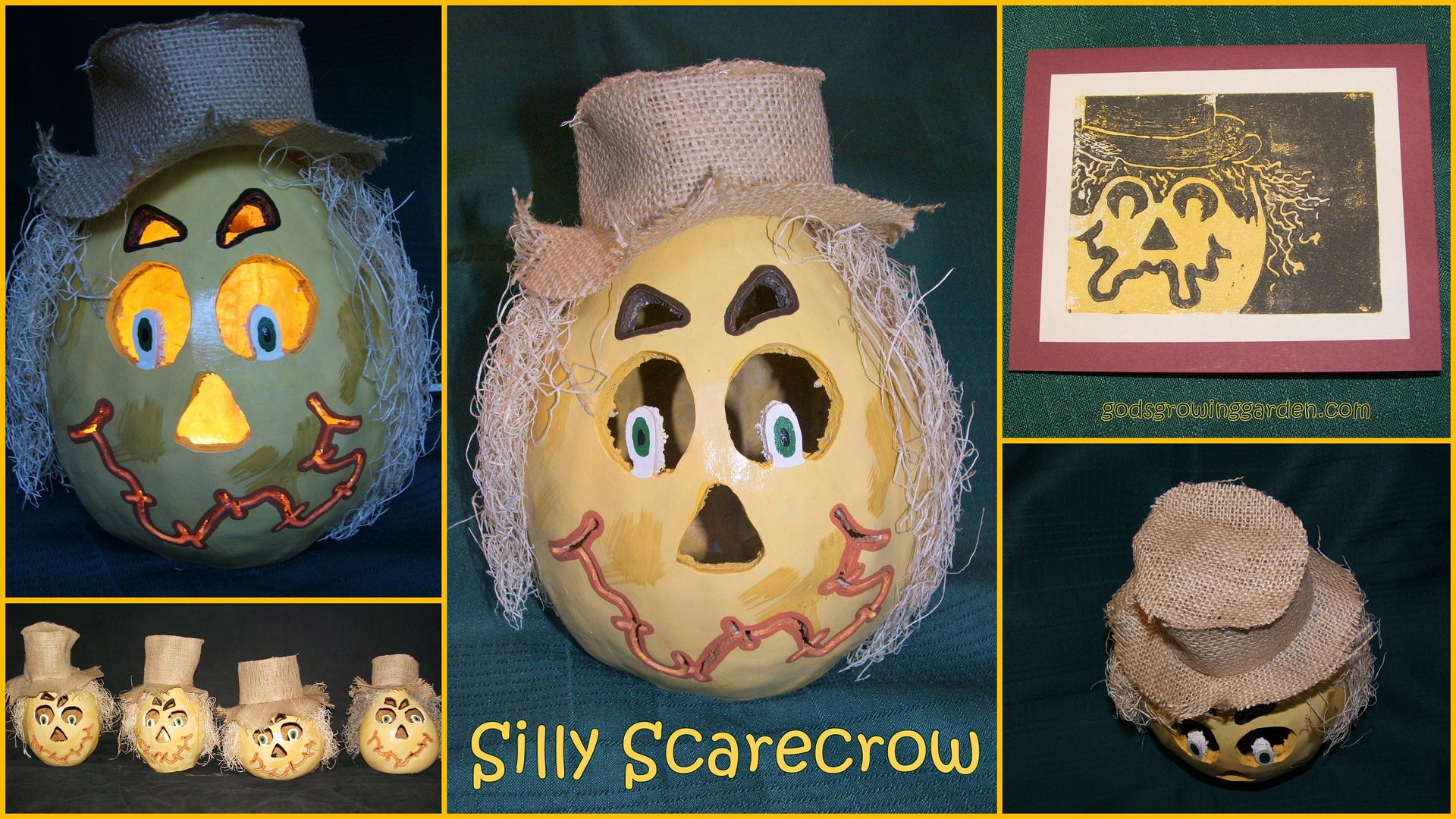 Silly Scarecrow
I think this scarecrow will make you laugh rather than frighten you. I even used his face as a model for a linoleum print card that I made (see above right in the collage). Click HERE to read about the history of scarecrows.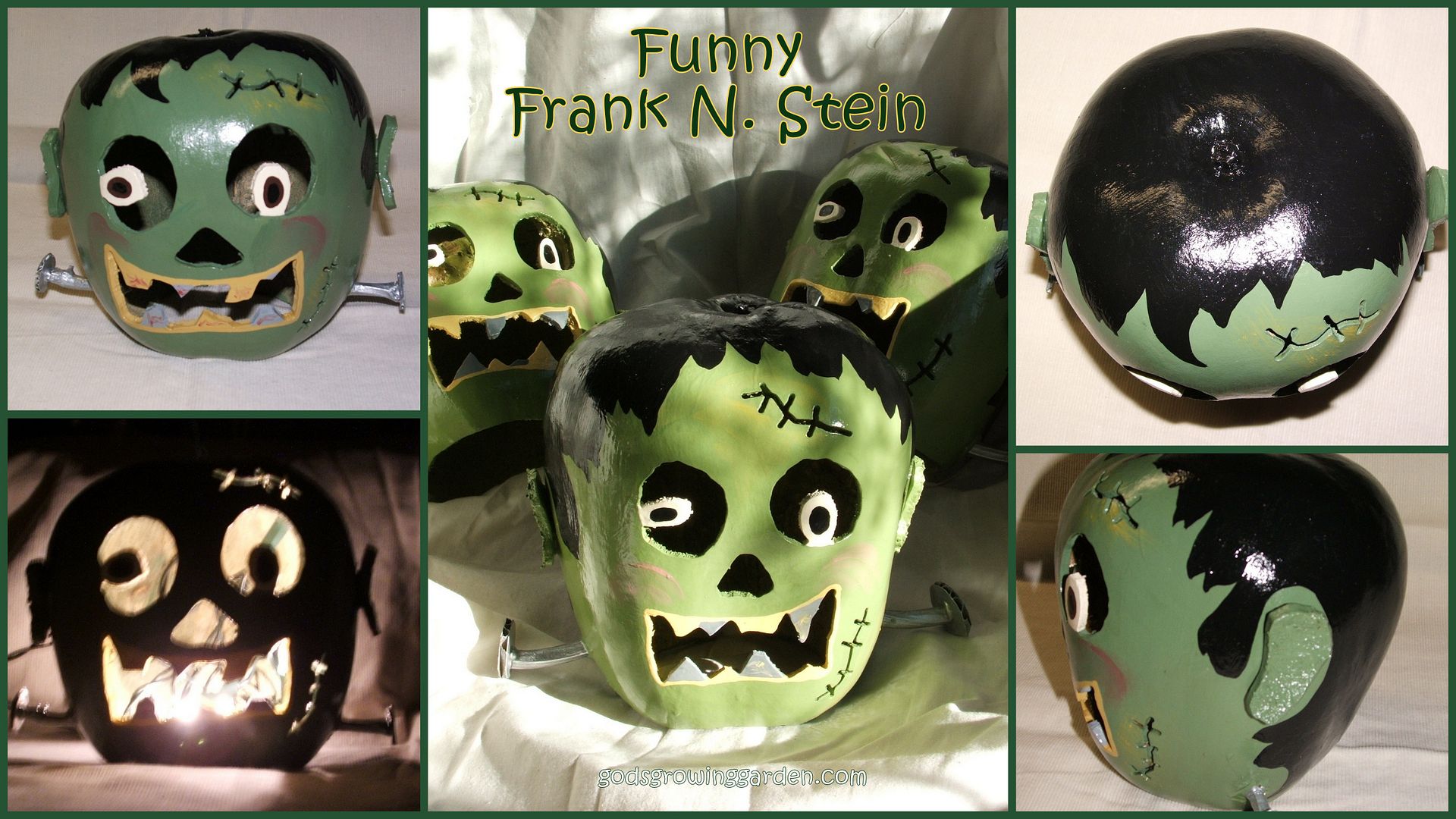 Funny Frank N. Stein
He is not to be confused with Frankenstein (hahaha) - His first name is Frank, middle initial "N." and last name Stein. He is a genetic clone and still has some stitching on his forehead and jaw, along with some "stem cell" bolts in his neck (the bolts are made from the gourd stem).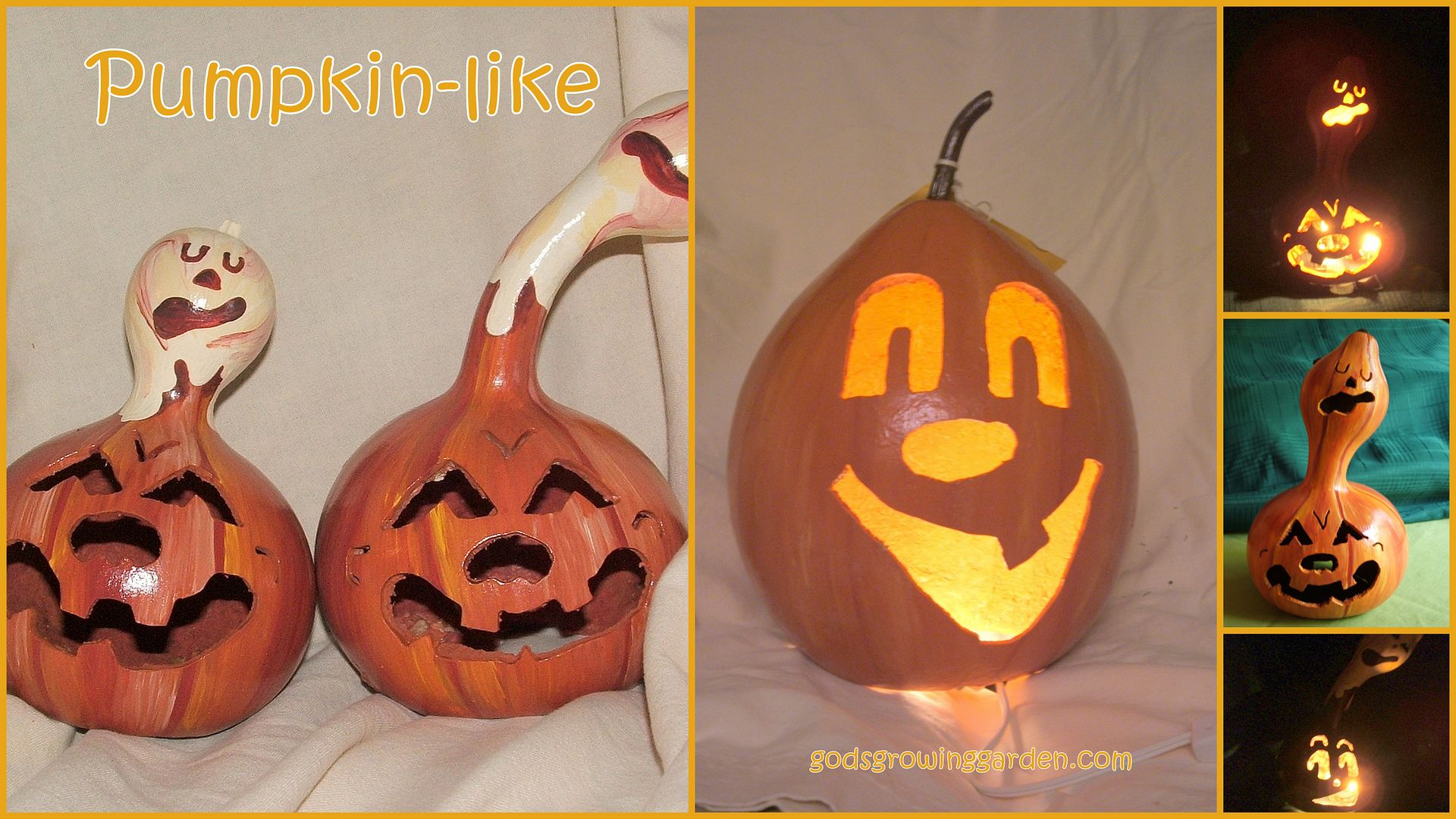 Pumpkin-like
Gourds grow in so many different sizes and shapes unlike the pumpkin shape - that's why I think this version of the gourd-o-lantern is the most popular. You can't grow a double decker pumpkin but I paint the bottle neck gourd to look like a pumpkin.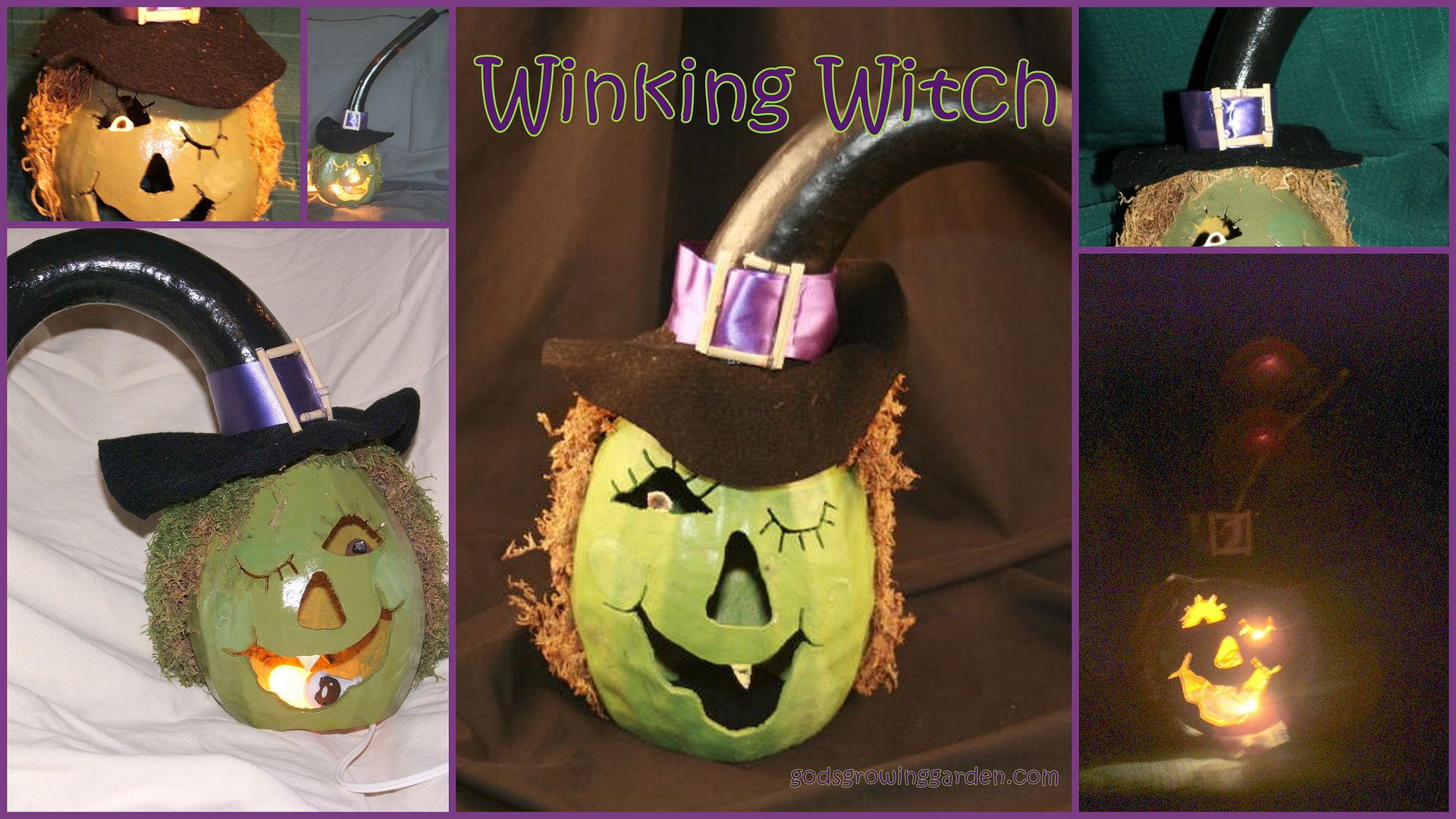 Winking Witch
I have no idea what she's winking about but I think that her single tooth just adds to her smiling charm. She has moss hair and a Halloween purple buckle on her hat.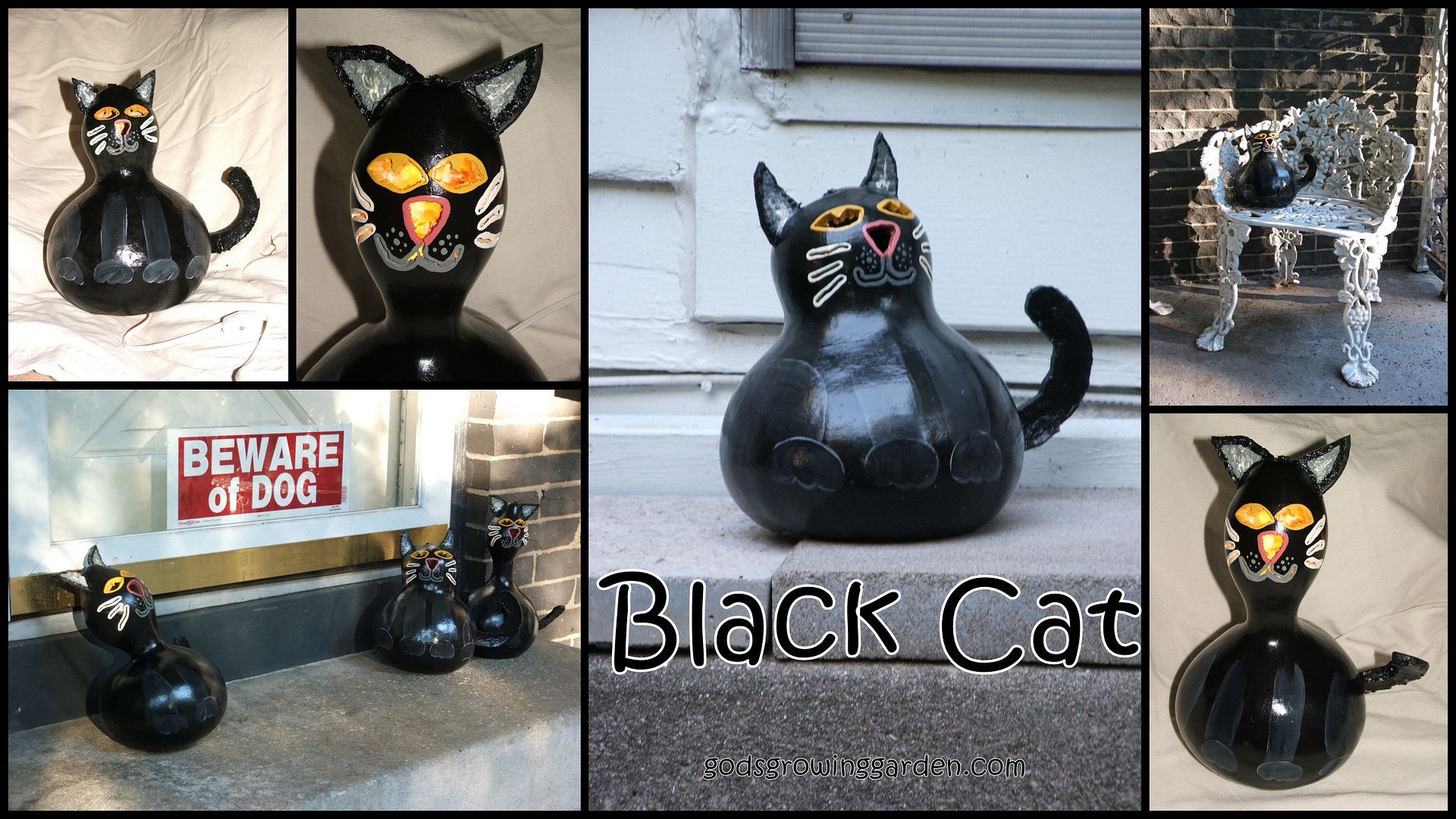 Black Cat
I grew up with cats as pets and I always thought it was silly that such superstitions exist about a black cat - that's why I researched that superstition a few years ago in a blog post (click HERE to read that post).
ENJOY this Autumn season!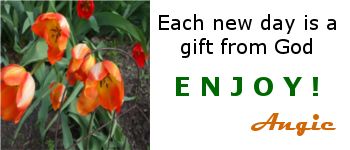 This post was featured on:
Stone Cottage Adventures
Thursday Favorite Things
Linked to:
Thursday Favorite Things
Friday Features Linky Party
Pretty Pintastic Party 177
Pin Junkie Pin Party
You're the STAR
Happiness is Homemade
Over the Moon Link Party
Lou Lou Girls
Oh My Heartsie Girls Wonderful Wednesday
Tuesdays with a Twist
Wonderful Wednesday Blog Hop
Home Matters Linky Party #158
Happy Fall Link Party
___________________________________________________________________
(Checkout this month's wonderful Sponsor!)
Cynthia from "ShorelineDesigned"
Handmade one-of-a-kind jewelry & beads made from beautiful beach stones from the Great Lakes Shoreline.
Travel along the shoreline with Cynthia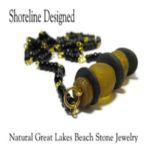 (Please click on the ad above to view her shop)