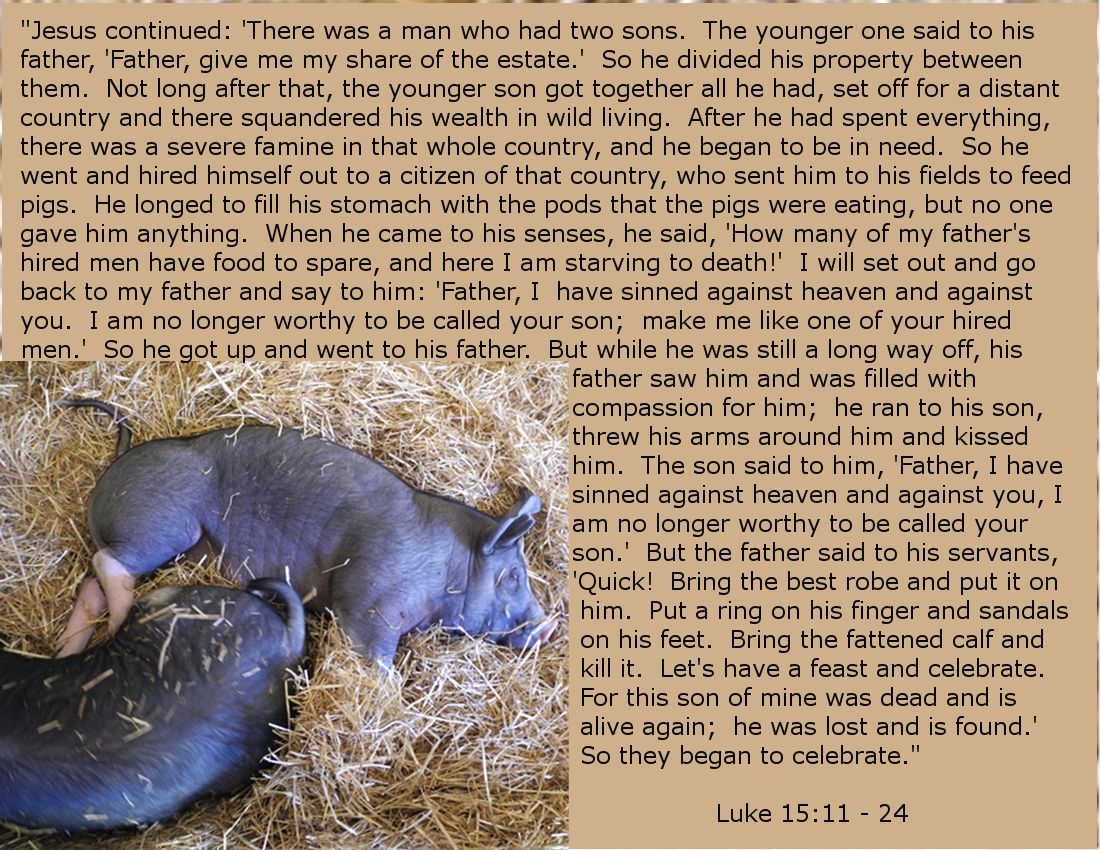 PARABLES - The Son Who Ran Away (The Prodigal Son)
This is an amazing illustration and so true in our modern society.
Have you ever seen a pig in real life? - I'll admit that piglets are very cute but have you ever seen them eat? And have you ever seen the slop that they eat? Words can't describe what a mess they create, plus the sounds that they make while eating - YUK! Just imagine being so low in life that you desire the food that pigs eat - that is the lowest of low. The youngest son in this parable found himself in that exact situation.
How many times in our society have you heard of a wealthy celebrity squandering all of their money only to become destitute? - I can't even count how many times I've heard of that happening (OK - not literally living with the pigs but still similar to this parable).
I believe that this parable symbolizes our spiritual life and that we all must come to this lowly point in our soul before we realize that Jesus is the answer and the only way! Not only must we realize this but we must go to our Heavenly Father and confess our sins - just as the youngest son did in this parable. Notice in this parable: the son first said to himself "I will say to my father I have sinned against heaven and against you." Then he had to act and go to his father and then when he saw his father in person - he again repeated to him directly "Father, I have sinned against heaven and against you." First came the decision then came the action.
It's the same in our personal life - we must first make the decision to follow Jesus and then pray and ask our Heavenly Father to forgive our sins.
I also find if very interesting that the father in this parable was looking for his son - "But while he was still a long way off, his father saw him and was filled with compassion for him; he ran to his son, threw his arms around him and kissed him" (I think that is my favorite line in this scripture). The father had never given up hope that his son would return home. He was always searching for him and saw him long before the son reached his father's house.
Coming to the Truth can be very difficult but in the end the "Truth will set you free." Our Heavenly Father has prepared a heavenly celebration for us - all we have to do is go to God in prayer and ask for forgiveness.
There is a Celestial Celebration when just one person accepts God's gift of forgiveness
(read "It Only Takes One" )
Copyright, Permissions& Disclaimer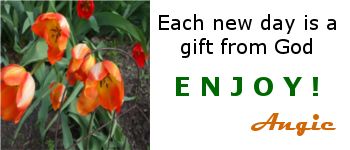 Previous PARABLE posts:
PARABLE OF THE VINE - "The True Vine & the Father Gardener"
PARABLE OF THE VINE - "Be a Fruitful Branch Instead of a Withering Branch"
PARABLE OF THE VINE - "Producing Joyful Fruit - God's Love Remains Forever"
PARABLE OF THE VINE - "Everlasting Fruit & Everlasting Friends"
Linked to:
Happiness is Homemade
Over the Moon Link Party
Lou Lou Girls Fabulous Party
You're the STAR
Oh My Heartsie Girls Wonderful Wednesday
Wonderful Wednesday Blog Hop
Friday Feature Linky Party
Pretty Pintastic Party 180
______________________________
"Prayer Warriors United" is a google+ Community where Christians come together in prayer.
click HERE to view or join this community
If you need prayer please fill out this