Recipe for the Christian Life - PERSEVERANCE
Today is the fifth post in the series on growing in our Christian Walk. Developing a Christian life is kind of like baking a recipe - good ingredients create a perfect treat. Adding good characteristics to our faith produces good Christians.
If you recall, a few months ago we started with an empty mixing bowl - our FAITH. And then we've been adding to our faith, we combined GOODNESS , KNOWLEDGE and SELF-CONTROL.
Today we are going to add in PERSEVERANCE.
It's always good to start with the very basic definition of "perseverance" (from the online dictionary):
perseverance - persistence in doing something despite difficulty, opposition or delay in achieving success. Determination, steadfastness, commitment, resolve, endurance.
We will focus on two main types of hardship:
1. When God is disciplining us for sin we committed.
2. When God is changing things to fit into His future plan.
"
My son, do not make light of the Lord's discipline,
and do not lose heart when he rebukes you,
because the Lord disciplines the one he loves,
and he chastens everyone he accepts as his son."
Endure hardship as discipline; God is treating you as his children. For what children are not disciplined by their father?
"
(Hebrews 12:5-7)
When God is disciplining us for sin we committed.
When we know that we have sinned and ask for forgiveness for that sin, there will still be consequences because of that wrongdoing. We might have to endure difficult times while we change and correct our sinful ways.
Then, there will be times when we don't realize that we are sinning. God might convict our hearts, change things in our life until we realize what we have done. Sometimes, God might work through a fellow Christian to confront us about our sin. This second example, I feel, is the more difficult one to persevere because you first must admit a wrong that you didn't realize you were committing and that after that realization you must change your ways (this is a two-fold endurance).
"
Many are the plans in a person's heart,
but it is the Lord's purpose that prevails.
"
(Proverbs 19:21)
When God is changing things to fit into His future plan.
Enduring this type of trial can be very frustrating. Often, we believe that the desire/plan that we feel in our heart is from God. However, if life circumstances keeps sending us roadblocks, then through prayer and meditation on God's Word (The Bible) we might realize that our Lord is sending us in a totally different direction. We must persevere through the new change and have patience through waiting for God's timing.
Although, maybe that desire/plan in your heart is God's Will, but the timing is not right.
Getting to a destination might require going through bumpy, pothole inundated and muddy patches in order to finally reach the goal.
PERSEVERANCE is a vital ingredient in the recipe for the Christian life.
Over the next few weeks we will continue adding to the GOODNESS, KNOWLEDGE, SELF-CONTROL & PERSEVERANCE in our faith (from 2 Peter 1:3-11).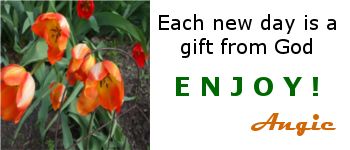 _____________________________________________________________________
Take Up The THANKFULNESS Challenge!
I challenge you to thank God for something everyday for one year! Either write it down in a diary OR share with us on a blog. If you have a blog & would like to share your THANKFULNESS posts with us, then please fill out this form:
365 Days of Being THANKFUL form - click HERE
and you will be added to the THANKFULNESS page.