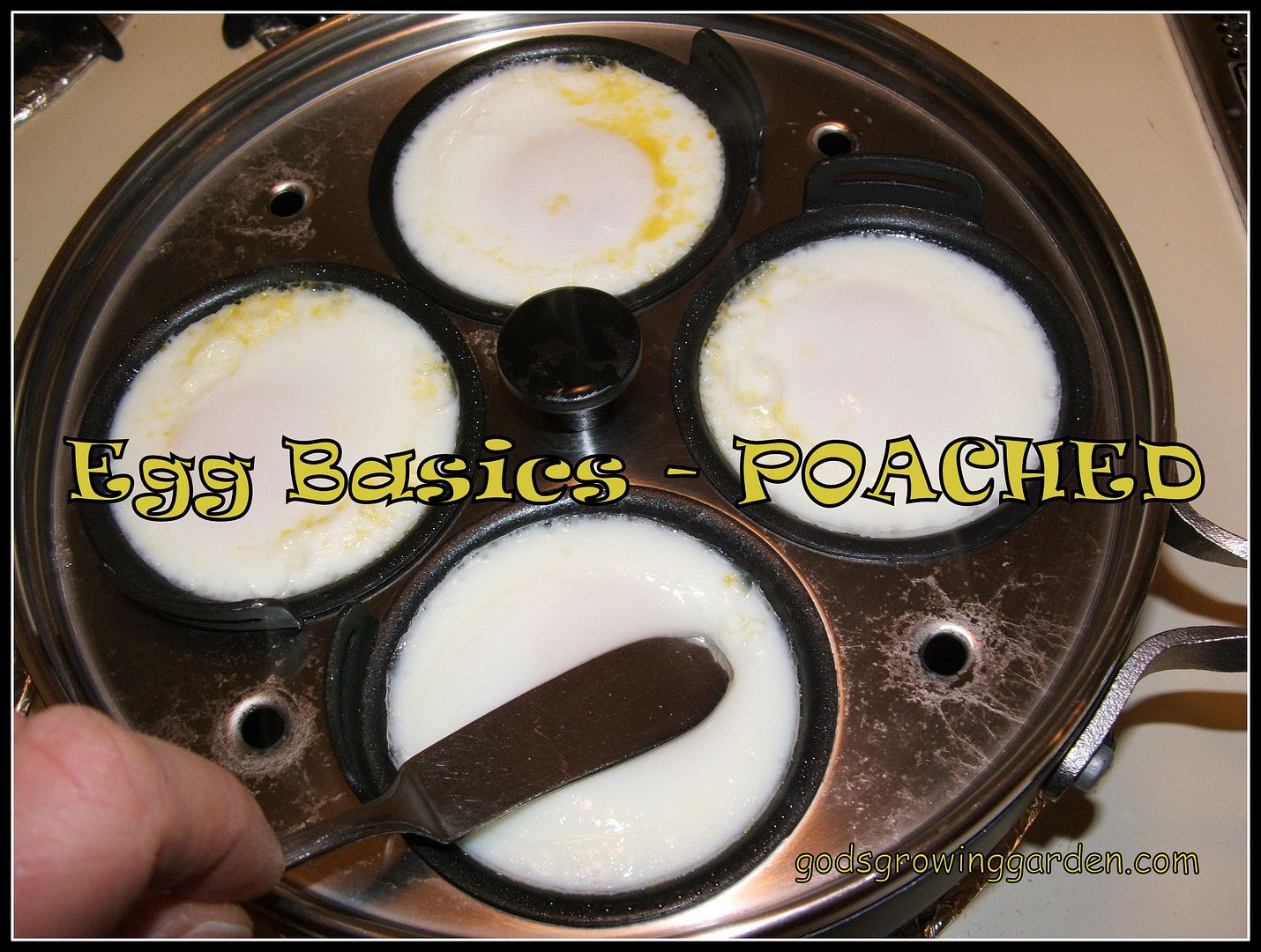 Egg Basics - POACHED
On this blog I have reserved Thursdays for "Beginners." For the next few months (on Thursdays) we will be concentrating on the Basics of Eggs. (I know that many of my readers are experienced cooks but there are just as many readers that are new in the kitchen and might desire some simple instruction on the basics).
Eggs are wonderful and so versatile! - - - They can be boiled, fried, poached, scrambled, deviled..........etc. My favorite way to prepare an egg is poached. There are 2 ways to "poach" an egg: traditionally a poached egg is simmered in liquid, but the other way is to "steam poach" an egg in an "Egg Poacher" (this is my preferred poaching method & the method that we will be talking about today).
There is a controversy over the egg yolk - many people only eat egg whites and believe that the yolk is too fatty. I am from the opposite school of thought - I believe that the yolk is the healthiest part of the egg. The Yolk contains all of the fat-soluble vitamins like A, E & K & the yolk is one of the few foods that naturally contains vitamin D, the yolk also has lutein (good for the eyes), and is a good source of lecithin. (again - I'm not a doctor - please see my "

disclaimer" at the bottom of this post).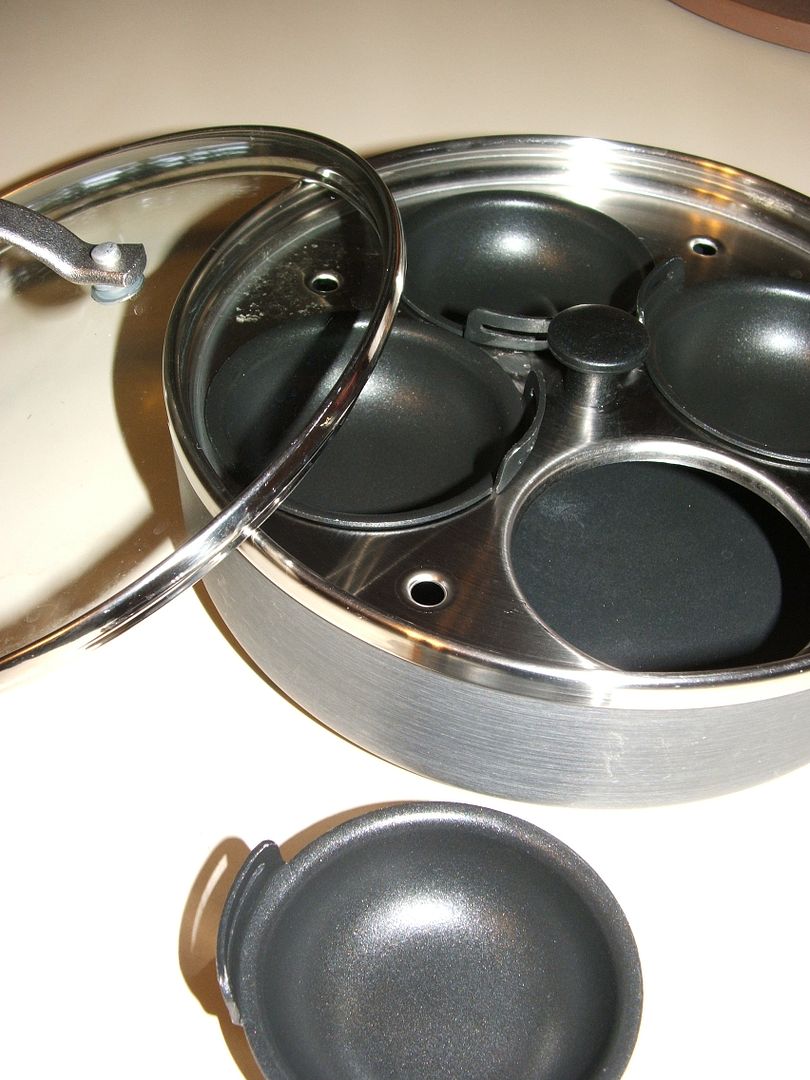 I have gone through many "egg poachers" in my day but the "Egg Poacher" from "Calphalon" is by far superior to any other egg poacher that I have used in the past. (see picture above or click on the link below)
Egg Poacher from Calphalon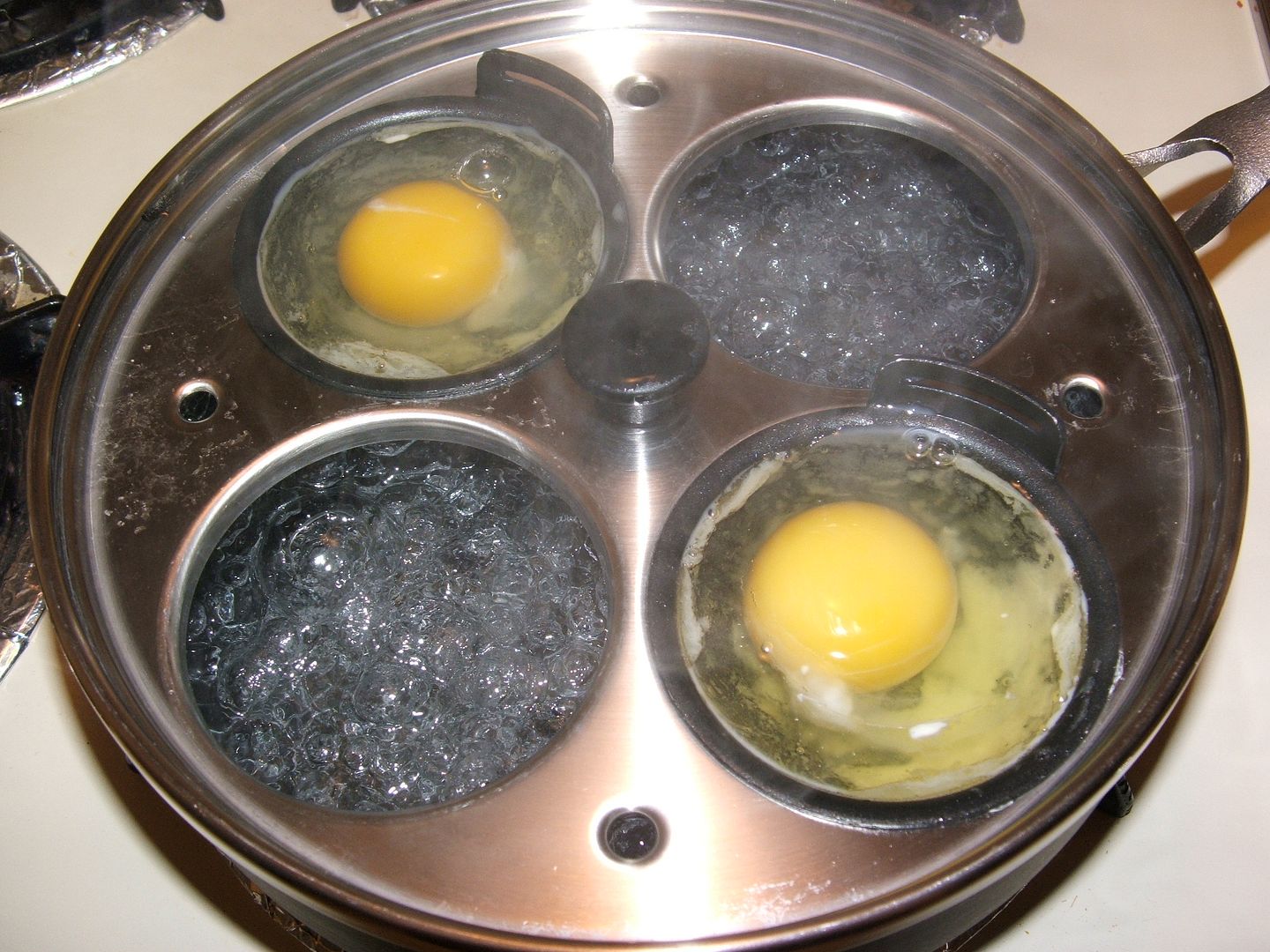 Step 1: Remove the egg cups (this is the round egg holders as seen above - there are usually 4 per poacher) from the "egg poacher"
Step 2: Place water in the bottom of the egg poacher, cover & bring to boil over medium heat
Step 3: Butter (or spray) each egg cup (the Calphalon Egg Poacher is non-stick but I still lightly spray)
Step 4: Crack each egg into an egg cup (1 egg per cup)
Step 5: Place each egg filled cup into the egg poacher with the water already boiling (see picture above) & place the cover onto the poacher.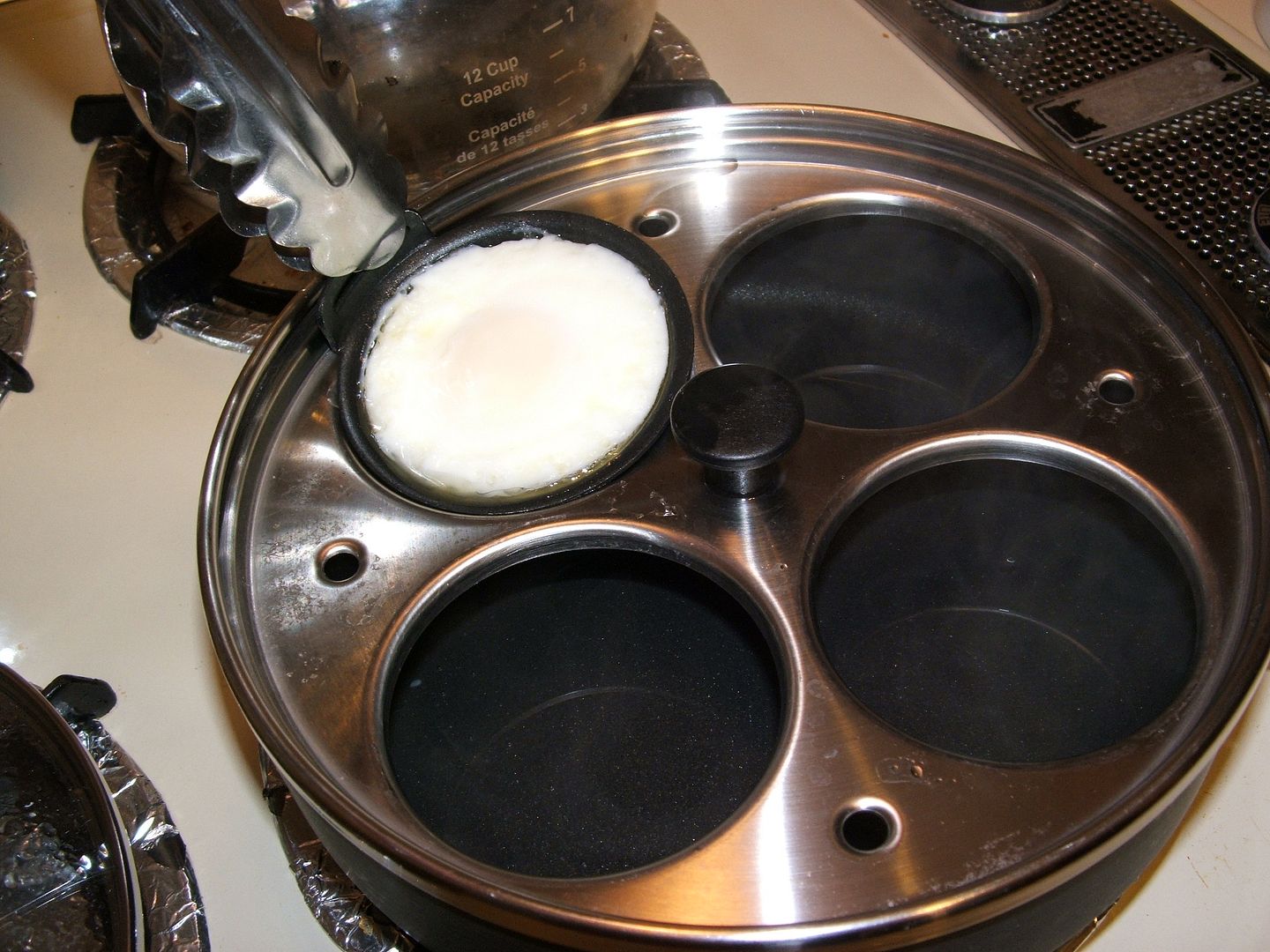 Step 6: Decide how you want your yolk to be cooked - runny, soft or hard (see pictures & timing below) and cook until done to your likeness.
Step7: Remove each egg from the cup & flip flat side down (see picture below) - I use tongs to remove the hot cup (see picture above) (you may remove all 4 egg cups at once by using the knob in the middle - again see picture above).
Step 8: Serve immediately and ENJOY!!
IMPORTANT!! - Each Egg Poacher will have different timing due to the thickness & type of metal that it is made of. My old Egg Poacher was thin aluminum & the timing was different - to test your egg simply lightly press a butter knife onto the egg & you will be able to feel if the yolk is soft or hard (see the very first picture at the top). Cook until your desired "doneness" is achieved. The Timing Chart below is perfect for this Calphalon Poacher.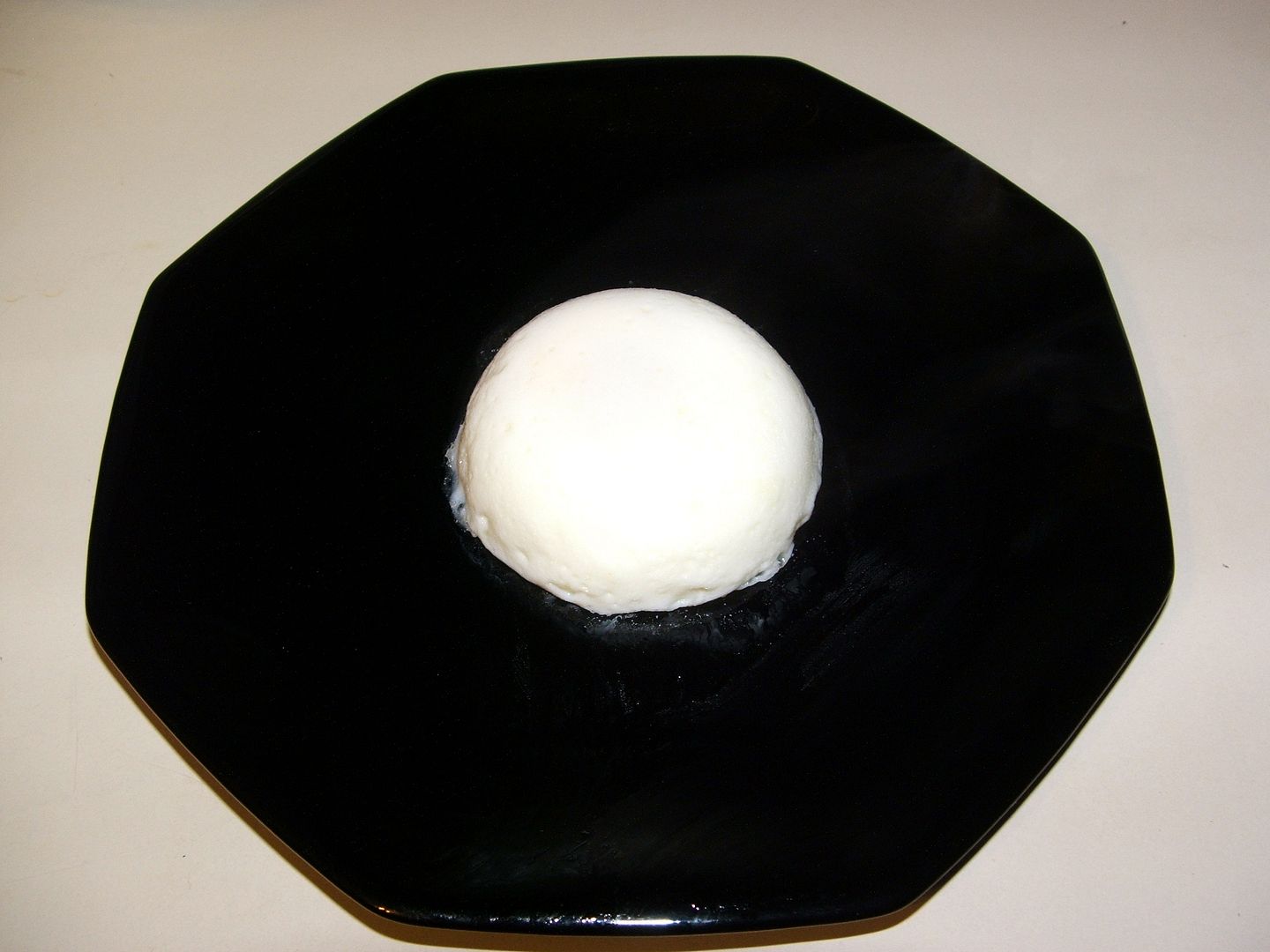 YOLK TIMING CHART
Runny - 5 minutes & 40 seconds
Soft - 6 minutes
Hard - 7 to 8 minutes
Runny yolk poached for 5 minutes & 40 seconds
Soft yolk poached for 6 minutes.
See also:
Egg Basics - SOFT BOILED
Linked to:
Weekend Social Mix
Keep Calm
Foodie Friday
Get Social Sunday
Couponing & Cooking
Mix It Up Mondays
All My Bloggy Friends
_____________________________________________________________________________________
Your monthly ad could be here! Click the button to see how