Freezing "Sale" Blueberries in the Winter
I am all for supporting our local farms and buying produce in season when it is fresh but there will be times when you will find a great sale during the winter. This past week the most delicious blueberries were on sale and I couldn't pass them up. These blueberries are from "Chile" and I always try to buy "North American" whenever I can but my main goal is to feed my family in the healthiest and cheapest way possible. So here I am freezing Blueberries in the middle of winter and I thought that I'd take this opportunity to share with you my easy "freezing" instructions.
Wash and drain your blueberries. (There are many "experts" who say that you cannot wash any berries before freezing. Well, I cannot and will not freeze any unwashed berry - I don't know if there is bird poop residue or chemical residue left on these berries - WASH THEM). Spread your prepared (washed & drained) blueberries on a cookie sheet (see picture above) (you may line the cookie sheet with wax paper to make it a little easier after they have been frozen). Place them in a freezer for about 2 to 3 hours (or until the blueberries feel frozen). Freezing the berries first will help prevent them from sticking together in the bag.
Now fill your baggies - I put 3 cups of frozen blueberries in 1 bag. I use a
"Vacuum Packer" but using Ziploc baggies is also an option.
Then seal each bag according to the manufacturer's instructions. Label and then they will be ready to use any time of the year.
ENJOY!!
Freeze before vacuum packing! - If you seal before freezing then you will have blueberry juice all over the counter and inside your vacuum packing machine (and the bag will not seal properly).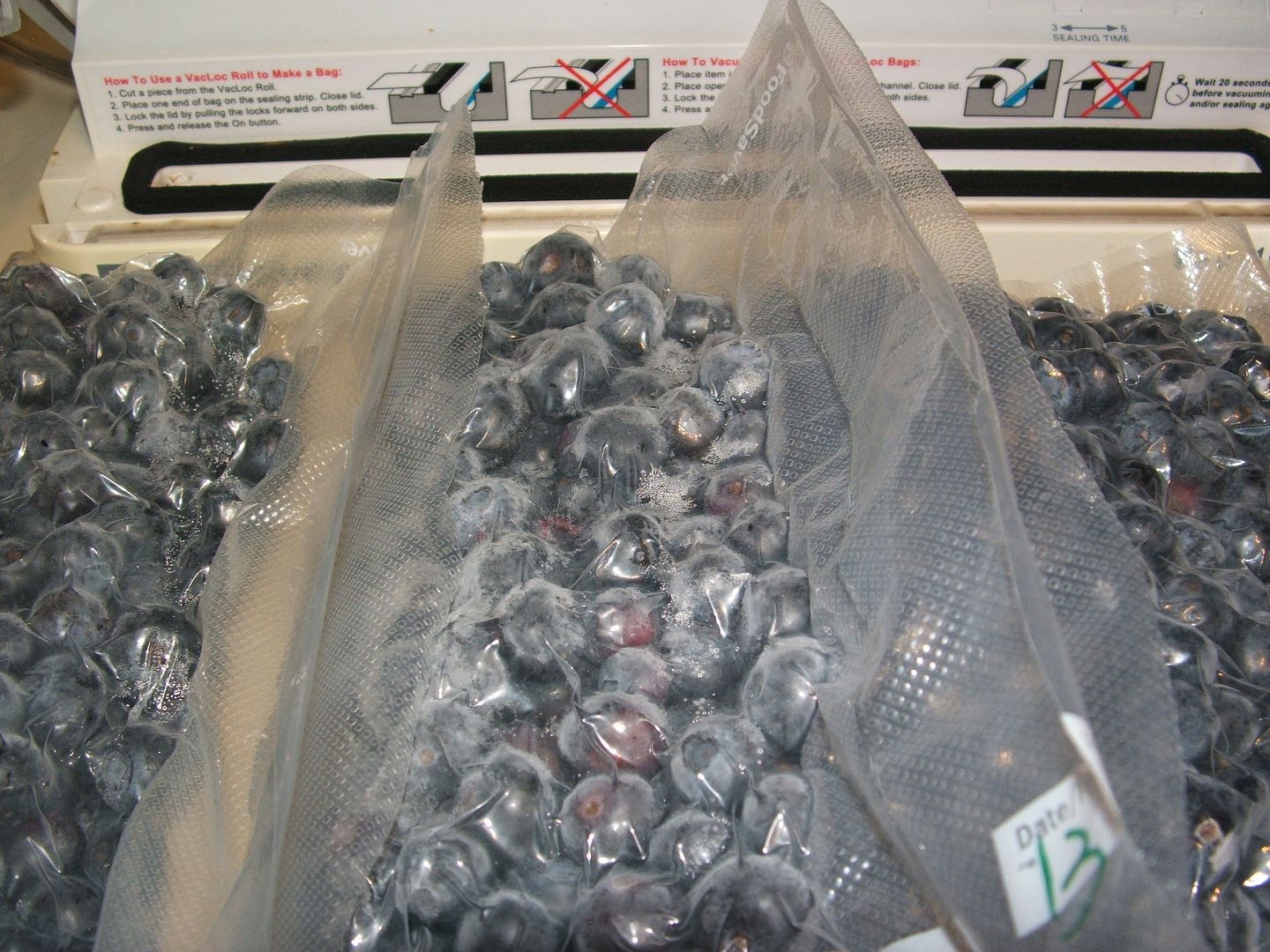 Linked to:
Get Social Sunday