Three Unique Tomato Varieties
The seed catalogs are pouring in and it's almost time to order seeds for your 2013 garden!
Tomatoes are one of the most important vegetables in my garden because after preserving (canning) them then during the winter I create many of our meals with canned tomatoes as the base (click to see

5 Different Dishes from Home-Canned Tomato Sauce

)
There are some seed varieties that I stick with each growing season but every year I plant a few new varieties to test out. In 2012 I planted 3 unique Tomato Varieties. There is a KEEPER, a LOOKER and a THROWER.
1. Valencia - the top orange variety is the KEEPER (see picture above). The taste is so sweet with very few seeds and many tomatoes per plant. The Valencia has become my new favorite tomato variety - it is a Keeper and I will be growing this tomato again this year. This is also an Heirloom variety
(click to see the difference between Heirloom & Hybrid)
.
2. Speckled Roma - the bottom bright red tomato with streaks of orange is the LOOKER (see picture above). This was an absolute beauty!! Even before it was ripe when it was green the glorious detail was shining through the skin (see picture below). The taste & texture was very good - meaty like a Roma should be but the problem with this variety was the amount. Each bush had a very sparse amount of tomatoes. It was nice to look at but with so few per vine I decided NOT to grow the Speckled Roma this year.
3. Black Russian Krim - the middle dark red tomato is the THROWER (see the second picture above). This tomato was terrible!! The taste was bland and it was very seedy - many times I didn't know if it was rotten or ripe since the "ripe" color is supposed to be dark red/almost black. The only thing that this tomato was good for was throwing at nasty neighbors, young children and the feeble elderly (Just making sure that you were reading!!! - don't worry - I don't throw tomatoes at people.......well, except at my husband.......no not even at him). I will never grow this tomato variety again - it was a waste of garden space!
ENJOY!!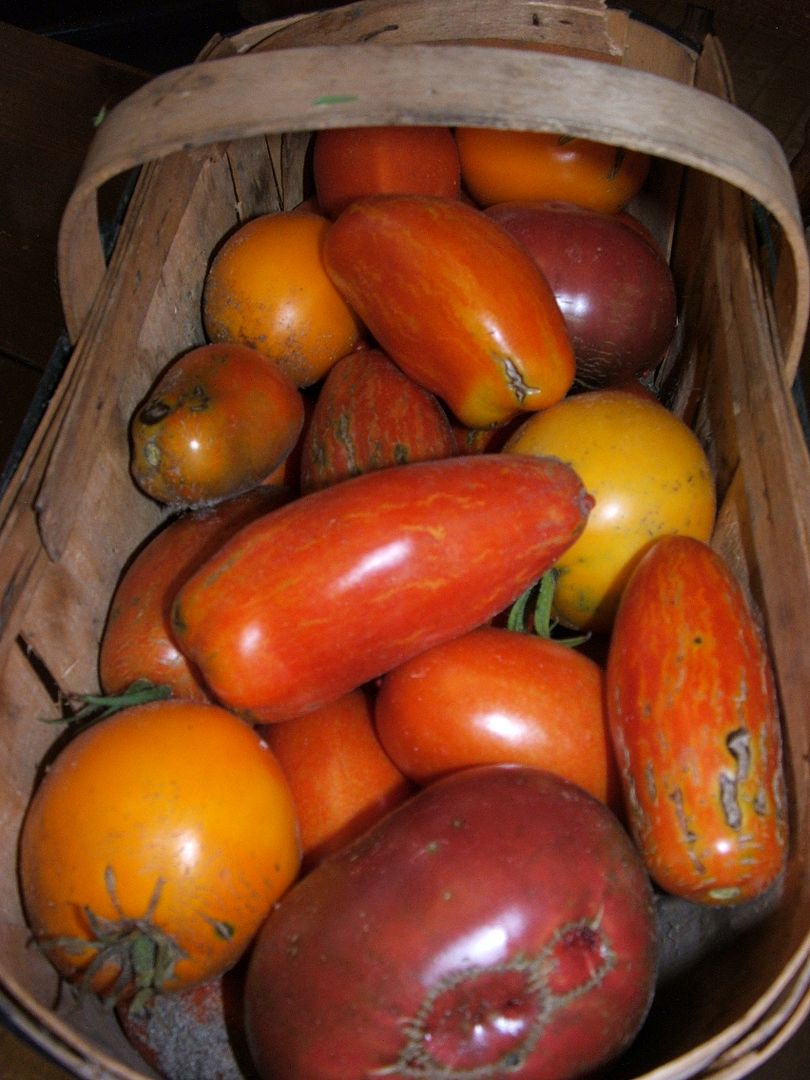 _____________________________________________________________________________________
Your monthly ad could be here! Click the button to see how