Snow Shovelling Basics - NEVER Shovel ANGRY!
I grew up in Canada & have now lived twenty-some years in Michigan - Snow has always been part of my life. I can't imagine life without Winter - I love it! With the "1978-like" Winter (if you are from the mid-west you know what I am talking about when I say "1978-like") that we are having this year I thought it would be a good idea to talk about snow shovelling. The tips that I share are from my own experience - I'm not a doctor (please read the disclaimer at the end of this post).
Spelling Note: Word Spell Check kept changing the spelling of "shovelling" to "shoveling" with 1 "l" and it didn't look right to me so I looked up the spelling of "shovelling" and both the "freedictionary.com" & "merriam-webster.com" said that it can be spelled both ways: shovelling or shoveling.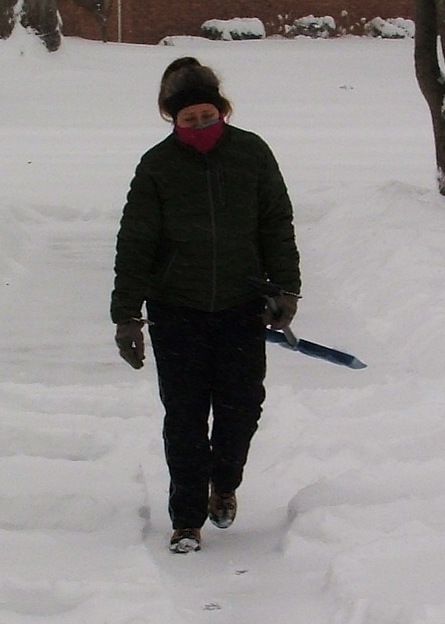 1.
Dress the part –
It's not a fashion show!

Wear the proper attire making sure that your ears, face & hands are covered.

Wear long underwear and clothing that is made from moisture-wicking fabric like "Polypropylene" and a warm insulated coat like a down-filled jacket.

Your boots are just as important as your coat! – Don't shovel snow in your slippers!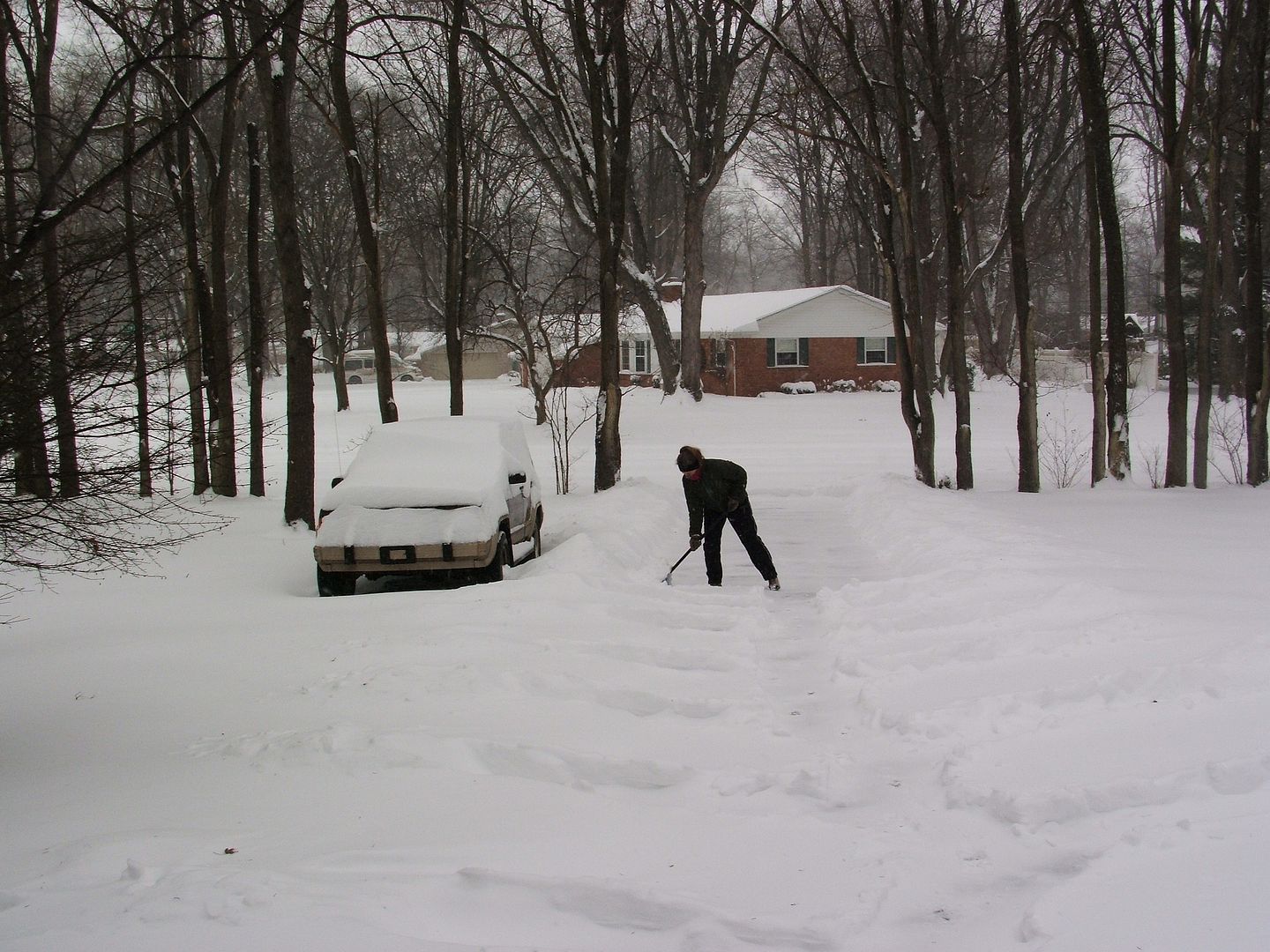 2.
Use the proper tools & the proper techniques
– I'm sure you've heard everyone say "lift with your knees" – well it's true!

I always try to push the snow as much as possible but at some point you will have to lift the snow off to the side.

Everyone will have a different technique that works best for them.

I find it easiest to push the snow & make a line in the middle of my driveway and then push little pathways at 3 feet intervals (see picture below).

Then, that way I can walk up the middle and vary my shovelling going right one time and then left the next shovel (see the top 2 pictures) (this really helps with my spine & muscles by not only using one side of my body).

Also, the tool – your shovel quality and fit for you body size can make or break your shovelling experience.
3.
It's not a race.
Pace yourself and take breaks when needed.

If you can – shovel a few times throughout one storm.

For example:

If you are expecting 7 inches of snow – shovel mid–way through the storm after 3 inches has fallen and then shovel the remaining 4 the next day after the storm has ended.
4.
Pay Attention.
Watch your breathing and pay attention to any aches or pains that you might feel in your body.

If you have any kind of chest pain at all STOP SHOVELLING and call your doctor.
5.
Never shovel ANGRY.
I'm sure we all know someone who hates Winter so much that they either panic when a blizzard is on it's way or they work themselves up into a tizzy and even yell at the snow as it's coming down.

I have one family member who does just this (I'm not naming names but that person knows who they are).

This anger raises their blood pressure, heightens their breathing and tightens their muscles all before that person even steps outside!!

This snow is a passing thing – relax and enjoy – it really is beautiful!
I had a guard watching me to make sure that I followed all of these steps correctly.
Linked to:
Good Tips Tuesday
Tuesdays with a Twist
UNITE the Bloggersphere
Adorned From Above
What Are You Doing? Blog Hop
Four Seasons Blog Hop
Thursday Favorite Things
Domesblissity
Freedom Fridays
Friday Favorites
From the Farm Blog Hop
_________________________________________________________________
Angel from "Sew Crafty Angel"
has an amazing blog full of delicious recipes, fun blog hops, great giveaways & crafty ideas!!
(Please click on the ad above)