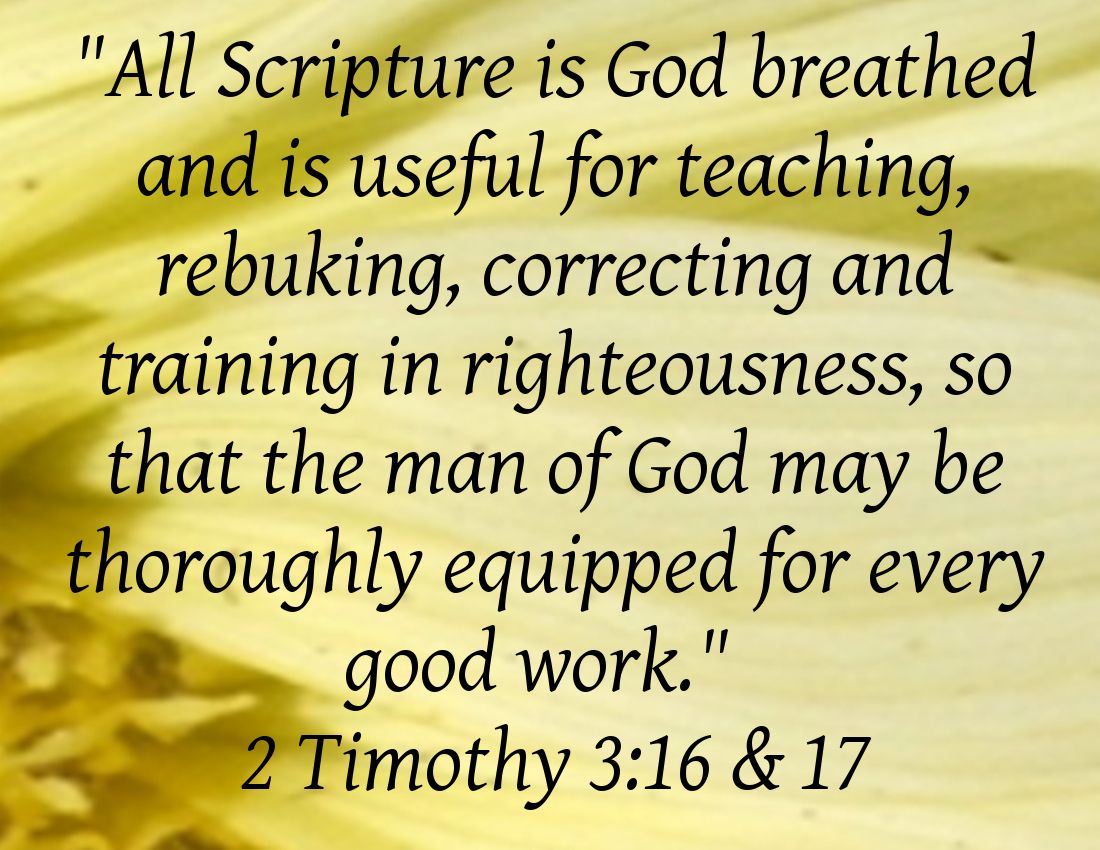 God Speaks To Us Through His Word - The Bible


I just love the description in these verses - that the Bible is "God breathed" - directly from God! Everything that we need to live a Christ-like life is in the Scriptures!
I can read the same passage over and over again and I will always find something different that I did not realize or see the first time. I am even more amazed the older I get because my Heavenly Father continues to speak to me through the same verses but with new and different meanings or lessons. Other times He will provide me with new inspiration through unfamiliar parts of Scripture (unfamiliar to me anyway)
Let's go through the passage above and focus on what every "useful" word means:
Teaching - instruction, education, schooling
In my opinion education from the Bible will never end. It is for any new believer and also to refresh the experienced believer's elementary foundation, as well as expanding into new areas in the seasoned believer's walk.
Rebuking - reprimanding, scolding, reproaching
There will be times when we will need to confront someone else with a sin that they have committed and we should look to the Bible for guidance and instructions on how to do this difficult task. Or, it might be time to look in the mirror because God might be reprimanding you right now through scripture.
Correction - improvement, modification, adjustment
There is a difference between "rebuking" and "correction." I feel that "correction" is more of
us working on our own faults stemming from our own desire to improve not necessarily from a confrontation. To me with "correction" there is already a desire to learn, whereas "rebuking" is more difficult and may take some time before the person receiving the reprimand changes.
Training - exercise, drill, preparation
Finally, training - it's like practice and "practice makes perfect." After constant training our "good works" become like a "good habit" and we don't even have to think about it - we just automatically "do that good work."
It's kind of like a natural progression from birth to maturity.
Make sure that you don't miss what God is saying to you - read His Word everyday!
Copyright, Permissions& Disclaimer
Linked to:
Tuesdays with a Twist
Wake Up Wednesday Linky
Family Friendship & Faith Friday
___________________________________
"Prayer Warriors United" is a google+ Community where Christians come together in prayer.
C
lick HERE to view or join this community
If you need prayer please fill out this
Prayer Request form