BETH - Psalm 119:9-16
The longest chapter in the Bible is Psalm 119. If you turn to Psalm 119 in your Bible you will notice that there is a strange word every 8 verses. These "strange" words are the letters of the Hebrew alphabet. David wrote this chapter in an acrostic pattern and every letter of the alphabet is followed by 8 verses. It is a chapter full of praise and worship. I thought it would be fun to study Psalm 119 by summarizing each alphabetic section in an acrostic format.
I did not know anything about the Hebrew language, so I did a little research. The Hebrew language is written from the right to the left - opposite of the English language. There are 22 letters to the Hebrew alphabet. Today we continue studying with the second letter BETH.
I am also NOT a poet, so I had to research what an acrostic pattern meant.
An Acrostic Poem - is a poem where certain letters in each line spell out a word or phrase.
Example below.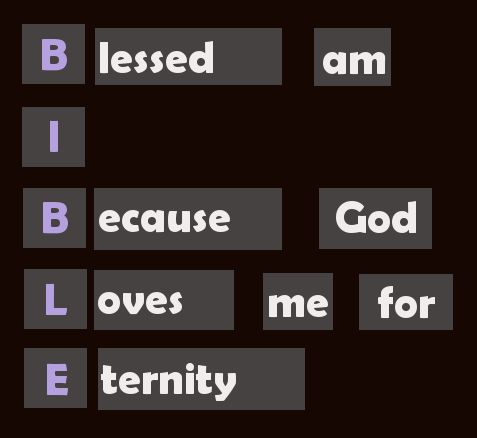 BETH - Become pure - recount God's Word with your Mouth.
Our focus today is about the importance of memorizing Scripture. Just recently, I read about Chinese Christians who have been imprisoned for their faith. They, of course, are not allowed to have any Bibles in prison (nor out in the Public for that matter) but the government and guards in the prison "CAN'T TAKE WHAT'S HIDDEN IN YOUR HEART." Guess what these amazing Christians did? They memorized the entire Bible!
Click HERE to view the article describing what had happened.
You might be thinking: "Bible's aren't confiscated where I live, so why would I waste my time memorizing Bible verses?" There are many reasons to memorize Scripture but the main reason, in my opinion, is that meditation on God's Word changes us and makes us into better people/ better Christians.
"
I have hidden your word in my heart
that I might not sin against you"
Psalm 119:11
"
I rejoice in following your statutes
as one rejoices in great riches."
Psalm 119:14
God's Word is so powerful and can help us in any situation. (Read:Sword of the Spirit Which is The Word of God).
"For the word of God is living and active. Sharper than any double-edged sword, it penetrates even to dividing soul and spirit, joints and marrow; it judges the thoughts and attitudes of the heart."
Hebrews 4:12
God will shine through your actions when you live by God's Word .
"
Let the message of Christ dwell among you richly as you teach and admonish one another with all wisdom through psalms, hymns, and songs from the Spirit, singing to God with gratitude in your hearts
."
Colossians 3:16
Previous Psalm 119 posts:
Copyright, Permissions& Disclaimer

Shared with:
Over the Moon Linky Party
Happiness is Homemade
Tuesdays with a Twist
Friday Feature Linky Party
Thursday Favorite Things
_____________________________________________________________________
Take Up The THANKFULNESS Challenge!
I challenge you to thank God for something everyday for one year! Either write it down in a diary OR share with us on a blog. If you have a blog & would like to share your THANKFULNESS posts with us, then please fill out this form:
365 Days of Being THANKFUL form - click HERE
and you will be added to the THANKFULNESS page.