Features From My Visit to: The Toledo Museum of Art - #22
TMA (Toledo Museum of Art) is one of my favorite places in Toledo, Ohio. I first visited this beautiful museum when I was in high school in Canada. I grew up in the Windsor area and I was privileged to go to a high school with an advanced art program. We actually visited the TMA twice throughout my high school career. I had no idea when I was a teenager that I would actually marry an American and then settle in the Toledo area! I now visit my favorite museum once a year.
I will be featuring a few pieces from the TMA each month.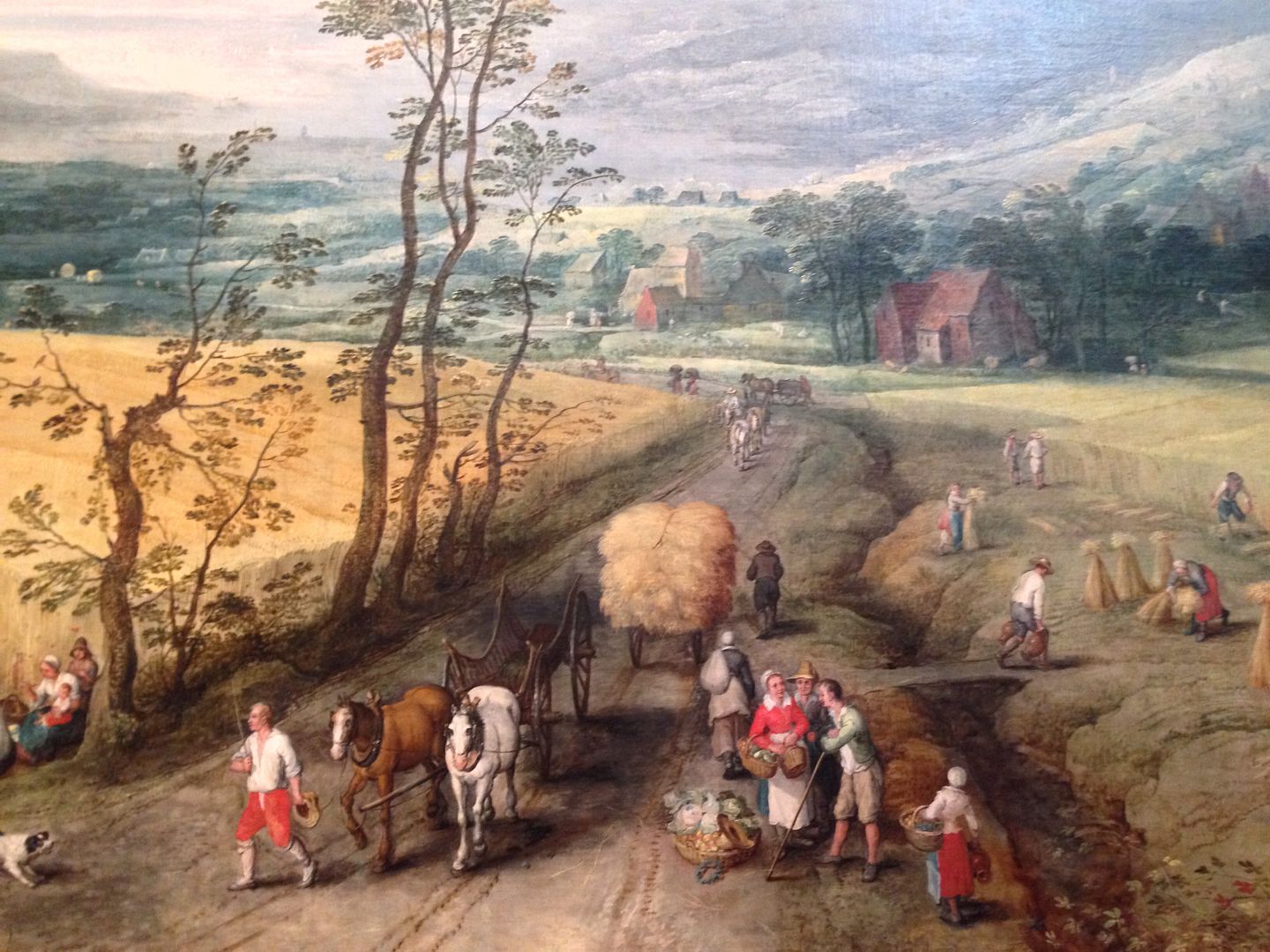 "A Summer Landscape With Harvesters"
(Oil on canvas)
By Joos de Momper the Younger
(Flemish 1564-1635)
AND
By Jan Brueghel the Elder
(Flemish 1568-1625)
This is my third favorite painting at The Toledo Museum of Art (my first two favorite are the two van Gogh paintings).
I love this style painting because it tells of countless stories - almost like a children's picture book but this picture truly has 1,000 words. I detailed two portions of this painting above. The first picture above is the painting in it's entirety.
The second photo above details the main road and the bottom right of the painting. Look closely - there is a gentleman carrying jugs of refreshment/water to the field workers. There is also another group of people taking a rest to gossip/chat - notice the basket full of fresh produce (cabbage and onions).
The third photo above is perhaps my favorite detail. You will notice groups of people taking a break to eat their lunch - there is even a mother feeding her child. There are birds eating the leftovers from the harvested field. And the two dogs - one is playing with his boy owner and the other dog is barking at the oncoming wagon.
WHEAT - since this is a gardening blog, I wanted to comment on growing and harvesting wheat. Here in Michigan, most wheat farmers grow "Winter Wheat" which is planted in October and harvested in the Summer. It must have been the same in Belgium at that time because the title of this painting is about harvesting in summer.
This masterpiece is best described by the write-up pasted from "The Toledo Museum of Art" website:
"
In a glorious, earthy depiction of humanity and nature, peasants labor in the fields, relax with a picnic, and flirt in a vast, panoramic landscape of rolling fields that give way to a distant valley and ultimately the faraway sea. Possibly part of a series of paintings showing labors appropriate to the different months or seasons, A Summer Landscape with Harvesters is the largest and most spectacular of Joos de Momper's many harvest scenes.
Based on a similar composition by Pieter Bruegel the Elder (now in the Metropolitan Museum, New York), the painting is a collaboration between De Momper and Pieter Bruegel's son, Jan Brueghel. De Momper, who was one of the most prominent Flemish landscape painters of the late 1500s and early 1600s, often worked with other painters who would add figures, animals, and birds to his landscapes. Jan Brueghel was a frequent collaborator with Peter Paul Rubens and a successful artist in his own right."
ENJOY!
Other TMA Posts:
Church Stained Glass
"Hazy Day on the Marshes"
"A Dutch Road"
"Rainy Day, Boston"
Tiffany Chandelier
"The Open Air Breakfast"
"The Scottish Highlands"
"The Country Gallants"
"Morning Glory Chandelier"
"Interior of Courtyard, Strandgade30"
"Early Puritans of New England Going To Church"
"White Terrier"
"Winter Landscape With a Bird Trap"
"A Rainbow Like You"
"Landscape with Christ and the Woman of Canaan"
"Christ and the Centurion"
Mosaic with Imago
"Tiichum"
"Peasants Resting"
"The Glade"
"The Green Jardiniere"
Copyright, Permissions & Disclaimer

Linked to:
Over the Moon Linky Party
Happiness is Homemade
__________________________________________________________________
Grow your own!
Many wonderful garden products from

Are you in need of Online Counseling?
Professionally Licensed
Spiritually Informed
Readily Accessible


click logo image above
or
click
HERE
to view Faithful Counseling website
_____________________________________________________________________