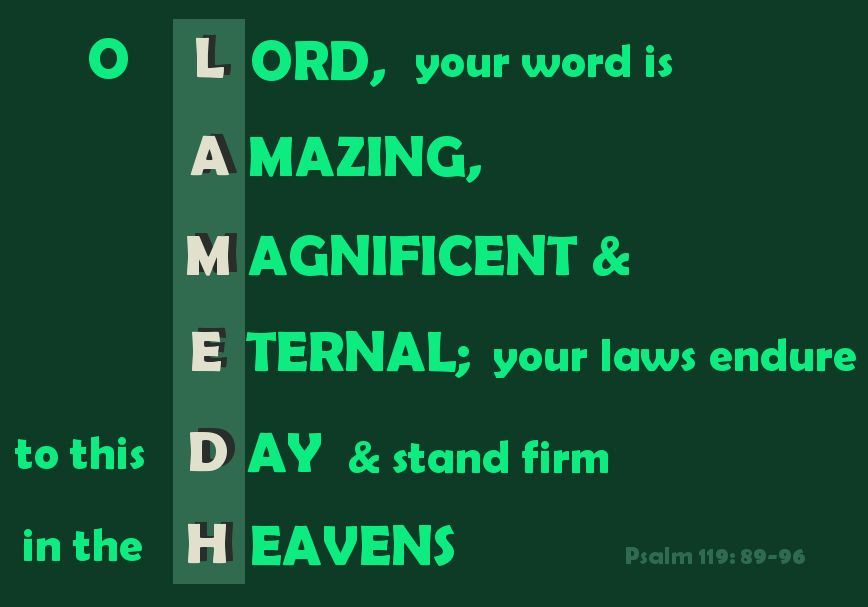 LAMEDH - Psalm 119: 89-96
The longest chapter in the Bible is Psalm 119. If you turn to Psalm 119 in your Bible, you will notice that there is a strange word every 8 verses. These "strange" words are the letters of the Hebrew alphabet. David wrote this chapter in an acrostic pattern and every letter of the alphabet is followed by 8 verses. It is a chapter full of praise and worship. I thought it would be fun to study Psalm 119 by summarizing each alphabetic section in an acrostic format.
I did not know anything about the Hebrew language, so I did a little research. The Hebrew language is written from the right to the left - opposite of the English language. There are 22 letters to the Hebrew alphabet. Today we continue studying with the twelfth letter
LAMEDH.
I am also NOT a poet, so I had to research what an acrostic pattern meant.
An Acrostic Poem - is a poem where certain letters in each line spell out a word or phrase.
Example below.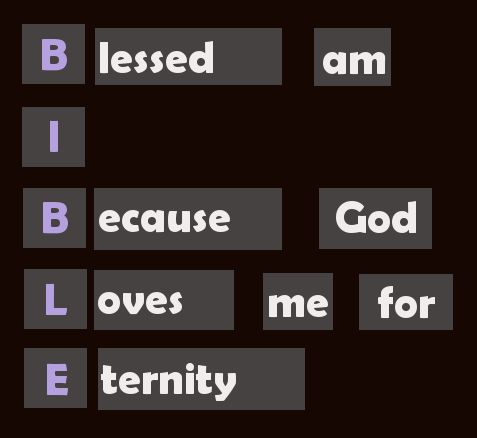 LAMEDH - O Lord, your word is Amazing, Magnificent & Eternal; your laws endure to this Day & stand firm in the Heavens
.
The featured verses that we are studying today are wonderfully full of praise and worship detailing God's awesomeness. The key word to me is "boundless" - let's define that word (taken from an online dictionary):
Boundless - having no boundaries, vast, limitless, endless, fathomless, immeasurable, infinite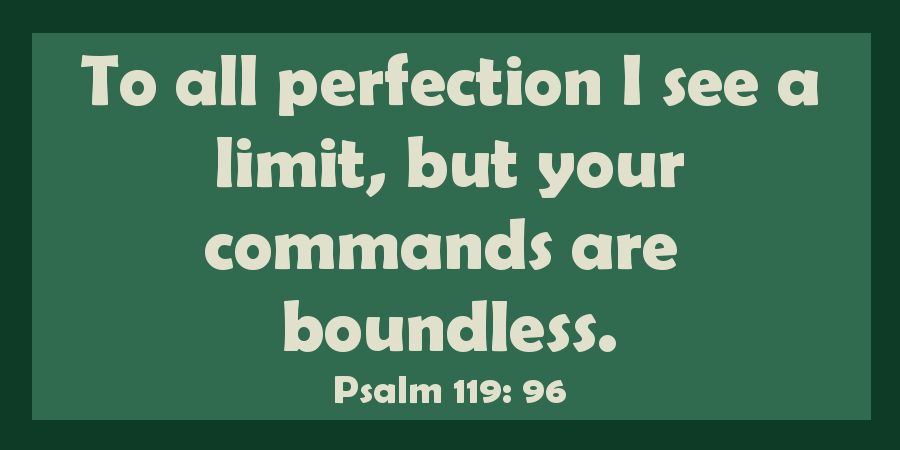 Let's detail David's description of God's awesomeness:
ETERNAL
"..God's Word is eternal" (verse 89)
Eternal definition - lasting or existing forever.
FAITHFULNESS through ALL GENERATIONS
"
Your faithfulness continues through all generations; you established the earth and it endures.
"
(verse 90)
"All generations" means as long as there is life on this earth.
ENDURES to this day
"..your laws endure to this day" (verse 91)
All through history - to date. Read this verse tomorrow and God's laws endure to tomorrow, and the next day, and the day after that etc.
DELIGHT
"If your law had not been my delight, I would have perished in my affliction" (verse 92)
Delight definition - great pleasure, happiness, joy, gladness.
My Life is Renewed
"I will never forget your precepts, for by them you have renewed my life."
(verse 93)
Renew - to make new (Spiritually), to restore to perfection, regenerate, restore
Praising God for His awesomeness and following His laws will keep us safe for eternity.
Copyright, Permissions& Disclaimer

Shared with:
Over the Moon Linky Party
Happiness is Homemade
Wonderful Wednesday Blog Hop
Thursday Favorite Things
Friday Feature Linky Party
Pin Junkie Pin Party
You're the STAR
_____________________________________________________________________
Take Up The THANKFULNESS Challenge!
I challenge you to thank God for something everyday for one year! Either write it down in a diary OR share with us on a blog. If you have a blog & would like to share your THANKFULNESS posts with us, then please fill out this form:
365 Days of Being THANKFUL form - click HERE
and you will be added to the THANKFULNESS page.