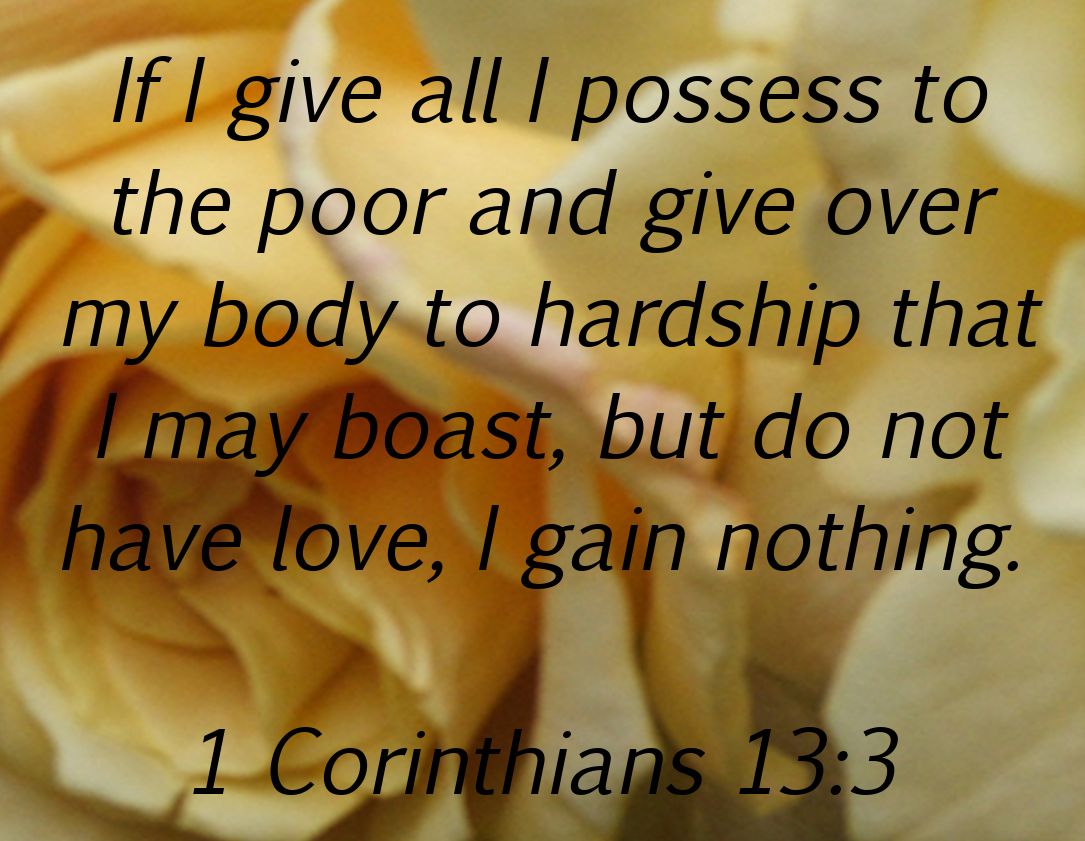 VERSE by VERSE - 1 Corinthians 13:3
We are studying the entire 13th chapter of 1 Corinthians VERSE by VERSE. 1 Corinthians 13 is all about love and many people have written books on this one chapter alone. I won't be writing a book but we will be studying one verse at a time.
Verse 3 is all about giving. Since it is close to "tax day" (April 15th) - this verse reminds me of the time many years ago when my husband & I actually hired somebody to do our taxes (I almost always complete our own taxes myself, so this was an unusual event for us to hire somebody to do them for us). As the accountant was sitting there asking us questions about our finances he noticed that if we gave more to charity then we would be able to receive more tax breaks. That statement started to make me think - giving for the sole purpose of receiving something in return is NOT true giving. That's exactly what this verse is all about (true giving).
It is interesting that verse 3 highlights the fact that giving does not only have to be financial or possessions - it can be actions as well (give over my body = actions). HOWEVER, the main point is that even if you give everything (your money, time & possessions) but do it for ulterior motives, then it is fake and worthless. Giving to receive a tax break in return is empty. Yes, you will be helping out a worthy cause (if that charity is Godly) but it will be meaningless and hollow - make sure your heart is in your giving.
Click
HERE
to read
"What Does God Want Us To Give?"
Giving that is void of love is nothingness.
1 Corinthians 13 VERSE#1
1 Corinthians 13 VERSE#2
1 Corinthians 13 VERSE#4
1 Corinthians 13 VERSE#5
1 Corinthians 13 VERSE#6
1 Corinthians 13 VERSE#7
Copyright, Permissions & Disclaimer

Linked to:
#ChainLinkyCLIMB
_____________________________________________________________________
"Prayer Warriors United" is a google+ Community where Christians come together in prayer.
C
lick HERE to view or join this community
If you need prayer please fill out this