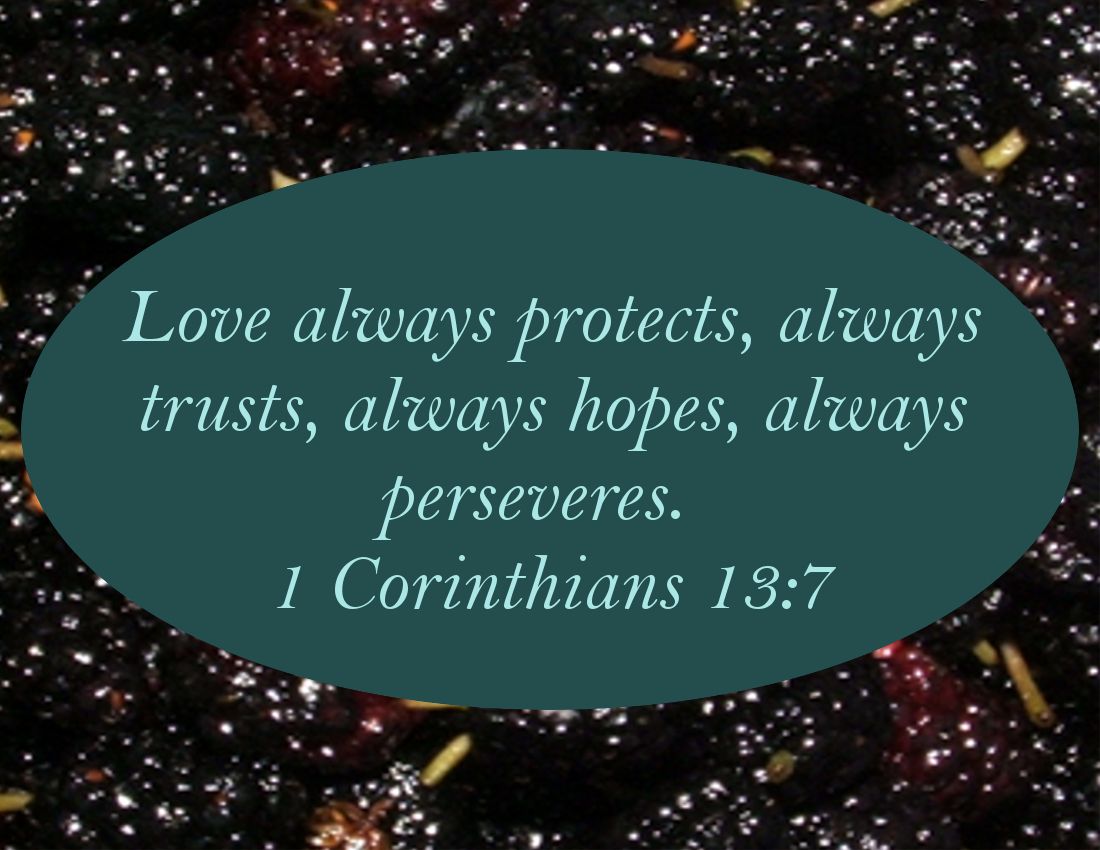 VERSE by VERSE - 1 Corinthians 13:7
We are studying the entire 13th chapter of 1 Corinthians VERSE by VERSE. 1 Corinthians 13 is all about love and many people have written books on this one chapter alone. I won't be writing a book but we will be studying one verse at a time.
VERSE 7 - this verse is about the "always" details.
Firstly, notice how each love characteristic in this verse begins with "always." In other words always is forever, never-ending, continuous, permanent, constant and eternal. Keep that in mind as we study each characteristic below.
Let's again define the basics (all definitions were taken from various online dictionaries) - the four featured characteristics of love in verse #7:
Protect - to keep safe from harm, loss, injury and damage.
Since love ALWAYS protects that means there is no need to worry - we are safe as children of God. It means that no situation is too much for God's protection. I know at this point you will be thinking: "but bad things happen to Christians - so where was God's protection then?" For the answer to this question read through to the last characteristic but basically God will guide us and protect us through our perseverance of these hardships.
Trust - firm belief in the reliability, strength or ability of someone or something.
Love ALWAYS trusts - no questioning or doubt. Trust is one of those things that you can't do half way - it is impossible to only kind of trust someone. Trust is a FIRM belief - there is no wishy-washy trusting.
Trust in the Lord with all your heart... Proverbs 3:5
Hope - a feeling of expectation and desire for a certain thing to happen, confidence, optimism and anticipation.
Love ALWAYS hopes - if one is hopeful then there is no sadness, negativity or depression. This difficult life will fly by compared to the hope that we have in Jesus Christ - the utter eternal joy in heaven with our Savior.
And hope does not put us to shame, because God's love has been poured into our hearts, through the Holy Spirit, who has been given to us. Romans 5:5
Persevere - maintain a purpose in spite of difficulty, obstacles or discouragement.
Love ALWAYS perseveres - God will only allow us to endure what He knows we can handle and every step of the way He will be with us guiding us and protecting us (now we are back to the first characteristic of this verse)
This verse is like a circle:
Love always PROTECTS - and when you start to worry.....
TRUST in God's love - and when you start to feel despair.....
HOPE in Jesus' love - it is because of Jesus that we have life everlasting. When we start to become discouraged about hardships.....
God's love will PERSEVERE - when you wonder how long you can endure.........God will guide and PROTECT.
1 Corinthians 13 VERSE#1
1 Corinthians 13 VERSE#2
1 Corinthians 13 VERSE#3
1 Corinthians 13 VERSE#4
1 Corinthians 13 VERSE#5
1 Corinthians 13 VERSE#6
Copyright, Permissions & Disclaimer

Linked to:
#ChainLinkyCLIMB
TGI Saturdays Blog Hop
_______________________________________________
"Prayer Warriors United" is a google+ Community where Christians come together in prayer.
C
lick HERE to view or join this community
If you need prayer please fill out this