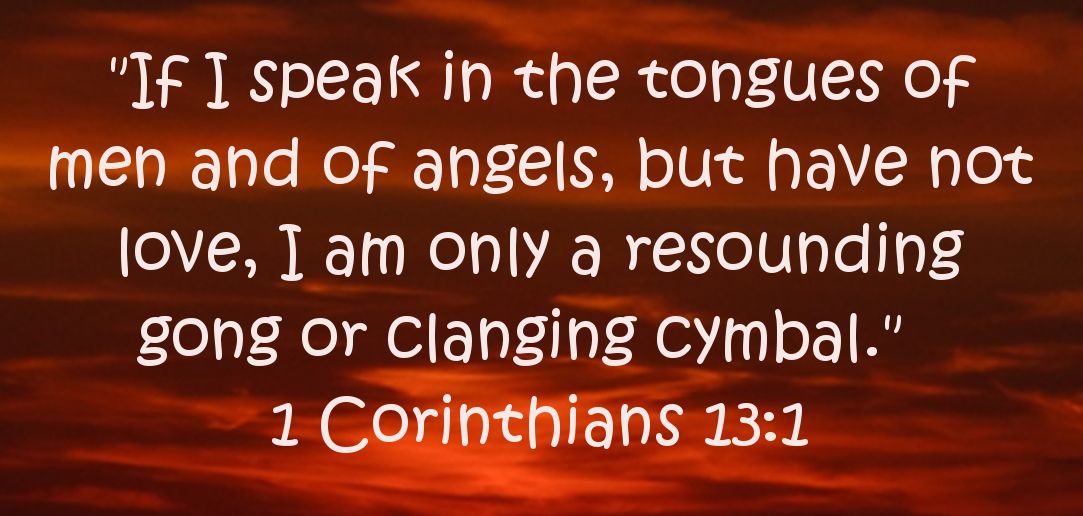 VERSE by VERSE - 1 Corinthians 13:1
Today we will be starting a new series on LOVE. 1 Corinthians 13 is all about love and many people have written books on this one chapter alone. I won't be writing a book but we will be studying one verse at a time.
There is more to love than just words. Saying "I love you" means nothing if your actions don't support those words. HOWEVER, your actions might be exemplary but your words might be foul and blasphemous. It goes both ways - our actions must match up with our words and our words must match up with our actions.
I love the description of this first verse: "resounding gong or clanging cymbal." This reminds me of the "Gong Show" from the 70's (please forgive me for comparing a Bible verse description to a secular TV show). This was a talent show & when the judges disliked a performer they would bang on this giant gong (a gong is a metal disk) and it emitted the most horrible ear drum piercing sound. This is what it is like when somebody goes on and on talking and preaching while their actions are not matching up to what they are saying. It makes one want to cover their ears with their hands while cringing at the hypocrisy.
A love equation:
Let's make sure that (our actions = our words) and that (our words = our actions)!
Copyright, Permissions& Disclaimer

Linked to:
Snickerdoodle Sunday
Turn It Up Tuesday
#ChainLinkyCLIMB
Lou Lou Girls
___________________________________________________________________
C
lick HERE to view or join this community
If you need prayer please fill out this