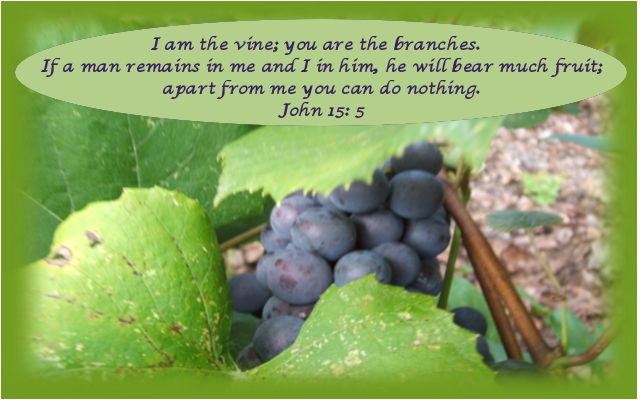 "I am the vine; you are the branches. If a man remains in me and I in him, he will bear much fruit; apart from me you can do nothing. If anyone does not remain in me, he is like a branch that is thrown away and withers; such branches are picked up, thrown into the fire and burned. If you remain in me and my words remain in you, ask whatever you wish, and it will be given you."
John 15: 5-7
I just love the symbolism of these verses! Jesus is the vine & we are the branches.
These verses focus on the utter dependence that we must have on Jesus. In order to "bear much fruit" - (not just a mediocre amount of fruit but "much fruit" - a large amount) we must be completely and totally reliant on Him. If you are trimming a grape vine or fruit tree and throw the "bad" branches that you cut off onto a pile; you will notice that these branches will do nothing. No fruit will ever grow from a severed branch.
It's the same with us - without Jesus we can do NOTHING. Another interesting choice of words "Nothing" - I looked up the meaning:
NOTHING - no thing, not anything. No part, no portion. One of no consequence, no significance. Something that has no existence, no quantitative value, zero.
Again that is absolute - no beginning and therefore no ending - NOTHING.
Another way of looking at this is the opposite of "nothing" - With Jesus all things are possible and when we trust God we can do anything and everything that He wants us to do.
Let us strive to become a "fruitful branch".
In the township where I live, there are a few months in the fall and spring when we are allowed to burn our yard waste. Many of the branches that I trim off during late spring sit in a pile at the back of my urban farm until burning season. I have noticed that many of these branches that I have thrown away struggle to live and hang on to their leaves for many weeks - but they never make it. These cast out branches always end up withering away. And so it is with us - we can try living without our Lord and Savior and struggle along but without Jesus we will eventually wither away.
When we "remain" in God we are given certain privileges and can "ask whatever we wish." Be careful - we are Christians and must ask according to the Father's will. A branch on a grape vine will draw from the sap of the vine and grow abundant grapes - that branch and those grapes glorify the vine. We must glorify Him.
I am striving to be a "Fruitful Branch" - how about you?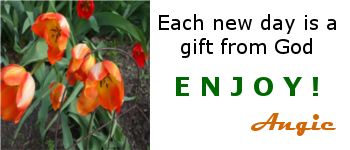 ______________________________
"Prayer Warriors United" is a google+ Community where Christians come together in prayer.
C
lick HERE to view or join this community
If you need prayer please fill out this