KAPH - Psalm 119: 81-88
The longest chapter in the Bible is Psalm 119. If you turn to Psalm 119 in your Bible you will notice that there is a strange word every 8 verses. These "strange" words are the letters of the Hebrew alphabet. David wrote this chapter in an acrostic pattern and every letter of the alphabet is followed by 8 verses. It is a chapter full of praise and worship. I thought it would be fun to study Psalm 119 by summarizing each alphabetic section in an acrostic format.
I did not know anything about the Hebrew language, so I did a little research. The Hebrew language is written from the right to the left - opposite of the English language. There are 22 letters to the Hebrew alphabet. Today we continue studying with the eleventh letter KAPH.
I am also NOT a poet, so I had to research what an acrostic pattern meant.
An Acrostic Poem - is a poem where certain letters in each line spell out a word or phrase.
Example below.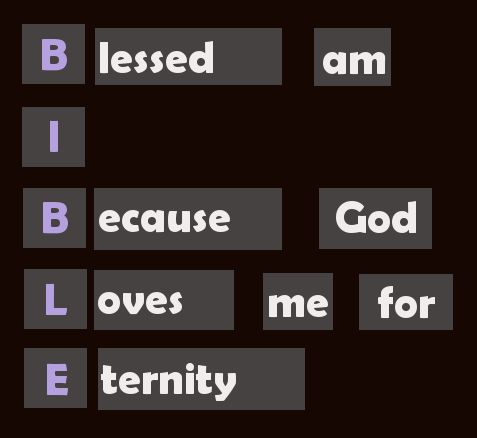 KAPH - Keep me sAfe, Preserve my life; I place my Hope in your Word
.
Last week we focused on God's unfailing love and how He takes care of us. This week our focus is kind of the opposite - it's about enduring the difficult times. During those rough patches, have you ever felt as if God has abandoned you? I know I have felt that way but later I realize that God was carrying me through those horrible times.
"..God has said, 'Never will I leave you; never will I forsake you.' "
Hebrews 13:5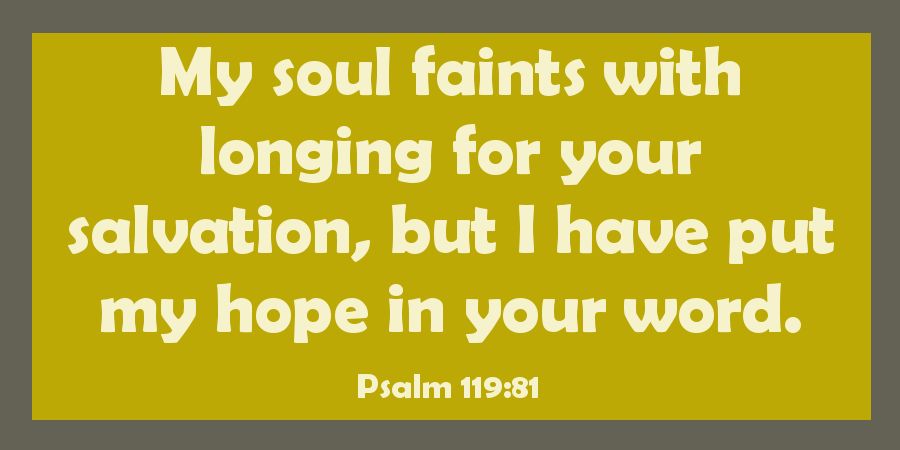 Look at David's frustrations and struggles in these eight verses:
IMPATIENCE
UNFAIRNESS
PERSECUTION
IMPATIENCE
"..WHEN will you comfort me?" (verse 82)
David states that he has been looking for God's promises and fails to find them. He is being impatient and asking WHEN. Maybe God is saying "not yet" or "wait". We must be prepared to accept an answer of "wait", which requires patience. And David continues:
"HOW LONG must your servant wait?" (verse 84)
This desperation is almost getting to the point of a child throwing a temper tantrum. How long? As long as it takes for God's plan to come to fruition.
UNFAIRNESS & PERSECUTION
"
The arrogant dig pits to trap me
"
(verse 85)
"....I am being persecuted without cause"
(verse 86)
"They almost wiped me from the earth"
(verse 87)
I know that it seems as if you won't be able to make it through the rough patches in life but God will NEVER allow us to go through more than we can handle. Upon reflection, after you have endured difficult times you will realize that God NEVER left you.
How does David respond to these difficulties?:
HE REMAINS STEADFAST (STRONG IN THE LORD).
"I do not forget your decrees"
(verse 83)
"All your commands are trustworthy"
(verse 86)
"I have not forsaken your precepts"
(verse 87)
"that I may obey the statues of your mouth"
(verse 88)
Let's remain strong in the Lord, even during the difficult times (or especially during hardships)! God will carry you through!
Copyright, Permissions& Disclaimer

Shared with:
Thursday Favorite Things
Friday Feature Linky Party
Tuesdays with a Twist
You're the STAR
Wonderful Wednesday Blog Hop
Oh My Heartsie Girls Wonderful Wednesday
_____________________________________________________________________
Take Up The THANKFULNESS Challenge!
I challenge you to thank God for something everyday for one year! Either write it down in a diary OR share with us on a blog. If you have a blog & would like to share your THANKFULNESS posts with us, then please fill out this form:
365 Days of Being THANKFUL form - click HERE
and you will be added to the THANKFULNESS page.