"In the sixth month, God sent the angel Gabriel to Nazareth, a town in Galilee, to a virgin pledged to be married to a man named Joseph, a descendant of David. The virgin's name was Mary. The angel went to her and said, 'Greetings, you who are highly favored! The Lord is with you.' Mary was greatly troubled at his words and wondered what kind of greeting this might be. But the angel said to her, 'Do not be afraid, Mary you have found favor with God. You will be with child and give birth to a son, and you are to give him the name Jesus. He will be great and will be called the Son of the Most High. The Lord God will give him the throne of his father David, and he will reign over the house of Jacob forever; his kingdom will never end.' 'How will this be,' Mary asked the angel, 'since I am a virgin?' The angel answered, 'The Holy Spirit will come upon you, and the power of the Most High will overshadow you. So the holy one to be born will be called the Son of God. Even Elizabeth your relative is going to have a child in her old age, and she who was said to be barren is in her sixth month. For nothing is impossible with God.' 'I am the Lord's servant,' Mary answered. 'May it be to me as you have said.' Then the angel left her. Luke 1:26 to 38
I think of Mary and wonder if she doubted what had happened to her at first - obviously when she felt and saw the physical signs of pregnancy she would no longer be able to doubt - I just wonder if she kept saying to herself "was that just an unusual dream?" No, it was not that way with Mary - even at the end of this passage Luke shows us that Mary immediately believed and trusted God "May it be to me as you have said."
I also think it is very interesting that the angel Gabriel gave Mary extra proof that this miracle was real by telling her about Elizabeth being six months pregnant.
As we go through this week, let us think about the amazing gift that God has given us through Mary. Let us pray and thank our Lord God.
Advent Wreath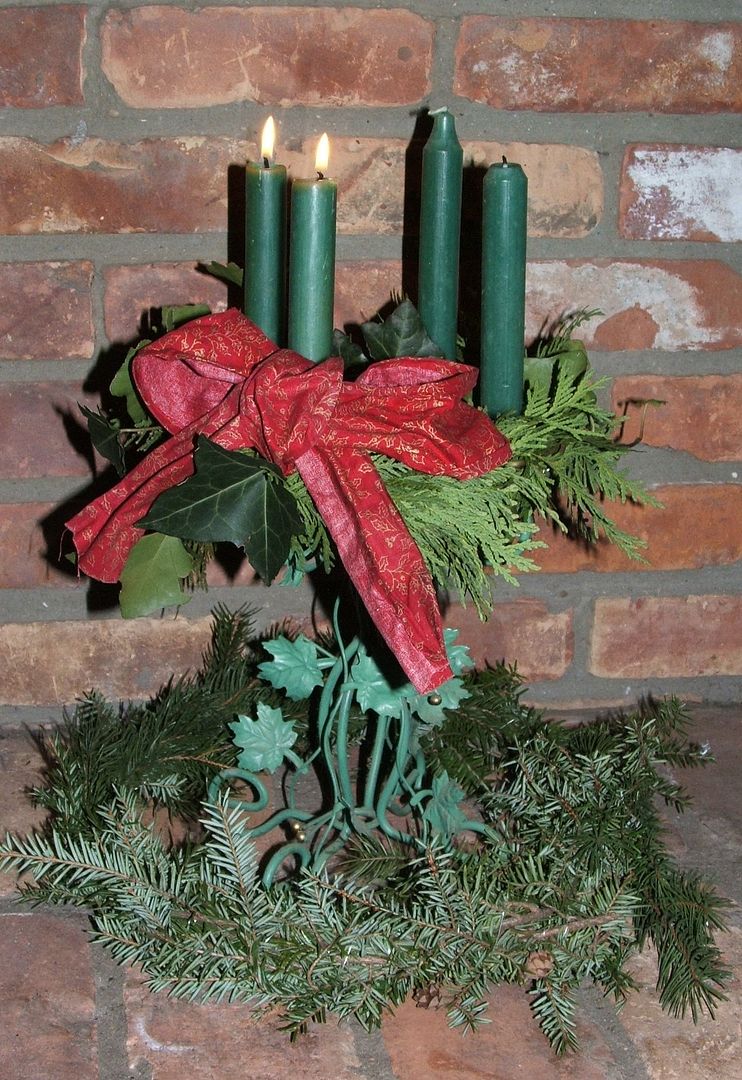 Two candles have been lit on the Advent Wreath
Now turn with me to number 96 in your hymnals and let's sing:
O Little Town of Bethlehem
by Phillips Brooks, 1835-1893 composed by Lewis H. Redner, 1831-1908
1. O little town of Bethlehem, How still we see thee lie! Above thy deep and dreamless sleep The silent stars go by; Yet in thy dark streets shineth The everlasting Light; The hopes and fears of all the years Are met in thee tonight.
2.For Christ is born of Mary, And gathered all above, While mortals sleep, the angels keep Their watch of wondering love. O morning stars, together Proclaim the holy birth, And praises sing to God the King, And peace to men on earth!
3. How silently, how silently The wondrous gift is given! So God imparts to human hearts The blessings of His heaven. No ear may hear His coming. But in this world of sin, Where meek souls will receive Him still, The dear Christ enters in.
4. O holy Child of Bethlehem! Descend to us, we pray; Cast out our sin, and enter in, Be born in us today. We hear the Christmas angels The great glad tidings tell; O come to us, abide with us, Our Lord Immanuel!
_______________________________________________________________________________
Please listen to the video below - I couldn't find a YouTube video that played all 4 verses - but this one plays 3 of the 4 verses (skips over verse 2).
Special thanks to ccipineville for sharing this song on YouTube
Other Christmas Hymns on this blog:
O Come All Ye Faithful
Away In A Manger
The First Noel
It Came Upon A Midnight Clear
Joy To The World
Linked to:
Social Sunday