"And there were shepherds living out in the fields nearby, keeping watch over their flocks at night. An angel of the Lord appeared to them, and the glory of the Lord shone around them, and they were terrified. But the angel said to them, 'Do not be afraid, I bring you good news of great joy that will be for all the people. Today in the town of David a Savior has been born to you; he is Christ the Lord. This will be a sign to you: You will find a baby wrapped in cloths and lying in a manger.' Suddenly a great company of the heavenly host appeared with the angel, praising God and saying, 'Glory to God in the highest, and on earth peace to men on whom his favor rests.' When the angels had left them and gone into heaven, the shepherds said to one another, 'Let's go to Bethlehem and see this thing that has happened, which the Lord has told us about.' So they hurried off and found Mary and Joseph, and the baby, who was lying in the manger. When they had seen him, they spread the word concerning what had been told them about this child, and all who heard it were amazed at what the shepherds said to them. But Mary treasured up all these things and pondered them in her heart. The shepherds returned, glorifying and praising God for all the things they had heard and seen, which were just as they had been told." Luke 2: 8-20
It is interesting that the shepherds were the first ones to be told about the birth of Jesus. Shepherding was a lowly job (no offense against any sheep farmer today) - they were uneducated and others knew that they could not have made up such a story. Just imagine a "company of hosts" - how many were there? - hundreds.....thousands. A
choir of angels - what that must have sounded like. The shepherds would have been able to give a detailed account of what they saw - this was even more proof to others that this could not have been made up by the shepherds. Everyone of that day who heard this story from the shepherds believed them: "and all who heard it were amazed at what the shepherds said to them."
The shepherds were told first to show the world that Jesus came to save us all - It doesn't matter if you are poor or rich, weak or strong, it doesn't matter if you are Jew or Gentile - Jesus is the Savior of all!
Let's glorify and praise God for all that He has done for us and for all that "we have heard and seen"
Advent Wreath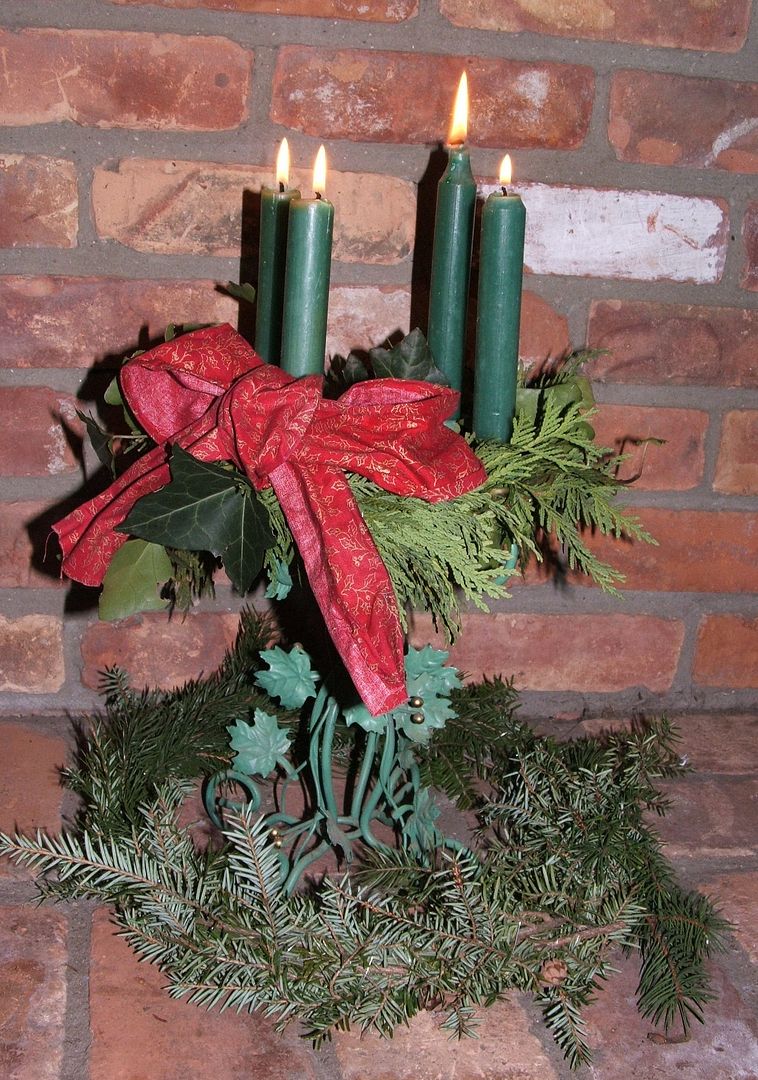 All 4 candles have been lit on the Advent Wreath
Now turn with me to number 108 in your hymnals and let's sing:
The First Noel
an "Old English Carol" Traditional melody in W. Sandys'
"Christmas Carols" 1833
1. The first Noel, the angel did say, Was to certain poor shepherds in fields as they lay; In fields where they lay keeping their sheep, On a cold winter's night that was so deep.
CHORUS
2.They looked up and saw a star Shining in the east, beyond them far, And to the earth it gave great light, And so it continued both day and night.
CHORUS
3. And by the light of that same star Three wisemen came from country far; To seek for a king was their intent, And to follow the star wherever it went.
CHORUS
4. This star drew nigh to the northwest, O'er Bethlehem it took its rest, And there it did both stop and stay, Right over the place where Jesus lay.
CHORUS
5. Then entered in those wisemen three, Full reverently upon the knee, And offered there, in His presence, Their gold and myrrh and frankincense.
CHORUS
Chorus

Noel, Noel, Noel, Noel
Born is the King of Israel.
Special thanks to "Rebel Warrior" for sharing this song on YouTube.
Special thanks to "
NostalgicDecember
" for sharing this song on YouTube.
Other Christmas Hymns on this blog:
O Come All Ye Faithful
O Little Town Of Bethlehem
Away In A Manger
It Came Upon A Midnight Clear
Joy To The World