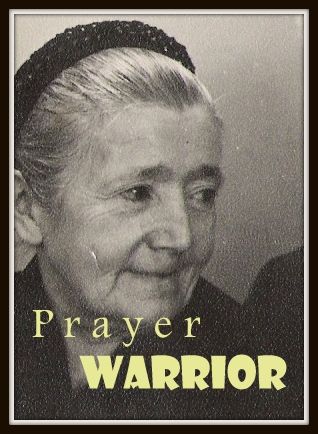 Prayer Warrior #1
What is a "Prayer Warrior" you might be asking? A "Prayer Warrior" is an individual who receives God's provision and protection by asking and listening to God through PRAYER.
Today I am starting a regular feature - true life prayer stories showing proof that prayer works. The picture above is my great grandmother Dorothea. The story that I share below is about Dorothea & her family told from my grandmother Sophie's perspective - this story really happened.
____________________________________________________________
The Avoidable Train Ride
True story - written by Angie Ouellette-Tower
It was near the end of World War II and Sophia's family had been forced to move here and there numerous times over the past few years. They travelled by horse and buggy, on foot and even packed like sardines in train boxcars. Sophia started the war living in a small village in Yugoslavia but now found herself in Oberheit, Austria with her 3 children and her parents, but she also found herself husband-less. She hoped that her dear husband was still alive but due to wartime constraints she had not heard from him in months.
A truck with a loud speaker just rode through Oberheit informing the townspeople that this heavenly mountain village would soon be a battle zone! Everyone had to pack their bags and be on the last train, leaving in less than 1 hour.
Sophie was frantic! - As, she had done many times before - she packed for an unknown destination. Her daughter Lydia was very helpful; at 11 years old she was packing for herself. Sophie was also thankful for son Willy (soon to be 13); he and Sophie's dad were occupying Elfie who wasn't quite 2 years old yet. Sophia noticed that her parent's bedroom door was closed and she knew that her mom was doing the packing in there.
Sophie darted back and forth, opening cupboards and grabbing necessary items. Every time she rushed to the other side of the room she passed her mom's closed door and heard the clock ticking - tic tock tic tock tic tock. How much time did they have left? There was only one train leaving! - no second chances!! Back and forth, hurry! Up and down, dash! Open and close, rush!
Just as Sophie had almost finished packing, the bedroom door opened and her mom appeared in the doorway empty handed. Sophie's mouth dropped in shock but then her mom spoke and said: "I have just been praying and God made it very clear to me that we are NOT supposed to get on that train."
The family was used to "Oma's" prayer announcements and trusted that her answer was truly from God. Sophie stopped rushing around and went to the window. Outside many people were scurrying by with baggage in hand heading toward the train.
Sophie sat down and could barely swallow with that lump of worry in her throat. She thought, "What have we done?! Our only way to safety has just hooted into the distance." Then she calmed herself by thinking: "Trust God and obey." Just as she finished telling herself to calm down and trust God another truck came through town announcing that the Americans were coming & that everyone in town were planning on surrendering. They hung white sheets outside the windows indicating their submission. They were safe without getting on that train!!
They later found out that the last train that left town that day had been blown up by land mines on the track! - If they had taken that train that day, they would have all been killed or severely injured!
God answers prayer & we must trust & obey!
_____________________________________________________________
________________________________
If you have a true life story about answered Prayer and would like to share this "Prayer Proof" with us here on this blog then please fill out this form: click HERE