Turning an Old Shed Into a Playhouse - PUFFY FLOWER CURTAINS
My twin nieces love playing in this transformed shed. Last week you saw the beautiful murals that my nieces painted and today I will show you the "Puffy Flower Curtains" that I made for them.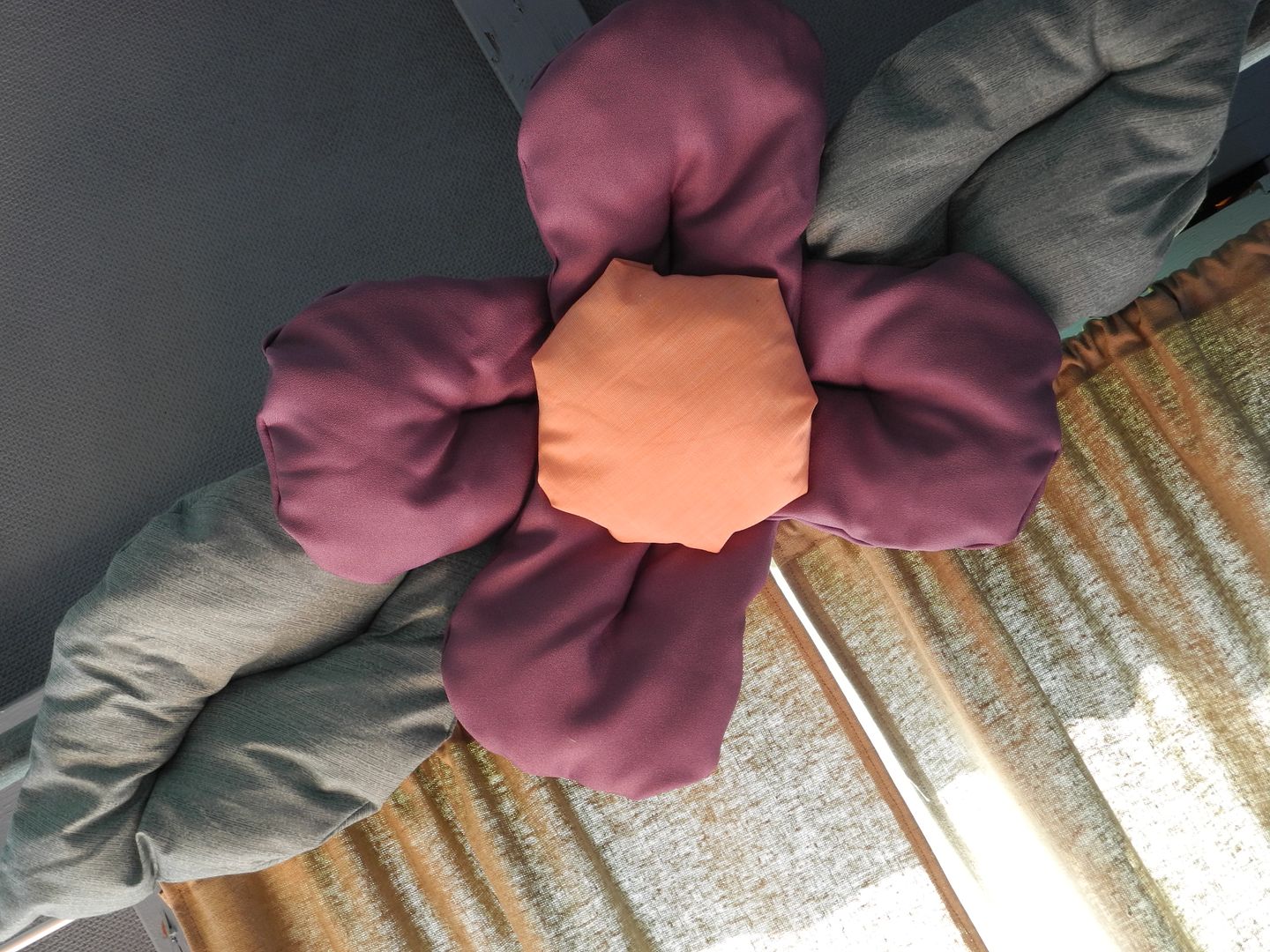 This shed happens to have 4 windows but if you are turning an old shed that has no windows into a playhouse, then maybe you could pain a "window mural" and make curtains for that "pretend" window.
The "puffy flower" portion is actually a valance because I made basic slide-to-the-side type curtains.
I began with a pile of scrap material.
Then I picked the colors/fabric for the flower petals & the fabric for the leaves and then the material for the flower middle.
Three of the flowers have 4 petals and the last flower has 5 petals (I don't know why - it just happened that way) - then there are 2 leaves per flower (that's a total of 8 leaves for 4 windows).
I drew the petal & leaf patterns on paper first & then cut the fabric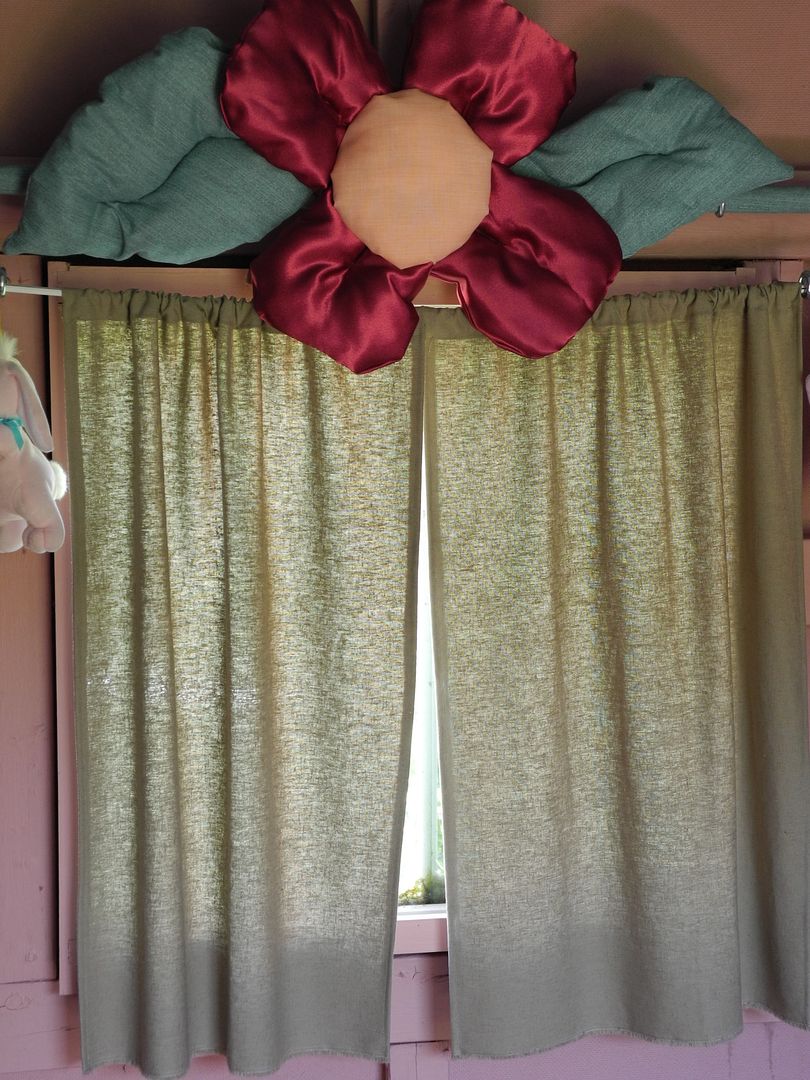 I sewed these petals and leaves into pillows, stuffed them with fabric fiberfill and then sewed a half line on top of each petal & leaf (after it was stuffed) to look like the petal had a little pucker in the middle.
Then I cut 4 circles out of cardboard (which will be the middle of each flower). Then I cut fabric about 2 inches larger than each circle - I "glue-gunned" some stuffing on the cardboard and then secured the fabric over the stuffed cardboard by using the glue gun on the back of the cardboard folding over the longer fabric (allow to cool & dry)
Cover a round dowel rod or round curtain rod with the same fabric as you used for the leaves
Glue (using a glue gun) the petals onto the back of the round middle. Then glue the leaves onto the fabric covered dowel rod (see pictures above or below) and finally glue the flower onto the middle of the dowel rod covering the inner edges of the leaves that you previously glued onto the rod
Last step is to screw some open hooks onto the walls inside the shed & then hang the valance & curtain
ENJOY!!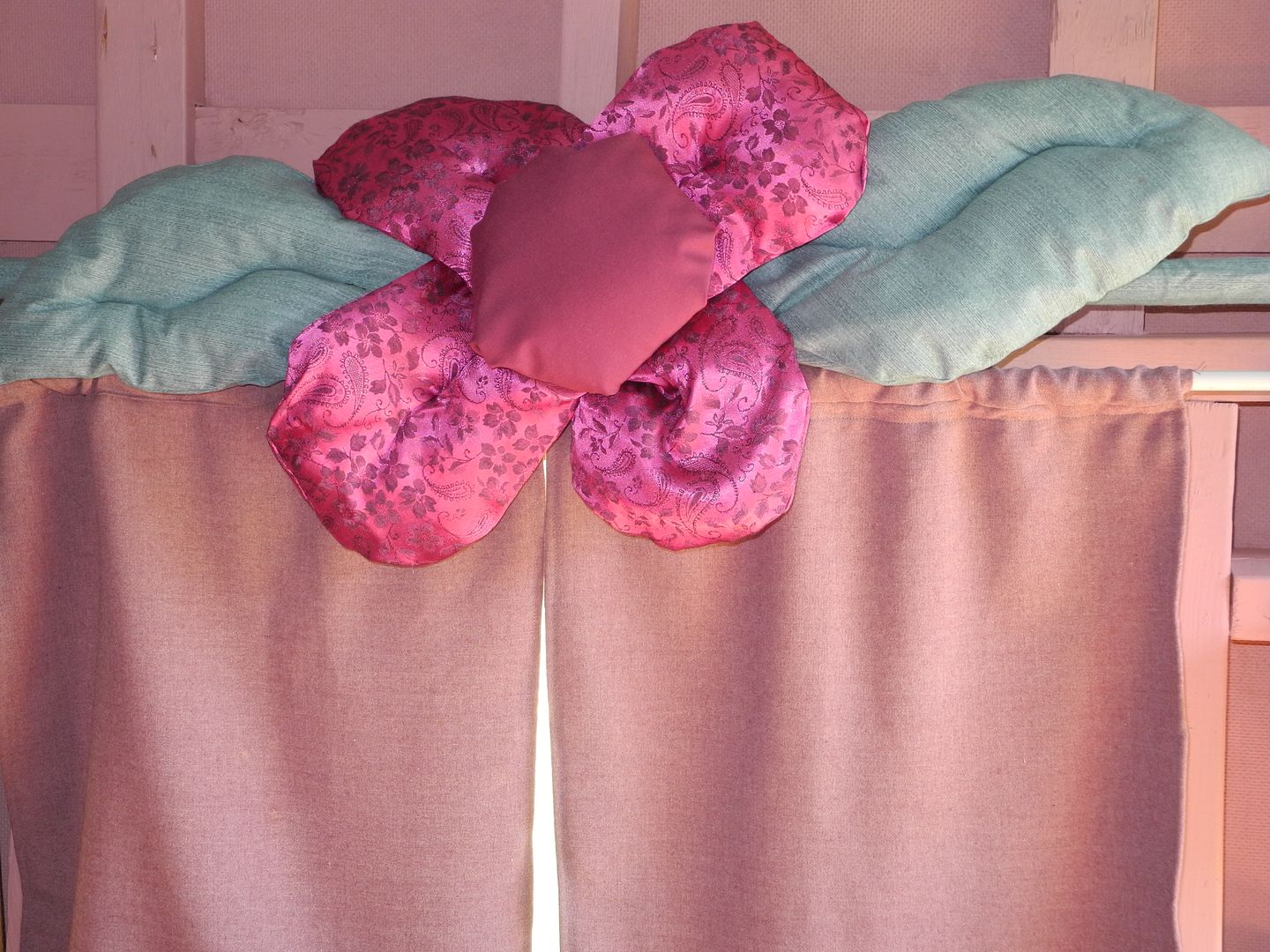 Part 1 - Rainbow Sunflower Mural

Linked to:
The Creative Home & Garden Hop
__________________________________________________________________________
Please checkout this month's wonderful Sponsor!!
Michelle from
"Ya Gotta Have A Hobby" has such a fun blog full of unique craft ideas, delicious recipes and every hobby under the sun!!