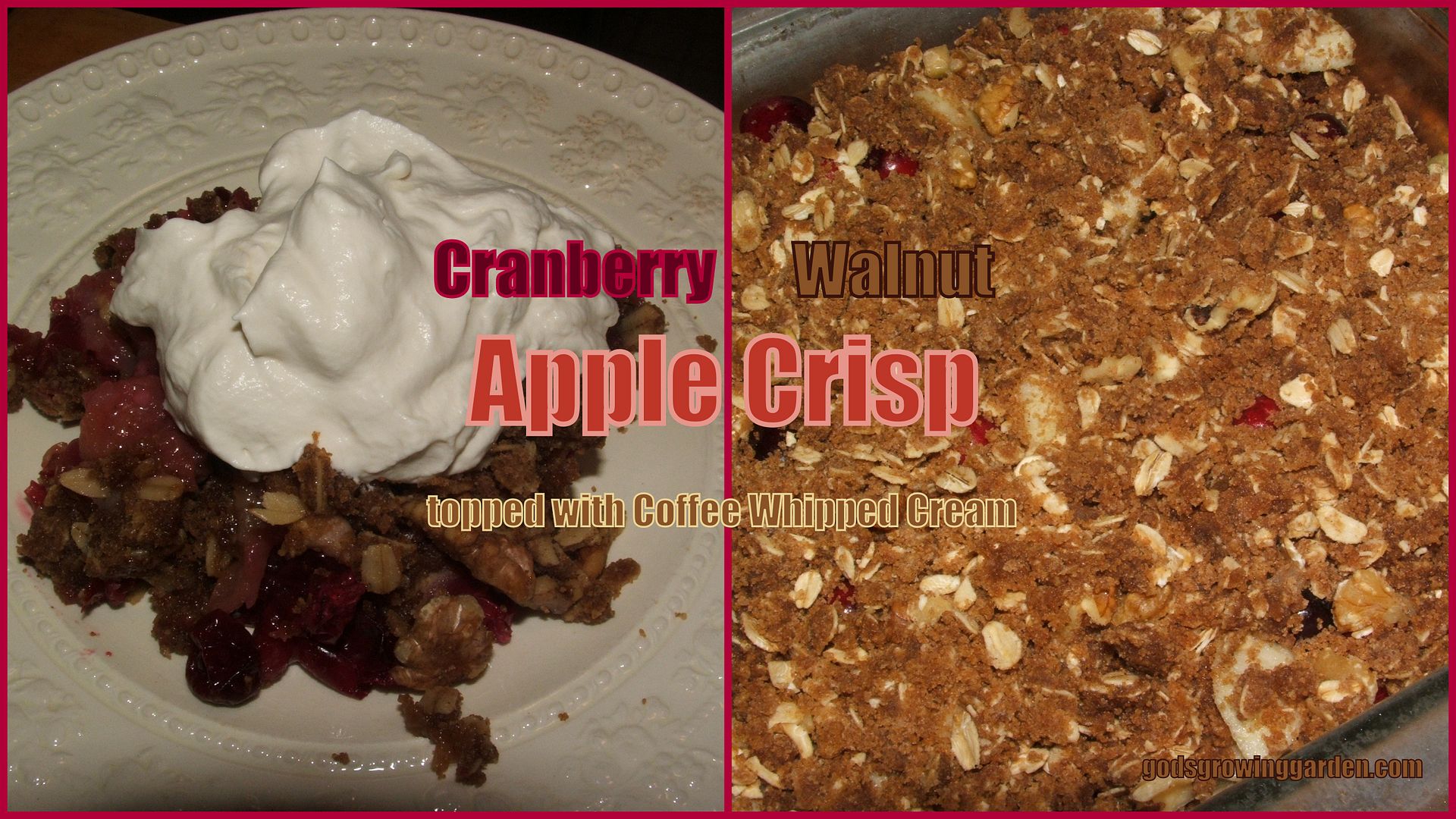 Cranberry Walnut Apple Crisp RECIPE
(topped with Coffee Whipped Cream)
Flavor combinations are so enjoyable. Cranberries, walnuts and apples have been combined before but top this trio with coffee whipped cream and your tastebuds will jump for joy!
Printable Recipe
2 cups fresh whole cranberries (rinsed and drained)
2 cups apples (cored, peeled and sliced)
1/2 cup oatmeal (I used old fashioned rolled oats)
1/3 cup salted butter (melted and cooled to warm)
1/3 cup chopped walnuts (pecans work well also)
(a pinch of salt if you used unsalted butter above)
Begin by preparing the fruit as described above and set aside until later.
Spray or butter a square glass Pyrex baking dish. Pour the prepared fruit in the bottom of the sprayed baking dish and spread around evenly.
In a different mixing bowl combine the brown sugar, flour, oatmeal, cinnamon, and salt - stir until combined. Now stir in the melted butter and you will notice the mixture to be a little clumpy (see picture above). Finally, stir in the chopped nuts just until distributed.
Cover the fruit with the oatmeal mixture.
Bake in a preheated 375 degree oven for about 30 minutes (or until desired golden brown color is achieved) Remove from the oven and cool on a rack (see picture below).
You may eat this delicious dessert without any topping (see picture below), However.......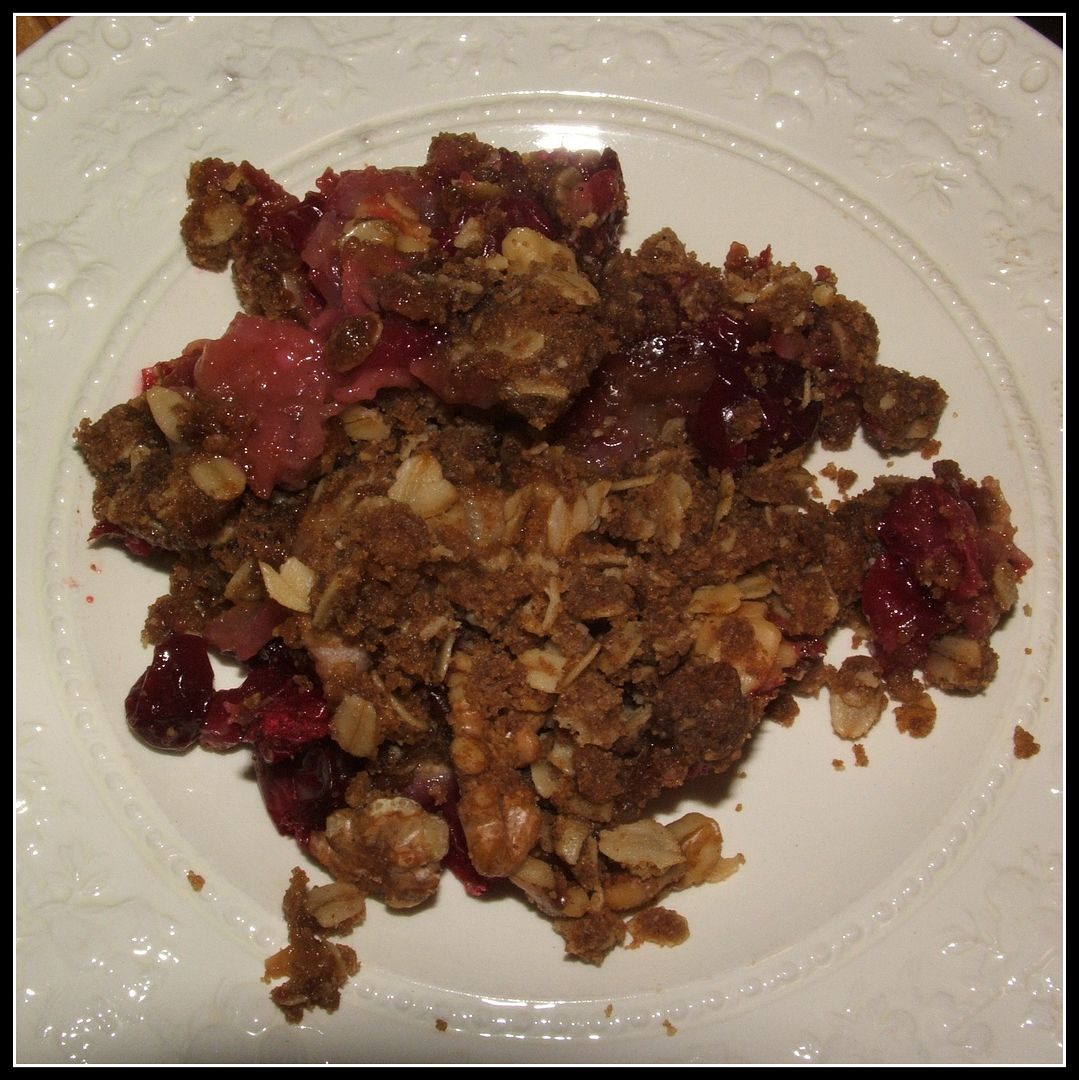 .........I enjoy topping it with coffee whipped cream:
(simply add 1/4 teaspoon instant coffee in the heavy whip cream when you are whipping it with an electric mixer. Don't forget to add a little powdered sugar also)
After it has cooled, scoop out a portion, top with coffee whipped cream and
ENJOY!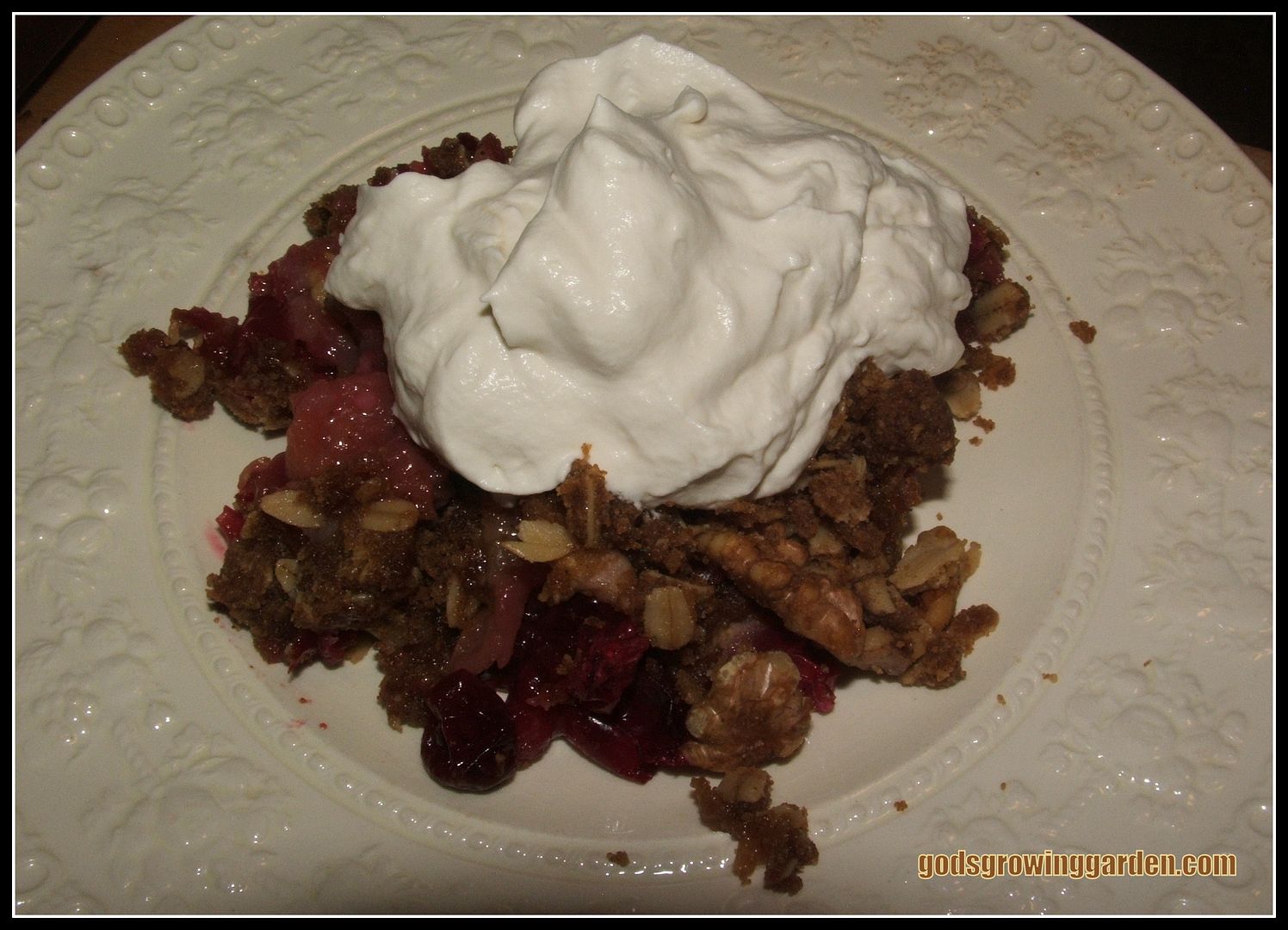 Copyright, Permissions & Disclaimer

Linked to:
Thursday Favorite Things
Friday Feature Linky Party
Pin Junkie Pin Party
Over the Moon Linky Party
Happiness is Homemade
___________________________________________________________________

Are you in need of Online Counseling?
Professionally Licensed
Spiritually Informed
Readily Accessible


click logo image above
or
click
HERE
to view Faithful Counseling website
_____________________________________________________________________


Take Up The THANKFULNESS Challenge!
I challenge you to thank God for something everyday for one year! Either write it down in a diary OR share with us on a blog. If you have a blog & would like to share your THANKFULNESS posts with us, then please fill out this form:
365 Days of Being THANKFUL form - click HERE
and you will be added to the THANKFULNESS page.