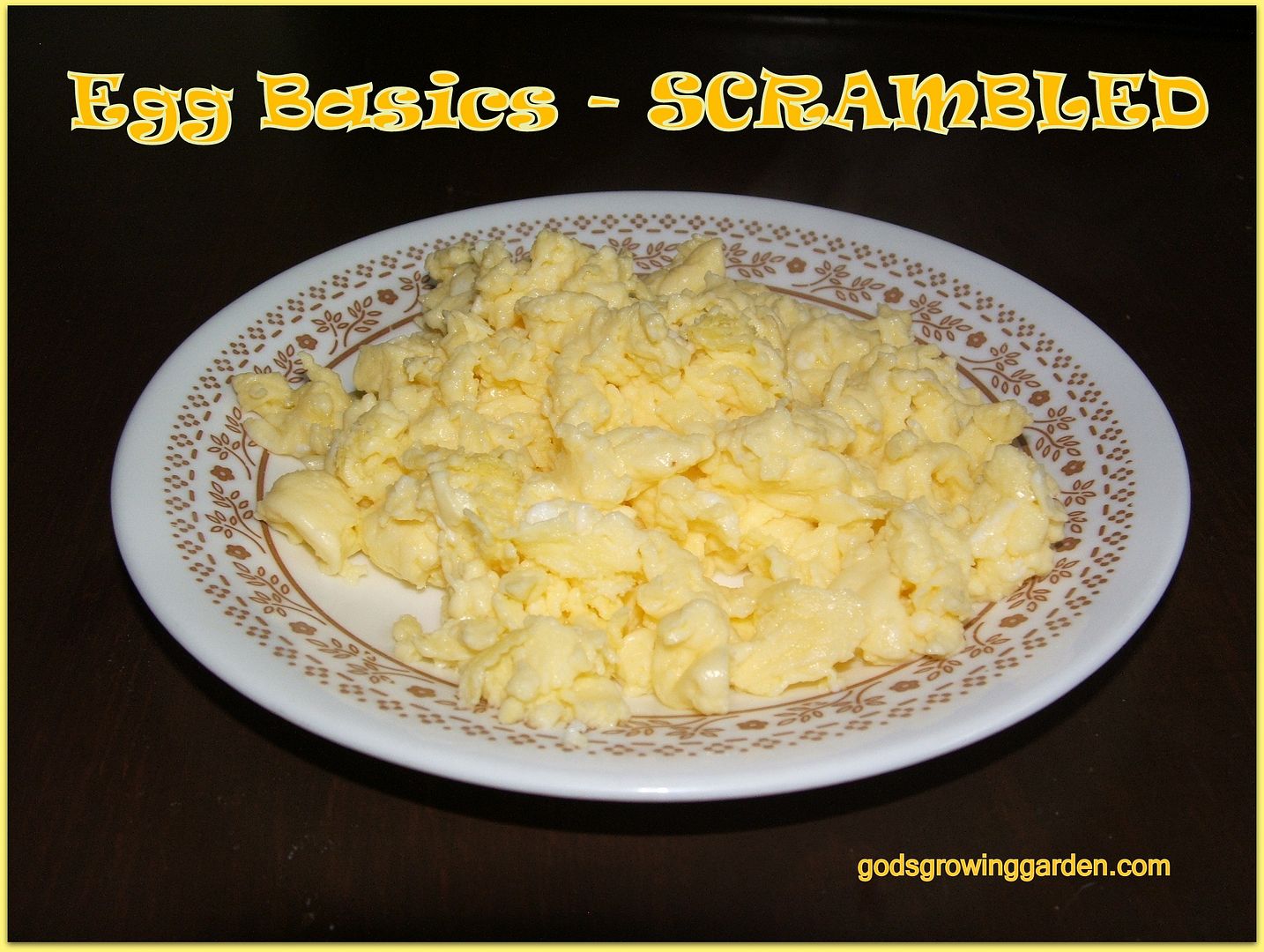 Egg Basics - SCRAMBLED
On this blog I have reserved Thursdays for "Beginners." Over the past few months (on Thursdays) we have been learning about the Basics of Eggs. (I know that many of my readers are experienced cooks but there are just as many readers who are new in the kitchen and might desire some simple instruction on the basics).
Eggs are wonderful and so versatile! - - - They can be boiled, fried, poached, scrambled, deviled..........etc. Today we will be learning how to cook perfect scrambled eggs.
Last December I saw a "Gordon Ramsay" Holiday Special on "BBC America" and I have to say that I was appalled at the way that Chef Ramsay made scrambled eggs! - His scrambled eggs looked like a heap of slimy soupy slithering sludge. I have said it before - "Food appearance is just as important as the taste" - these scrambled eggs were a gagging glob of goop!! Now, I want to make it very clear that I am in no way comparing my cooking skills to that of Gordon Ramsay but when it comes to the simple scrambled egg I think you'll agree that my version looks much more appetizing (I can't say that it tastes better because I've never tried his slop version) (no offense intended).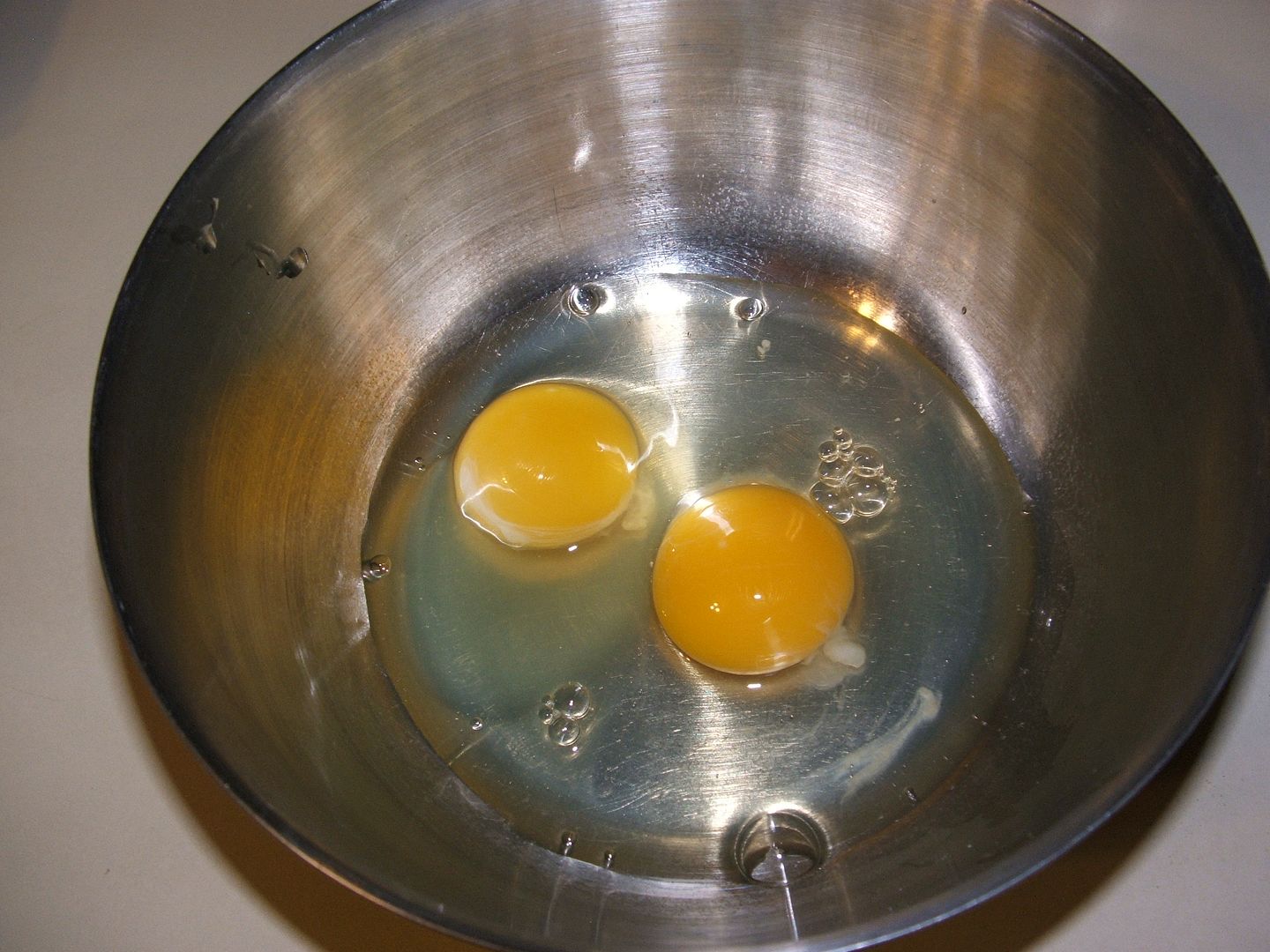 Step 1: Crack open the desired amount of eggs into a medium size bowl
Step 2: Add 1 1/2 tablespoons of whole milk or cream per egg (for example - I used 2 eggs and added 3 tablespoons milk. In other words - multiply the number of eggs that you are using by 1.5 = this will equal the tablespoon amount of milk/cream required).
Step 3: Whisk the milk & eggs together until it looks a little frothy & aerated (see smaller picture top right) - add a dash of salt (you may add more salt after it is cooked - if you desire).
Step 4: Melt 1 teaspoon of butter in a frying pan & then pour the egg mixture into the pan (on medium low heat).
Step 5: After 1 minute begin pushing the egg/milk mixture around with a spatula - scrambling the eggs (see picture below).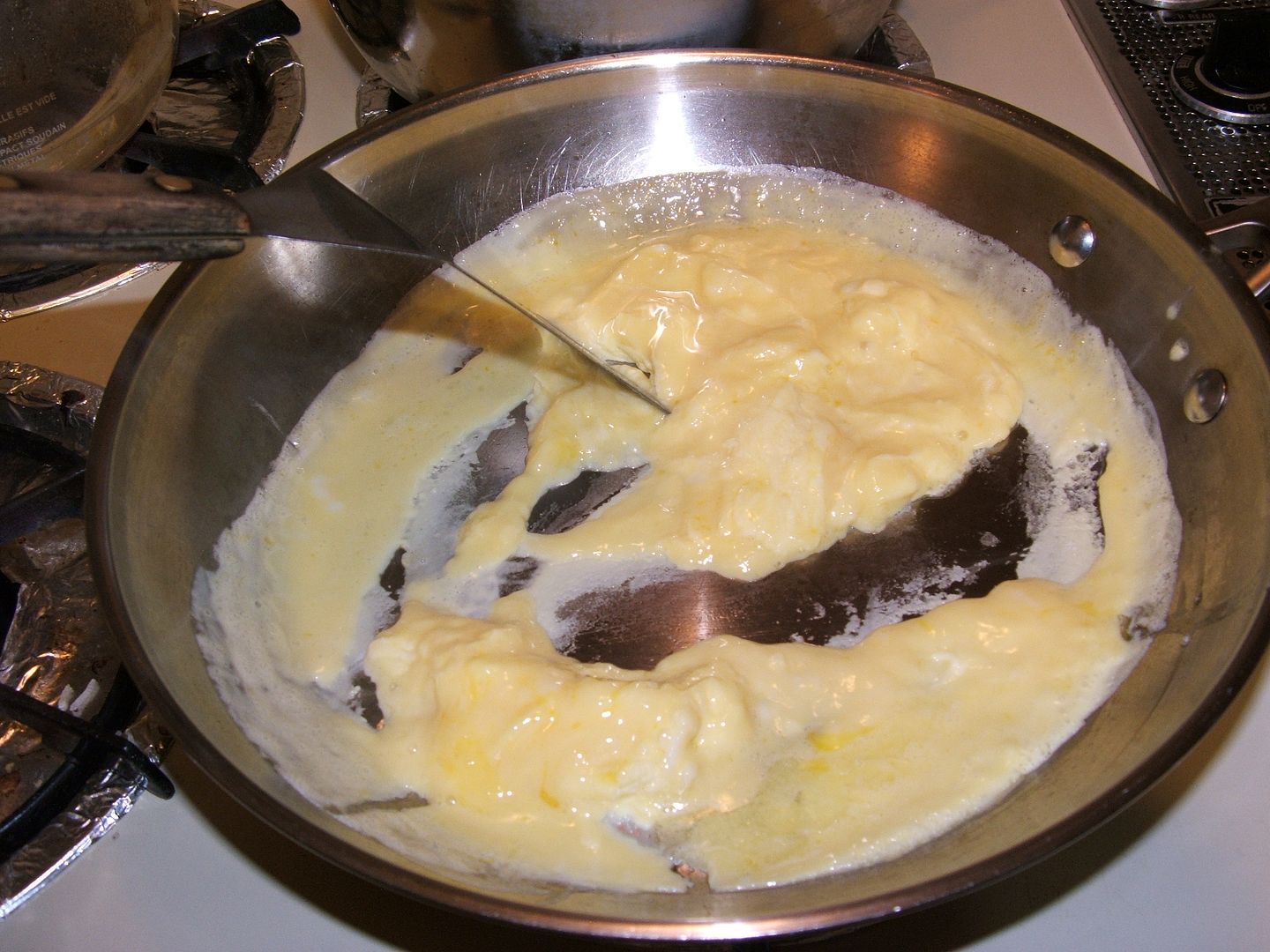 Step 6: Continue "scrambling" (moving the eggs around with the spatula) until it resembles the picture below.
Step7: Serve immediately - add pepper & a little more salt if you desire & ENJOY!
IMPORTANT: You must use whole milk or cream - If you use skim or low fat milk you will be left with "egg water" (which is what my husband calls it).
ALSO IMPORTANT: You must use medium low heat because you don't want to have a crispy edge or rubbery textured eggs - you want them to be light & fluffy.
See also:
Egg Basics - POACHED

Linked to:
All My Bloggy Friends
________________________________________________________________________
Please checkout this month's wonderful Sponsor!!
Angel from "Sew Crafty Angel" has an amazing blog full of delicious recipes, fun blog hops, great giveaways & crafty ideas!!