This world is all about control. Control in relationships, politics, war, career, financial portfolio, school, our health, entertainment - the list goes on and on. The world even implies that we can control our future by having a "five year plan" or "if you are ambitious enough it will happen." Do we really have control over any of these things that I've mentioned? I think that many of us have learned the hard way - with the housing bubble bursting, Wall Street collapsing, governments and countries going bankrupt and a few years ago unemployment at levels not seen in decades - Do we really control our future? The answer is No - but Don't freak out because God is in control.
Today we are going to study what it is that we are truly supposed to control - what is it that God commands?
We are only responsible for ourselves. Now, I know that all parents out there are saying "I'm responsible for my children" - there's a difference between control and being responsible for the good of another. You see - guiding, encouraging and teaching is not controlling. There's only one thing that we are supposed to control - and that's SELF. Although, (this is IMPORTANT) - when we become a Christian and accept Jesus as our Savior - we are then controlled by the Holy Spirit.
We must learn to control our: thoughts, emotions, actions and speech through God who gives us strength.
"I can do everything through him who gives me strength." Philippians 4:13
We have talked often about the importance of our thoughts - read "Think Good Thoughts" (click HERE to read). As it says in Romans 8 (see first few verses above) - "The mind of sinful man is death, but the mind controlled by the Spirit is life and peace." With the help of the Holy Spirit we can control our thoughts, which in turn will help produce good emotions, good actions and good speech. I can't say for sure which one comes first; our actions and then our thoughts, speech and emotions follow or our emotions followed by our thoughts, speech and actions - all I know is that all four feed into each other and impact each other.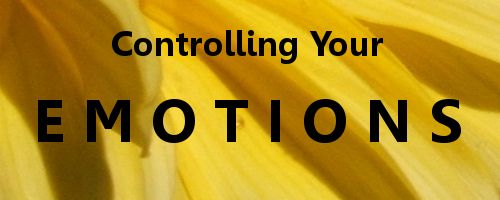 There will be many times when it will be impossible to control our emotions - for example: crying because of sadness at a funeral , or maybe happiness shown by laughing or tears of joy at a wedding - this is a normal and healthy show of emotion. Trying to hold in laughter or tears is like trying to hold in a cough when you have a cold - that's impossible!! The kinds of emotions that do not glorify God are the extremes that we need to control like: being depressed and crying all the time (which could just be a chemical imbalance but needs to be addressed, not ignored) or fits of rage (screaming and yelling at others in traffic) are just a few examples of extreme ungodly emotions. I've mentioned before that one of my weaknesses is a horrible temper - the verses below address this "fly-off-the-handle" emotion that has no place in the life of someone living for Christ. I struggle daily with controlling this emotion but with God's strength I know that I can overcome this sin.
"Better a patient man than a warrior, a man who controls his temper than one who takes a city." Proverbs 16:32
"A fool gives full vent to his anger, but a wise man keeps himself under control." Proverbs 29:11
What we do with our body through our actions is so important. I've quoted this before: "actions speak louder than words" - what you do might be the only experience that those around us might have with Jesus. Words go in one ear and out the other but our actions are remembered. Equally important is what we put into our bodies. Whatever we allow into our life (what we watch, what we eat, what we study, what we wear, what we drink) will influence our actions going out from body. I'll give an obvious example: You go to a party and decide to have a few "drinks" - hours later you find yourself in a drunken stupor and have to rely on a non-Christian co-worker to drive you home. The next day you "call in sick" telling your boss that you have the flu. When your co-worker asks about you he finds out that you lied. A bad action going out in response to a bad decision coming in.
"that each of you should learn to control his own body in a way that is holy and honorable," 1 Thessalonians 4:4
"Do you not know that your body is a temple of the Holy Spirit, who is in you, whom you have received from God? You are not your own; you were bought at a price. Therefore honor God with your body."
1 Corinthians 6:19 & 20
I know that I just said that "actions speak louder than words" (and I believe that they do), but that doesn't mean that we shouldn't strive to make our words glorify God. Click HERE to read "Taming Your Tongue" - a post that I wrote many years ago focusing on the 4 "T's" of our words and speech (Timing, Tone, Translation and Twisting the Truth).
"Do not let any unwholesome talk come out of your mouths, but only what is helpful for building others up according to their needs, that it may benefit those who listen."
Ephesians 4:29
_____________________________________
"Prayer Warriors United" is a google+ Community where Christians come together in prayer.
C
lick HERE to view or join this community
If you need prayer please fill out this