Where Do You Place Your Trust?
Last week we learned about what it is that God wants us to control and today we will study what we are supposed to trust or in whom we are to put our trust. It should be obvious that we are supposed to trust in God.
It's so simple - we only have to remember one thing:

Trust in God.

Trust in God the Father, Son and Holy Spirit - trust in the Holy Trinity. In the verse above we are to trust in God, in the verse below Jesus is speaking stating that we are also to trust in Him (Jesus). And finally (we touched on this last week) - when the Holy Spirit lives in us - we are controlled by the Holy Ghost and must trust in those urgings and gut feelings that come from God through the Holy Spirit. That's all! Three in one - trust in our heavenly Father, Jesus our Savior and the Holy Spirit.
"Do not let your hearts be troubled, Trust in God; trust also in me." John 14:1
"Those who live according to the sinful nature have their minds set on what that nature desires: but those who live in accordance with the Spirit have their minds set on what the Spirit desires. The mind of sinful man is death, but the mind controlled by the Spirit is life and peace; the sinful mind is hostile to God. It does not submit to God's law, nor can it do so. Those controlled by the sinful nature cannot please God. You, however, are controlled not by the sinful nature but by the Spirit, if the Spirit of God lives in you. And if anyone does not have the Spirit of Christ, he does not belong to Christ. But if Christ is in you, your body is dead because of sin, yet your spirit is alive because of righteousness. And if the Spirit of him who raised Jesus from the dead is living in you, he who raised Christ from the dead will also give life to your mortal bodies through his Spirit, who lives in you." Romans 8: 5-11

"But I am like an olive tree flourishing in the house of God; I trust in God's unfailing love forever and ever." Psalm 52:8
"Trust in the Lord forever, for the Lord, the Lord, is the Rock eternal." Isaiah 26:4

"Trust in him at all times, O people; pour out your hearts to him, for God is our refuge." Psalm 62:8
"Who among you fears the Lord and obeys the word of his servant? Let him who walks in the dark, who has no light, trust in the name of the Lord and rely on his God."
Isaiah 50:10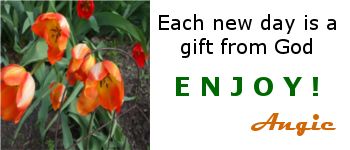 Shared with:
Happiness is Homemade
Over the Moon Link Party
You're the STAR
Lou Lou Girls
Tuesdays with a Twist
Wonderful Wednesday Blog Hop
Friday Feature Linky Party
Oh My Heartsie Girls Wonderful Wednesday
Pretty Pintastic Party
Pin Junkie Pin Party 235
________________________________________________________________
"Prayer Warriors United" is a google+ Community where Christians come together in prayer.
C
lick HERE to view or join this community
If you need prayer please fill out this
Prayer Request form