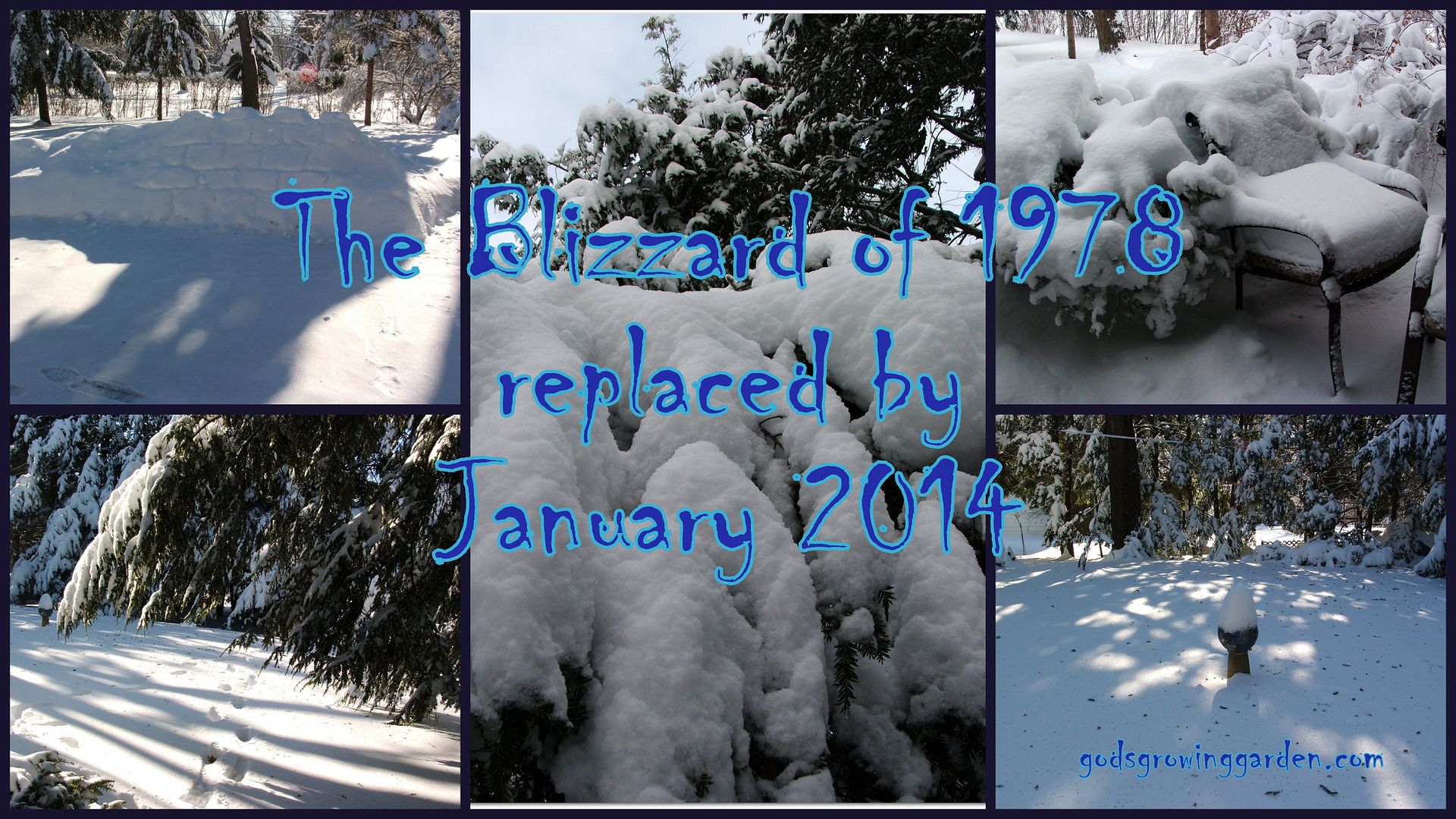 The Blizzard of 1978 Replaced by January 2014
For my entire life everyone has always compared any winter storm to the record breaker that we had in 1978. Now, January 2014 has surpassed the snow amounts that we received in January 1978! Thirty-six years ago we had 30.8 inches of snow and so far this January we have had 38.5 inches with a few more January days to go!! That means I will have to change my way of thinking and in future years I'll have to say "Remember 14" or "Nothing can compare to the Winter of Twenty-Fourteen" - Somehow that just doesn't sound right.
The difference between this January and the storm that we received in 1978 was time. Almost all of the snow in 1978 was from only one storm!! This year we have had many storms and even a few very warm days that we called "The January Thaw." Snowfall being stretched over almost 30 days doesn't seem that bad compared to 30 inches in a matter of 72 hours!
My parents, sister & I were just recently recalling that epic storm in '78. I was only 7 years old but I remember it like it was yesterday. That winter we were living in my grandparents home so that my mom could care for her father (my grandfather) who was very ill. My childhood home was in a small town about 30 minutes away from the city that my grandparents lived in.
On weekends my dad would travel home to checkup on things, pick up the mail, make sure nothing was amiss and that's when the storm hit. We were miles apart: my dad home alone and my poor mom stranded in the city with two young and wild girls (myself and my little sister).
That next day after the storm was shocking! Not only did we receive more than 2 feet of snow but we also had extreme winds which created mammoth drifts. In the city we tried to open both the front & back door and we were totally trapped inside! The snow had drifted halfway up the door and since the doors opened out we were unable to shovel an escape. After a day or so the neighbors came by and shoveled us out - these fantastic neighbors also provided us (and others that were trapped) with a snowmobile grocery service dropping off needed supplies to our windows.
At home, my dad was able to emerge from the storm through the front door because we had a porch. Back then we only had one camera and thankfully he ventured outside and took these three fantastic pictures of the side and back yard and one claustrophobic view from the basement door inside (I will explain each picture below - ENJOY!).
PICTURE#1 - (Below) View from the back yard. The blue arrow is pointing at the buried back steps and shows that the back door is blocked at the bottom of the door. The large red arrow shows an amazing drift that is covering the stairway going down to a basement door - there are about 15 steps going down - so it's a full staircase!!
PICTURE#2 - (below) View from the front looking to the left and onto the road. That red arrow is pointing to the giant pile of snow from the snow plows that cleared the roads - I'm not sure exactly how high they were but they must have been over 6 feet high (I'll have to ask my dad that question).
PICTURE#3 - (below) View from the basement inside looking out. This picture speaks for itself - I hope you aren't claustrophobic!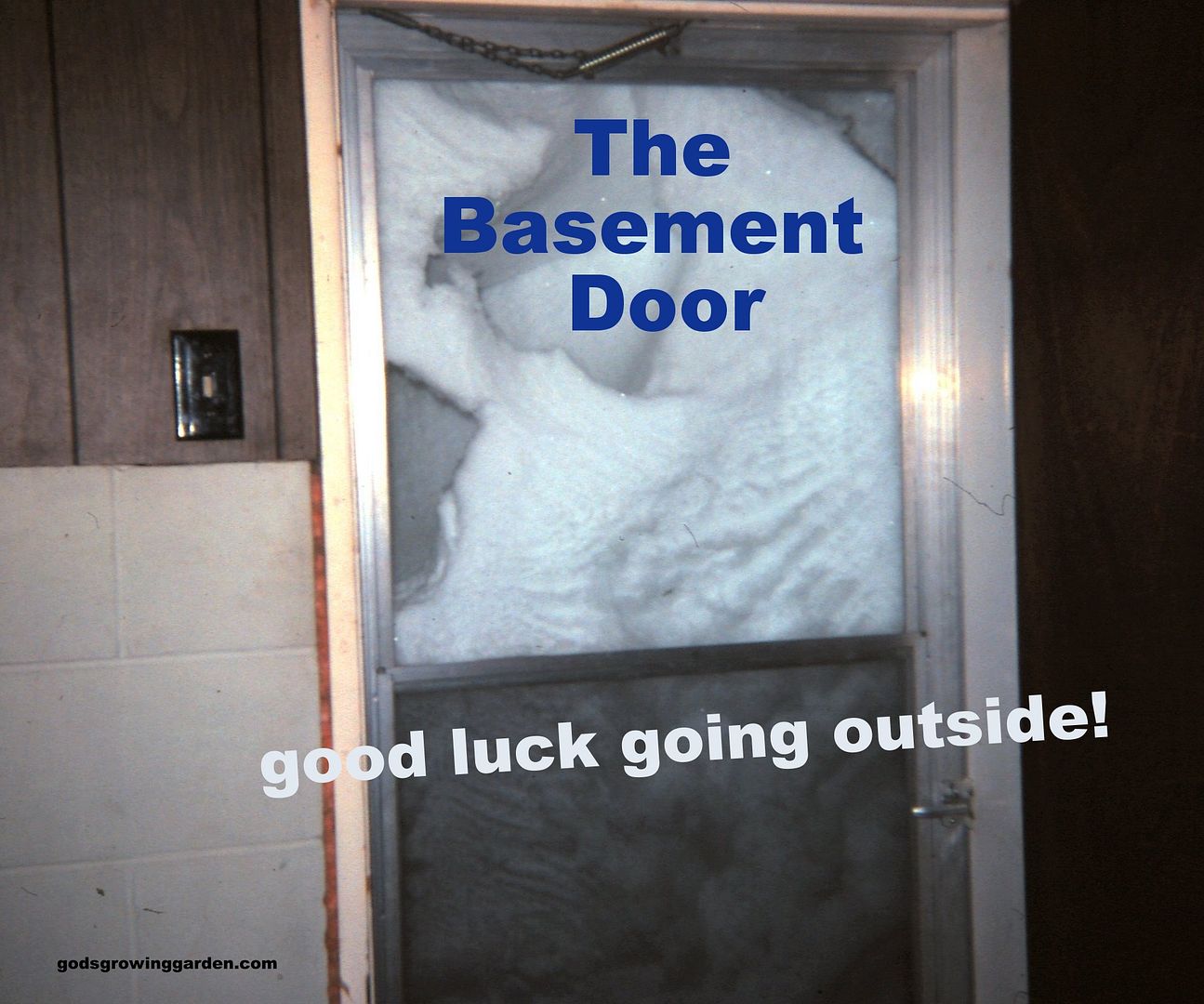 Linked to:
Adorned From Above
Thursday Favorite Things
Four Seasons Blog Hop
Google+ Growing Circles Hop
Freedom Friday
Serenity Saturday
Grow Your Google+ Circles Hop
TGIF
Turn It Up Tuesdays
______________________________________________________________________
Please checkout this month's wonderful Sponsor!!
"Eternal Girl" (Julia) creates jewelry and other gifts specializing in handmade henna inspired designs