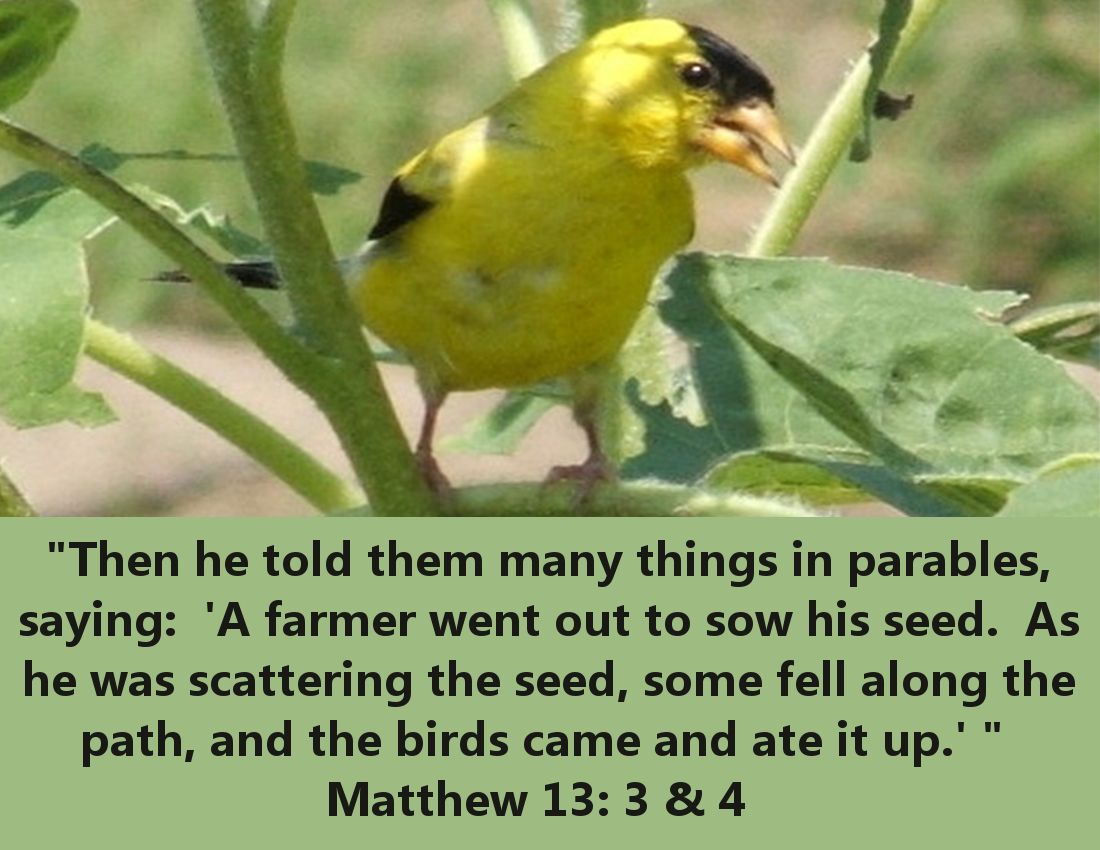 PARABLE of the Sower - SEEDS ALONG THE PATHWAY
"The Parable of the Sower" is about faith & unbelief. It's about sharing our faith with others and dealing with the trials and tribulations that come along with witnessing. We are all part of God's Growing Garden and the types of seeds that we are planting in His garden are: grace, mercy and forgiveness.
In this Parable there are 4 different ways to receive the gospel or 4

different sorts of people who come in contact with the gospel

. Today we will be focusing on the seeds sown along the pathway.
The seed is always the same: the gospel is the seed, which is the saving grace and mercy of Jesus Christ our Lord and Savior. The soil types are different. I was going to say that we are the soil but I think that the environment that we live in is the soil. Once this seed sprouts and a plant appears symbolizes our birth as a Christian. How that plant continues to grow is the type of believer that we become. Together we are all part of the garden which is the family of God.
Explanation
THE PATHWAY: The seed scattered in this type of soil is uncovered & unprotected. There is
movement along the pathway and any seed is swept away. This is the modern way - we are always moving on to next new thing - the newest diet, the newest gadget, the newest phone, the newest supplement ......etc. We never develop a deep understanding in one area because we are swept away by so called "progress." This seed doesn't even get a chance to germinate because it is snatched away & eaten by the birds (symbolizing Satan snatching away).
If you notice that you are sowing seeds along the pathway - make sure to protect them from the birds.
Previous PARABLE posts:
PARABLE OF THE VINE - "The True Vine & the Father Gardener"
PARABLE OF THE VINE - "Be a Fruitful Branch Instead of a Withering Branch"
PARABLE OF THE VINE - "Producing Joyful Fruit - God's Love Remains Forever"
PARABLE OF THE VINE - "Everlasting Fruit & Everlasting Friends"
The Prodigal Son PARABLE - The Son Who Ran Away
The Prodigal Son PARABLE - The Son Who Stayed Home
PARABLE of The Good Samaritan - Love God First
PARABLE of the Good Samaritan - Love Others
Copyright, Permissions & Disclaimer

Linked to:
You're the STAR
Happiness is Homemade
LouLou Girls Party #202
Tuesdays with a Twist
Oh My Heartsie Girls Wonderful Wednesday
Wonderful Wednesday Blog Hop
Thursday Favorite Things
__________________________________________________________________


"Prayer Warriors United" is a google+ Community where Christians come together in prayer.
C
lick HERE to view or join this community
If you need prayer please fill out this