Responding To An Apology
Over the past couple months we have been studying how to hold each other accountable for our actions (click
HERE
to read "
Accountability and Admonishment
"), we have also been learning the difference between encouraging others and rebuking when they have sinned (click
HERE
to read "
Encouragement vs Admonishment
"). A couple weeks ago we talked about Knowing When To Walk Away (click HERE to read) and last week: When You Are The Confronted (click HERE to read).
Today we will focus on how to respond to an apology.
Nobody ever talks about how to accept an apology. After all, forgiveness goes both ways: asking for forgiveness and actually forgiving.
The most important thing that we MUST do is FORGIVE (see verses above & below):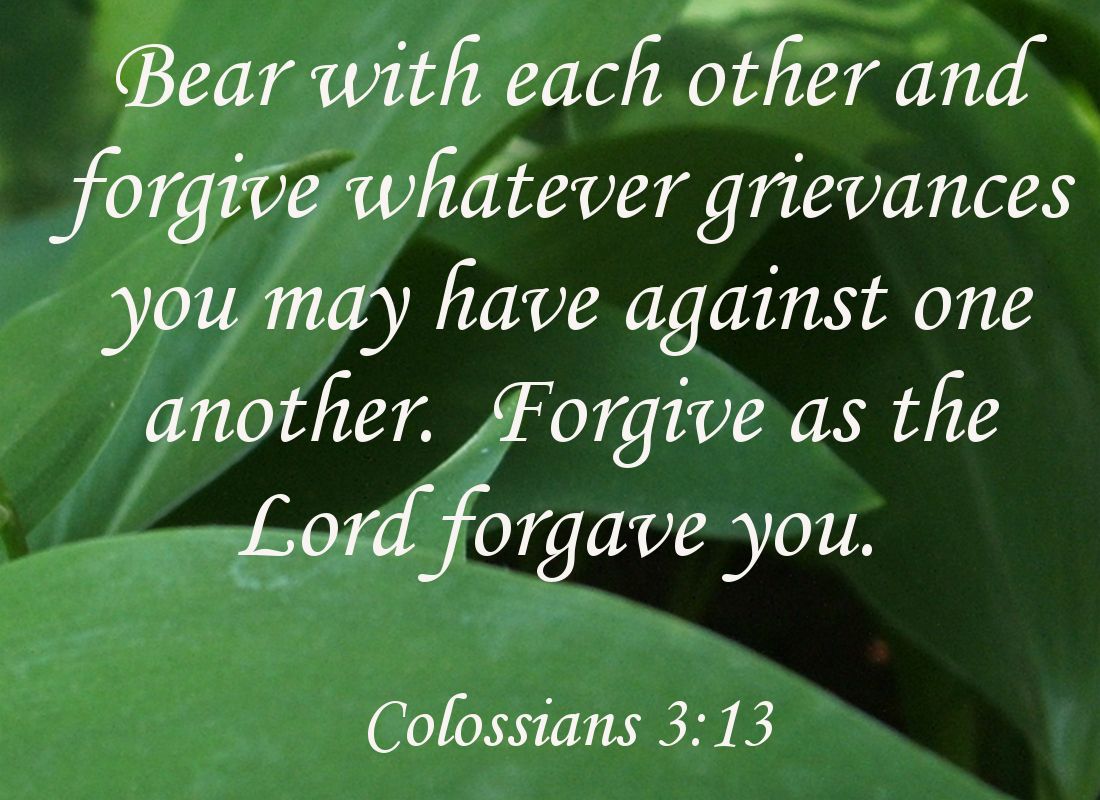 The following are three common mistakes that many of us make when somebody apologizes:
1. Limiters
This is the kind of person that puts a limit on an offense, even if it's just a mistake and not an intentional sin. The "three strikes and your out" mentality. If we are to truly forgive as the Lord has forgiven us then that means there is no limit. When someone apologizes say: "I forgive you" or "No problem" and then when that exact offense happens again say: "I forgive you" or "No problem" - say this again and again and again........
"Then Peter came to Jesus and asked, 'Lord, how many times shall I forgive my brother when he sins against me? Up to seven times?' Jesus answered, 'I tell you, not seven times, but seventy-seven times.' "
Matthew 18:21 & 22
2. Grudgers
This type of response to an apology says that they forgive the offense at first but then they remember the wrongdoing and use it in the future. They use your past offense as ammunition in future situations. Of course, we are not going to be able to totally forget the past and what has been done to us but NOT using this wrongdoing against the offender in the future is basically the same thing as forgetting the sin. God has forgotten our sins and we must do the same when we are wronged.
"For I will forgive their wickedness and will remember their sins no more." Hebrews 8:12
3. Mockers
This is the type of person that makes fun of you at first. They might say things like: "are you really that clumsy?" or "What a big baby" or "Just think before doing" (well, as an example, if it's a mistake there is no thinking first - it's not intentional, it's just a mistake and we all make them). This type of forgiveness is not sincere - it's not from the heart. God never belittles.
"......forgive your brother from your heart."
Matthew 18:35
When responding to an apology: always be sincere, don't keep track of the offenses and never hold the wrongdoing against the offender in the future.

Shared on:
Happiness is Homemade
Over the Moon Linky Party
You're the STAR
Tuesdays with a Twist
Thursday Favorite Things
Friday Feature Linky Party
Pretty Pintastic Party
_______________________________________________________________
Take Up The THANKFULNESS Challenge!
I challenge you to thank God for something everyday for one year! Either write it down in a diary OR share with us on a blog. If you have a blog & would like to share your THANKFULNESS posts with us, then please fill out this form:
365 Days of Being THANKFUL form - click HERE
and you will be added to the THANKFULNESS page.