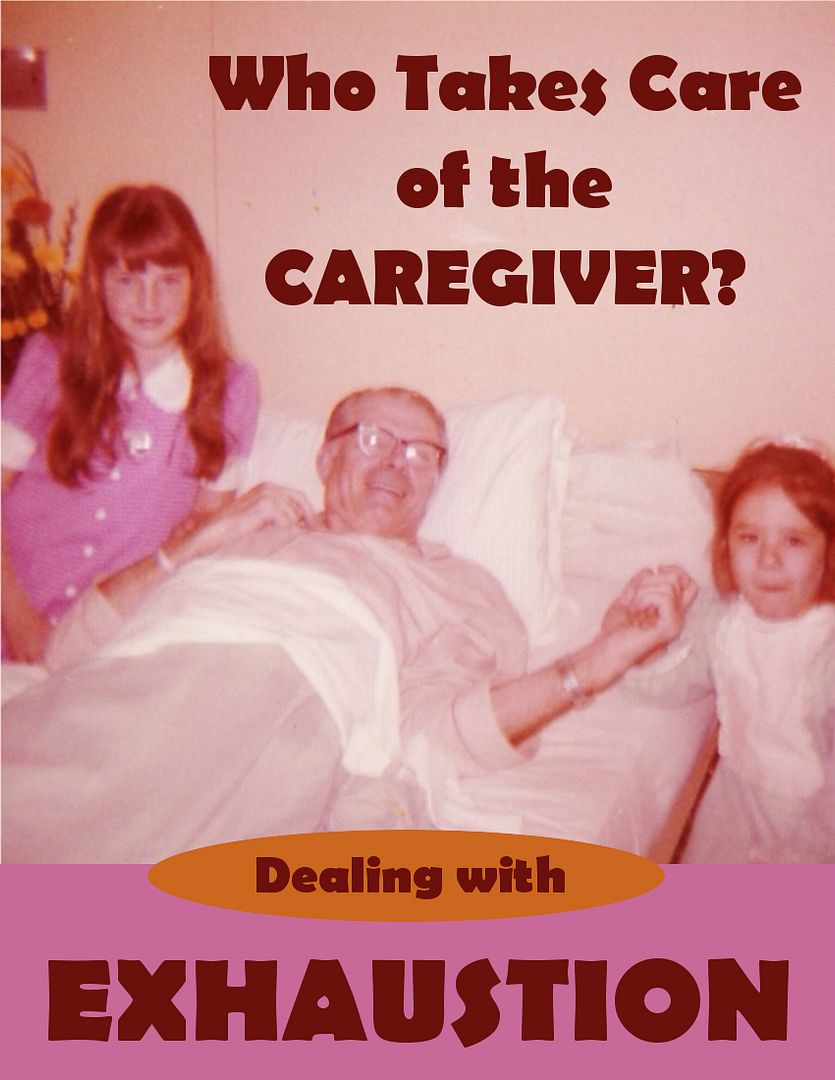 Who Takes Care of the Caregiver? - Dealing with EXHAUSTION
This is the first post in a new series about encouraging caregivers. When a family member becomes ill or elderly, nobody ever thinks about what that situation does to the caregiver. I have been a caregiver for most of my life. When I was a little girl (I am the girl on the right in the picture above), my family moved into my grandparents home so that my mom could take care of my grandfather. Our home was a 30 minute drive from my grandparents home and this situation was a strain on the entire family. I had to change schools and while my mother was going back and forth to the hospital, she needed to schedule a reliable sitter to stay at home with my little sister and also for that sitter to be there when I returned from school. Meanwhile, my father was driving 30 minutes back and forth to checkup on our home either after work &/or on weekends. It was exhausting.
This caregiving continued into adulthood for me when my husband went through some serious illnesses and now, for the past decade we have been living in my in-laws home to take care of them (my in-laws). I totally understand how difficult it is to take care of elderly family members, as well as maintaining two properties inside and out. It is exhausting.
Often, there might not be any other family member around to help - Or, the family members are unwilling or too selfish to aid in anyway. These types of situations only add to the exhaustion.
EXHAUSTION - a state of extreme physical or mental fatigue
The question of the day is:
As a Caregiver, how can I deal with exhaustion?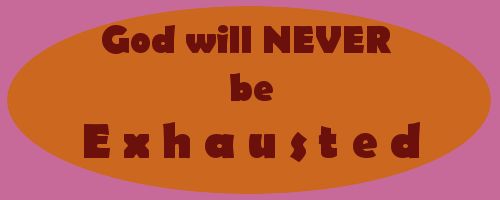 "Do you not know?
Have you not heard?
The Lord is the everlasting God,
the Creator of the ends of the earth.
He will not grow tired or weary,
and his understanding no one can fathom.
He gives strength to the weary
and increases the power of the weak.
Even youths grow tired and weary,
and young men stumble and fall;
but those who hope in the Lord
will renew their strength.
They will soar on wings like eagles;
they will run and not grow weary,
they will walk and not be faint."
Isaiah 40:28-31
You should take comfort in knowing that God will NEVER be tired or weary! This means that we can go to Him any time of any day and in any situation! Our Lord God Almighty will be there for us! There is nothing too large (or too small) that God cannot handle. Just as important is the fact that our Lord understands EVERYTHING! - "his understanding no one can fathom".
This means that you are NOT alone.
"
Truly my soul finds rest in God;
my salvation comes from him."
Psalm 62:1
"
He saved us through the washing of rebirth and renewal by the Holy Spirit, whom he poured out on us generously through Jesus Christ our Savior,
"
Titus 3:5 & 6
"
Therefore, I urge you, brothers and sisters, in view of God's mercy, to offer your bodies as a living sacrifice, holy and pleasing to God—this is your true and proper worship. Do not conform to the pattern of this world, but be transformed by the renewing of your mind. Then you will be able to test and approve what God's will is—his good, pleasing and perfect will.
"
Romans 12:1 & 2
Find rest through reading the Bible - meditating on God's word can be very calming and often, He (our Lord), will give you guidance. You might not even realize that you were struggling with something or searching for answers until you read a passage of Scripture that overwhelmingly touches your heart and changes your opinion/mind.
"be transformed by the renewing of your mind"
Find renewal from the Holy Spirit by praying - remember that the Holy Spirit has been "poured out on us generously through Jesus Christ our Savior"!! The Holy Spirit can minister to you through prayer with a deep urging that cannot be ignored. Make sure that you pray in a quiet place so that you can be sensitive to noticing these nudges.
"
Therefore we do not lose heart. Though outwardly we are wasting away, yet inwardly we are being renewed day by day.
"
2 Corinthians 4:16
"
fixing our eyes on Jesus, the pioneer and perfecter of faith. For the joy set before him he endured the cross, scorning its shame, and sat down at the right hand of the throne of God. Consider him who endured such opposition from sinners, so that you will not grow weary and lose heart.
"
Hebrews 12:2-3
That daily renewal is ESSENTIAL if you are going to be able to continue being a caregiver. You might find yourself looking haggard or maybe the house is in a perpetual state of untidiness but God has given you this task to take care of your loved one. Follow Jesus' example and do not lose heart! Endure the hardships of caring for your family member because you are needed.
My family has exprienced that firsthand - life-threatening type problems.
Remember that physical, emotional and mental exhaustion is eliminated by becoming renewed and refreshed in God - through His Word (meditating on the Bible), through prayer and by the Holy Spirit!
Other helpful posts:
Encouragement vs Admonishment
15 Tips - When a Loved One is in the Hospital
Taking Care of Your Family
Copyright, Permissions& Disclaimer

Shared with:
Over the Moon Linky Party
Happiness is Homemade
Thursday Favorite Things
Friday Feature Linky Party
Pretty Pintastic Party
Tuesdays with a Twist
You're the STAR
_____________________________________________________________________
Take Up The THANKFULNESS Challenge!
I challenge you to thank God for something everyday for one year! Either write it down in a diary OR share with us on a blog. If you have a blog & would like to share your THANKFULNESS posts with us, then please fill out this form:
365 Days of Being THANKFUL form - click HERE
and you will be added to the THANKFULNESS page.