Cheesy Scalloped Ham & Potatoes Squared
It's "Potatoes Squared" because in this recipe I used both regular potatoes & sweet potatoes. We have been focusing on potatoes this week and next week will be "Sweet Potato Week" - so this recipe is perfect to guide us into next week's feature.
I know you've heard me go on and on about flavor combinations - well, this recipe is another combination winner. I love the flavors of regular potatoes, ham & sweet potatoes - it's a keeper!! I created this recipe when I had some leftover ham and some freshly dug potatoes & sweet potatoes from my garden - this is a perfect way to use up that leftover ham and it's easy to make.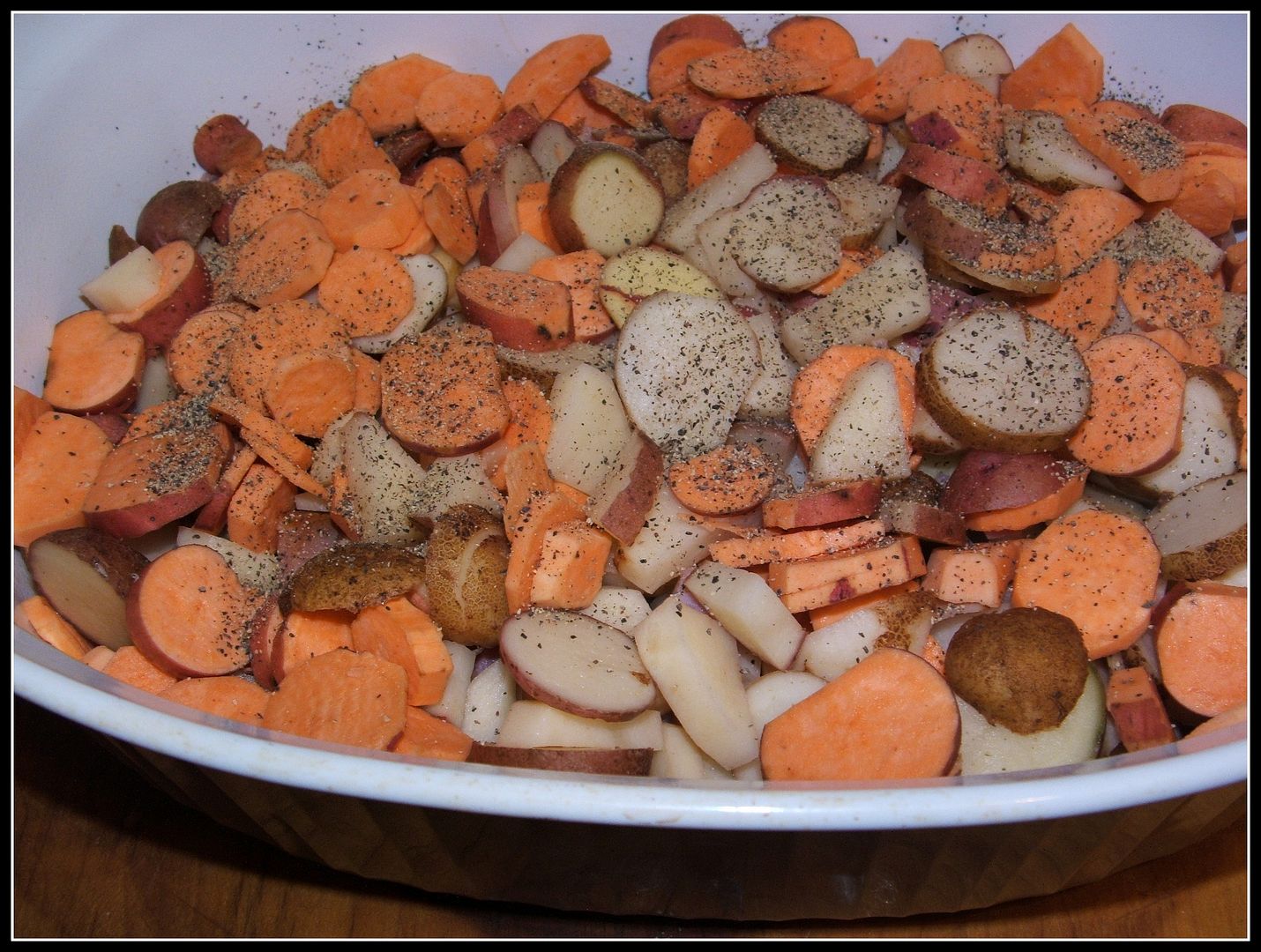 4 cups potatoes (peeled, rinsed & chopped/sliced)
4 cups sweet potatoes (peeled, rinsed & chopped/sliced)
1 1/2 cups ham (chopped & previously cooked)
1 large onion (peeled, chopped & sautéed in olive oil)
1 cup shredded cheese (I used marbled cheddar)
1 package cream cheese (cut into chunks & at room temperature)
pepper to taste (no salt is needed - the cheeses & ham are salty enough!)
Prepare the potatoes, sweet potatoes, onion & ham as described above & mix together in a mixing bowl. Spray/oil a large baking dish that has a cover and pour this veggie ham mixture into that dish & add ground black pepper to taste (you may also add some dried basil to taste) (see picture above) (set aside until later).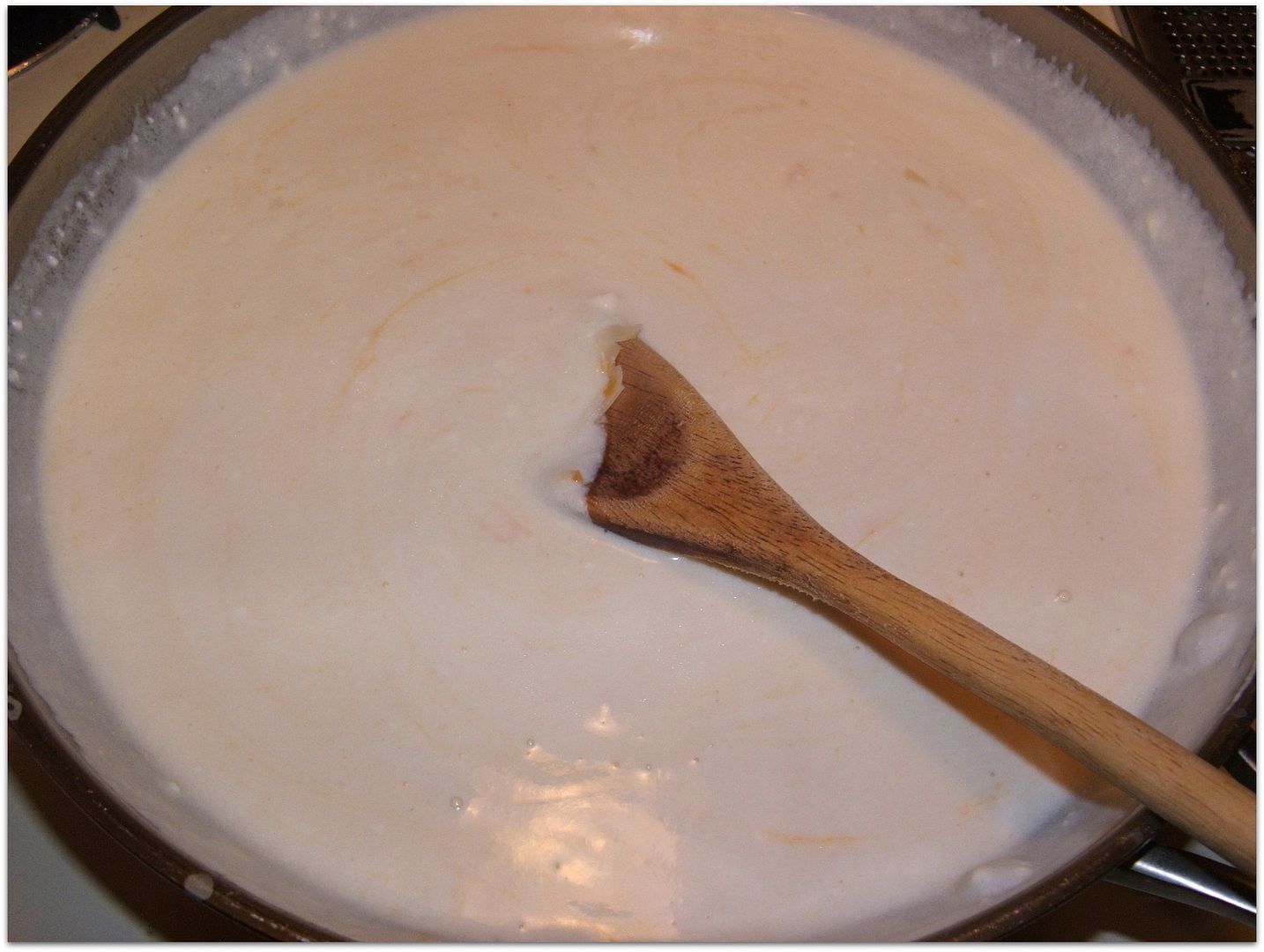 In a medium saucepan melt the butter over medium heat & then quickly whisk in the flour until it is not lumpy, which should only take about 30 seconds (this is the white sauce). Now pour in the milk (while still on the heat/burner) and gently whisk in the milk (the lumps will disappear as it cooks down) - continue stirring until it becomes a little thicker. Now add in the cream cheese & continue stirring until it has melted into the white sauce. Finally add the shredded cheese & stir just about 1 minute (until the cheese has melted) & remove the pan from the heat (the sauce should look like the picture above).
Pour the sauce over the veggie/ham mixture (making sure to scrape the pan) - see picture below. Cover the baking dish.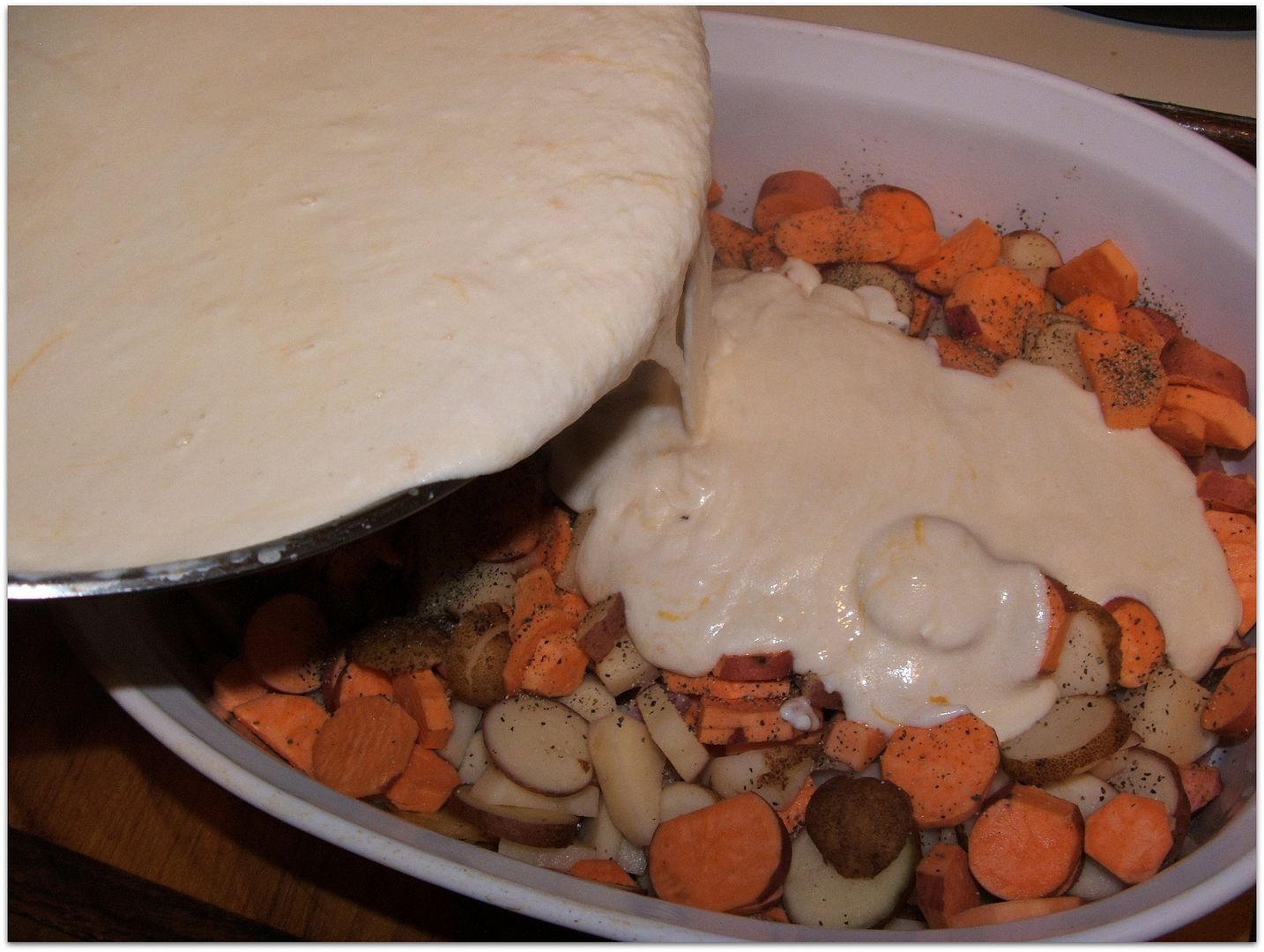 Bake in a preheated 375 degree oven for 35 to 45 minutes or until the potatoes are cooked (insert a fork to test or taste one - be careful it will be hot).
NOTE: The baking time difference depends on the type of baking dish that you are using - so always test your potatoes early & then extend the baking time if need be.
Remove from the oven, serve & ENJOY!!

Linked to:
Adorned from Above
______________________________________________
Please checkout this month's wonderful Sponsor!!
"TN Online Nursery" - This Online Plant Nursery provides a variety of garden plants, trees, shrubs and perennials selling to every state in the USA & 13 Foreign Countries!!