The eleventh GREAT BLOG TRAIN was a blast! - We all safely reached our destination. It was a wonderful trip with 45 boxcars!! I'd like to thank all of you for travelling with us and I hope that you all had a wonderful time!
Some Thanksgiving train travel advice from "Gus' son Owen" - "Train don't run outa Witchita......unlessen you're a hog or cattle. oinoink People train run outa Stststubville."
A special thanks to
"Moivieclips"
for posting this on YouTube
The Giveaway Winner is:
K.C.
(I have contacted that person by email)
Congrats!!!
Since there are 3 Rules I decided that I will "Pin" my 3 favorite boxcars from each Blog Train every month.
The next "Great Blog Train" will be departing from your local digital train station on

December 4th

, 2013

- I hope that you will join us!
And don't forget - next month the November "Caboose" will be featured on all 5 of the Hostesses blogs!
______________________________________________________________________
Please checkout this month's wonderful Sponsor!!
Cynthia Tessmer from "Shoreline Designed" creates Natural Beach Stone Jewelry (Please click on the ad below):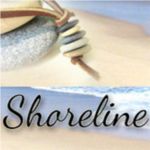 Please visit this amazing shop and see the beautiful & unique items for sale!