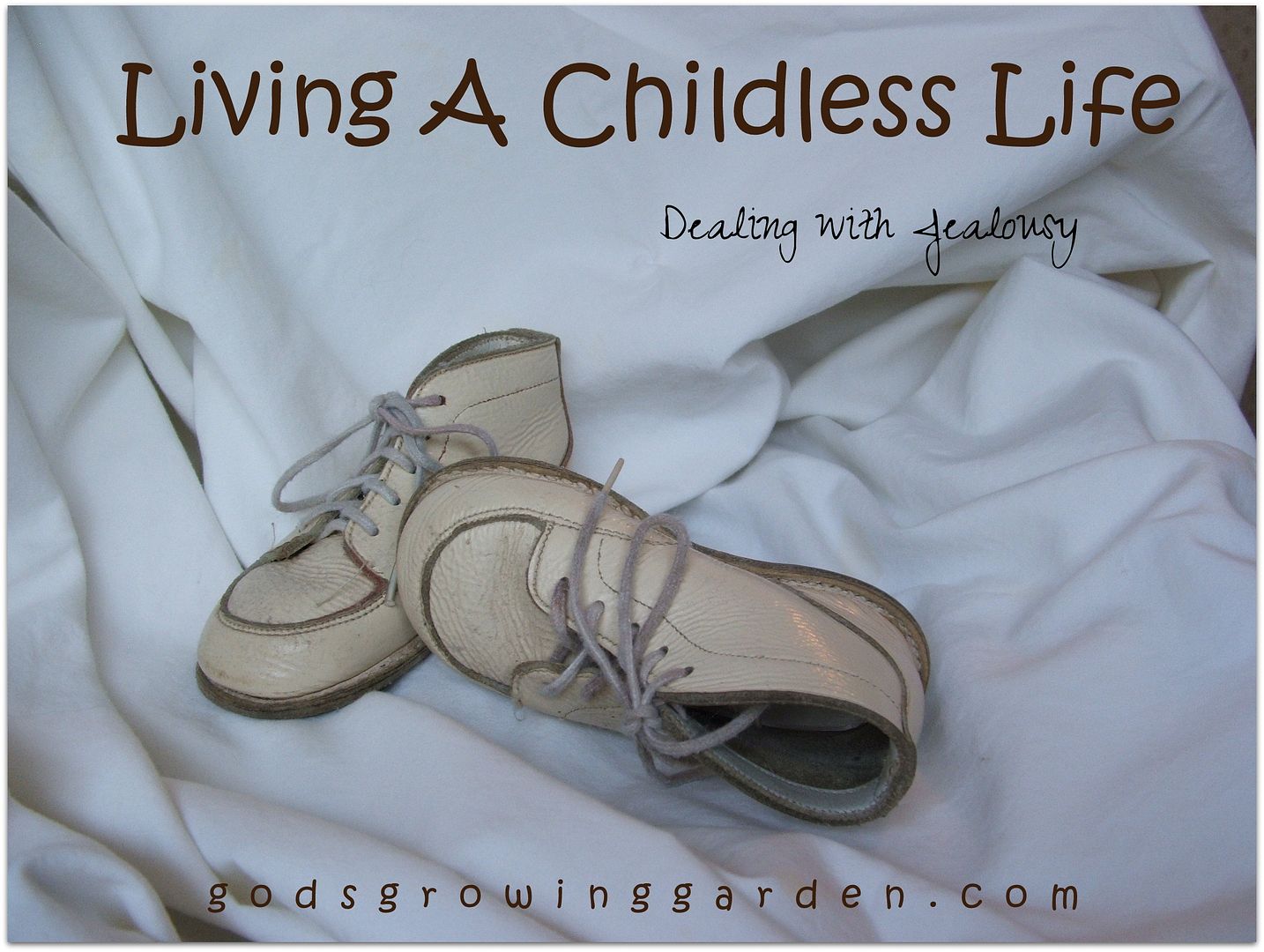 " 'For I know the plans I have for you,' declares the Lord, 'Plans to prosper you and not to harm you, plans to give you hope and a future.' " Jeremiah 29:11
I have lived a "Childless" life not because that is what I desired, rather because it just happened that way. I was married in my mid 20's and then everytime we thought we were getting settled in - a crisis would arise: health issues including cancer and cardiac disorders, parents-in-law getting ill at the same time (one with cancer and the other with Alzheimers), etc....and now I'm in my 40's. I did NOT plan for all of this to happen - it just did.
You see, God has been in control of my life all along! God knew that I would not have been able to handle taking care of children when my husband was going through chemo therapy. And - God also knew that we would not have been able to move into my in-law's house to take care of them if we had had children. God is in control and has a purpose for everything - even a "Childless Life."
This post begins a Series on "Living a Childless Life" and today we focus on "dealing with jealousy." I don't know how long this series will be, but on the second Sunday of every month we will focus on another issue of "Living a Childless Life."
No matter what season we are in, I am always reminded that I am "childless" - it could be the constant commercials & movies at Christmas time about gifts for children, or back-to-school supplies in September, Easter egg hunt in the spring and costumes in the fall for Halloween. And of course "Mother's day" when I am reminded that I will never be referred to as "mom" or "grandma". It's not surprising that those who are "childless" will at some point envy those who are "childblessed".
It took me quite some time (years really) to learn that jealousy/envy is a horrible sin. Look at the verses below - "envy" is lumped in with "theft, murder, adultery, greed" etc. I used to think that envy was a less serious sin but sin is sin - a little lie is just as much a sin as a huge lie.
"You are still worldly. For since there is jealousy and quarreling among you, are you not worldly? Are you not acting like mere man?" 1 Corinthians 3:3
"For from within, out of men's hearts, come evil thoughts, sexual immorality, theft, murder, adultery, greed, malice, deceit, lewdness, envy, slander, arrogance & folly. All these evils come from inside and make a man unclean." Mark 7:21-23
"But if you harbor bitter envy and selfish ambition in your hearts, do not boast about it or deny the truth. Such 'wisdom' does not come down from heaven but is earthly, unspiritual, of the devil. For where you have envy and selfish ambition, there you find disorder and every evil practice." James 3:14

Envy is "selfish", envy is bitter and bitterness only hurts the one who is being bitter, and this is the most serious part: "where you have envy and selfish ambition, there you find disorder and every evil practice" - DISORDER & EVERY EVIL PRACTICE!! Wow - that's some heavy stuff! When has something good ever come from envying someone else? - I can't come up with an example.

You see, when we envy someone it's as if we are saying to God: "I know better than You", or "I don't trust You" or "I'm NOT thankful for the blessings that You have given me." That's an awful reality isn't it? Envy is an insult to God.
As we see in the verses below - conceit or arrogance seem to go hand in hand with envy. When someone is bragging or prideful, there will always be someone else who is envious of that person. Conceit is never truthful - we see it in our society all the time. For example - Many people are jealous of the so called "rich and famous" but truthfully many of our rich celebrities are always looking for something to make them feel good - they are miserable and often commit suicide.
We need to rid ourselves of envy & conceit.
" Therefore, rid yourself of all malice and all deceit, hypocrisy, envy, and slander of every kind." 1 Peter 2:1
"Let us not become conceited, provoking and envying each other." Galatians 5:26
Our focus needs to change from what we don't have to what we do have & to what God has done for us through His Son Jesus Christ our Savior. We have nothing to be jealous about because we have been justified by His grace & we therefore have eternal life.
"At one time we too were foolish, disobedient, deceived and enslaved by all kinds of passions and pleasures. We lived in malice and envy, being hated and hating one another. But when kindness and love of God our Savior appeared, he saved us, not because of righteous things we had done, but because of his mercy. He saved us through the washing of rebirth and renewal by the Holy Spirit, whom he poured out on us generously through Jesus Christ our Savior, so that, having been justified by his grace, we might become heirs having the hope of eternal life. Titus 3:3-7
Finally, God is love. We are to love God with all our heart, mind & strength and we need to love each other. Using that as our model - true love can never be envious and it can never be conceited (see verse below).
"Love is patient, love is kind. It does not envy, it does not boast, it is not proud." 1 Corinthians 13:4

Linked to:
Countdown Blog Hop
Hope in Every Season
Adorned from Above
Faith Filled Friday
______________________________
"Prayer Warriors United" is a google+ Community where Christians come together in prayer.
click HERE to view or join this community
If you need prayer please fill out this