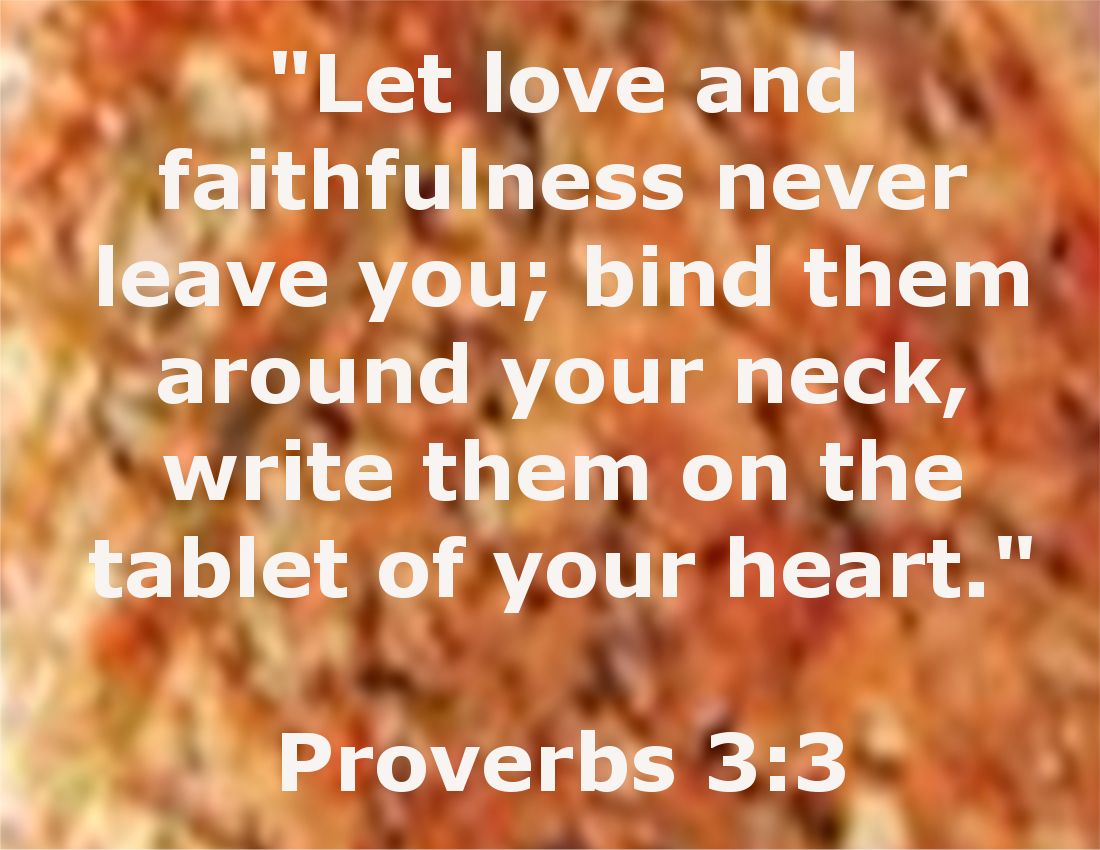 Benefits of Being Faithful
Faithful is a word that is rarely followed in todays society - it almost seems old fashion. So, what is the meaning of faithful? I looked it up in the dictionary:
faithful - having or showing true and constant support or loyalty, steadfast in affection or allegiance (taken from Merriam-Webster Dictionary).
Let's look at the verse above - "Writing them (love & faithfulness) on the tablet of your heart and binding them around your neck" is serious. This means that we are to be devoted first to God, our Lord & Savior Jesus Christ. Of course, we also need to be loyal to our spouse, children, family, friends, neighbors and aquaintances - but today we are focusing on being faithful to God.
There are benefits to being faithful to God.
God preserves, protects & guards his faithful
"Love the Lord, all his saints! The Lord preserves the faithful, but the proud he pays back in full." Psalm 31:23
Let those who love the Lord hate evil, for he guards the lives of his faithful ones and delivers them from the hand of the wicked."
Psalm 97:10
"For He guards the course of the just and protects the way of his faithful ones." Proverbs 2:8
God promises his faithful
"Your kingdom is an everlasting kingdom, and your dominion endures through all generations. The Lord is faithful to all his promises and loving towards all he has made." Psalm 145:13
God blesses his faithful
"A faithful man will be richly blessed, but one eager to get rich will not go unpunished." Proverbs 28:20
God strengthens his faithful
"But the Lord is faithful, and he will strengthen and protect you from the evil one."
God guides his faithful
"..........And God is faithful; he will not let you be tempted beyond what you can bear. But when you are tempted, he will also provide a way out so that you can stand up under it." 1 Corinthians 10:13
Be faithful to God every step of the way -
it will be worth it!
Linked to:
You're the STAR
Tuesdays with a Twist
_______________________________________________
"Prayer Warriors United" is a google+ Community where Christians come together in prayer.
C
lick HERE to view or join this community
If you need prayer please fill out this