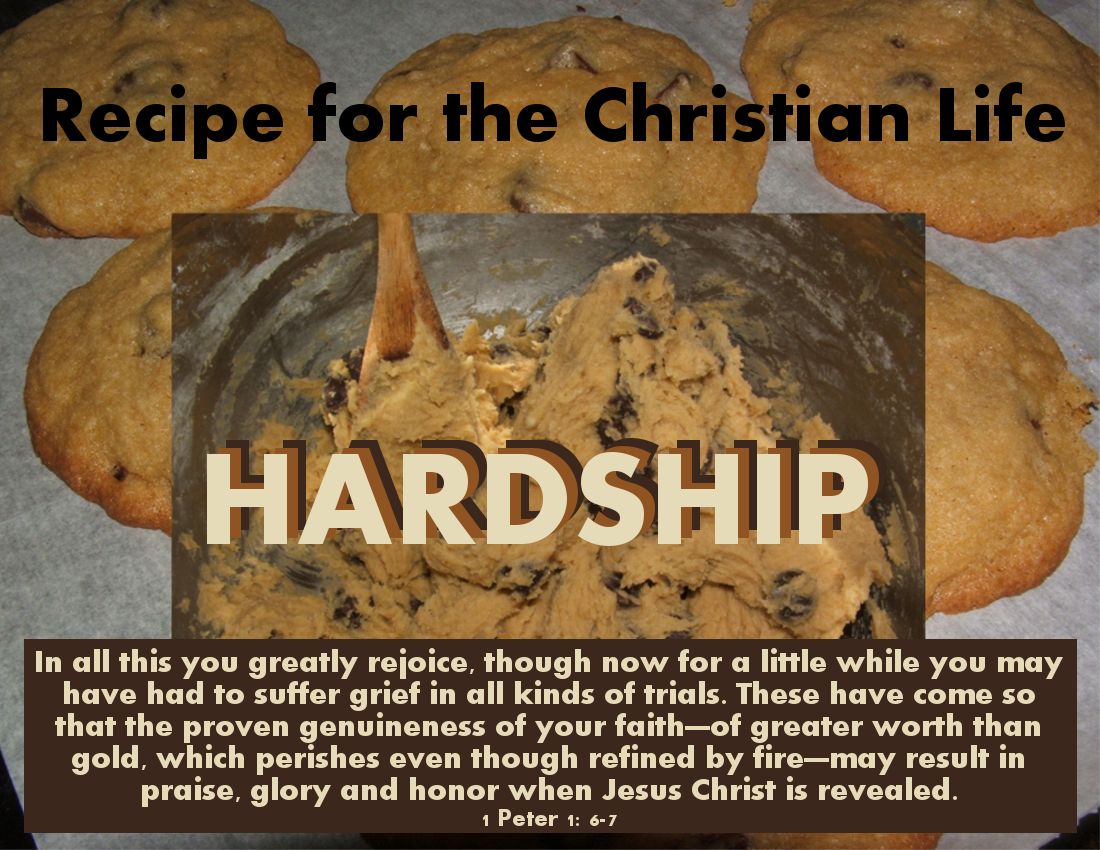 Recipe for the Christian Life - HARDSHIP
Today is the final post in the series on growing in our Christian Walk. Developing a Christian life is kind of like baking a recipe - good ingredients create a perfect treat. Adding good characteristics to our faith produces good Christians.
If you recall, a few months ago we started with an empty mixing bowl - our FAITH. And then we've been adding to our faith, we combined: GOODNESS , KNOWLEDGE , SELF-CONTROL , PERSEVERANCE , GODLINESS , KINDNESS and LOVE. We will increase these qualities in measure so that we will always be EFFECTIVE.
Today, we are going to learn that HARDSHIPS
are a part of being a Christian and these trials will actually make us stronger through Christ
.
It's always good to start with the very basic definition of "hardship" (from online dictionaries):
hardship - something that causes suffering. Adversity, privation, trials, suffering, difficulty.

Since I have been comparing this series to that of baking a recipe, I realized that "hardships/trials" are kind of like baking. We suffer through the heat but are better Christians after enduring hardships - just like cookie dough becomes a scrumptious dessert after baking in the oven.
Notice the wording in the above verse: "suffered a little while." I know that what we experience during difficult times seems unbearable - like it will never end, but compared to eternity it really is just for a little while.
Afterwards, we will be made strong, firm and steadfast! (see last sentence in the verse above).
I don't know about you, but during trials in my life I always try to figure it out by myself - all alone and then I fail miserably. Victory over hardships only comes when I totally put everything into God's hands and trust Him. I can get up and endure ONLY because of His strength and power. In 2 Corinthians 12:10 that's what "when I am weak, then I am strong" means. When I am down and have spent all my energy alone, then God picks me up and carries me through the darkness.
Having patience when we are suffering is probably the most difficult thing. We don't know how long we will have to endure that hardship but while we are suffering, let's concentrate on being hopeful for the future and let's pray continually!
"
For if you possess these qualities in increasing measure, they will keep you from being ineffective and unproductive in your knowledge of our Lord Jesus Christ. But whoever does not have them is nearsighted and blind, forgetting that they have been cleansed from their past sins.
Therefore, my brothers and sisters, make every effort to confirm your calling and election. For if you do these things, you will never stumble, and you will receive a rich welcome into the eternal kingdom of our Lord and Savior Jesus Christ.
"
(2 Peter 1:8-11)
Let us live this Christian life so that we will receive a rich welcome in heaven!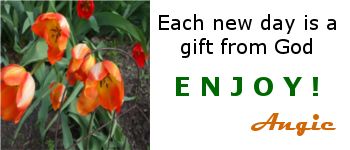 _____________________________________________________________________
Take Up The THANKFULNESS Challenge!
I challenge you to thank God for something everyday for one year! Either write it down in a diary OR share with us on a blog. If you have a blog & would like to share your THANKFULNESS posts with us, then please fill out this form:
365 Days of Being THANKFUL form - click HERE
and you will be added to the THANKFULNESS page.