All Aboard!!!
The Great Blog Train
A monthly blog hop departing from your online train station on the first Wednesday of every month!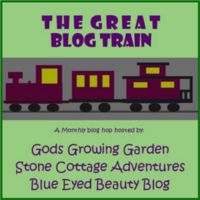 The Canadian Railway was an essential part of building the country. Since Canada is such a rural & vast country with
poor road conditions and frozen waterways 5 months out of a year - the Transcontinental Canadian Railway was a necessity! The first railroad in Canada was built in 1841 (before Canada was a country) and then railroads continued to be built until 1932!! - That's 91 years!! Unlike the American Railroad Revolution only lasting 50 years - the Canadian Railroad Revolution lasted almost 100 years!
Information from thecanadianencyclopedia.com
Remember!! - If you want to join in on the "Twitter Boxcar" - use
hashtag blogtrain (no spaces and no capitals)
___________________________________________________________________________
Chugga chugga! Chugga chugga! Toot! Toot!





Thank you to everyone who hopped on board last month!



Remember to join the fun even if you are running a little late. The last entry will receive the Caboose Feature!
If you have been featured - please grab the "Caboose" button for your blog :-)
March's Caboose and featured blog is:
One Red Shoe
Here's what she says about herself:
_________________________________________________________________________

1. Follow all three of the hostesses in at least one of the following ways: GFC, Twitter, Pinterest, Bloglovin, Linky, Networked Blogs, or Facebook. Then leave us a comment telling us how you followed so that we can come back & visit you! The hostesses are:
2. Now link up your family friendly blog to the train...please only use your homepage, NOT a specific post! As you see below, we are quite serious about this rule:
3. And last, but not least, connect to the boxcar in front of you (the blog in the linky just before you). Stop by that person's blog, have a look around and leave a comment letting them know that you stopped in!
Now that you have your ticket you are
ready to board the rest of the train!
OPTIONAL:You may grab our "Great Blog Train" button and post it on your sidebar or link page.
Also, feel free to spread the word – the more the merrier!
Remember to check all 3 Hostesses Blogs to see who was featured from last month.
Linked to:
Adorned From Above
52 Mantels
The Busy Bees