Caramelized Onion Chicken Meatballs with Wine Cream Sauce
These are the most scrumptious meatballs that you will ever eat! You know me and flavor combinations - one day I thought "wouldn't caramelized onions be great in a meatball", and then I created this delight! The combination of the sweetness of the caramelized onions along with the sweet basil and Wine Cream Sauce will make this meal a family favorite for years to come.
NOTE: I cook and bake with wine & liqueurs often but I am not a "drinker." I am proud to say that I have never been drunk in my life. I have no problem with having a small glass of wine with dinner but in my opinion "drinking to drink" is pointless.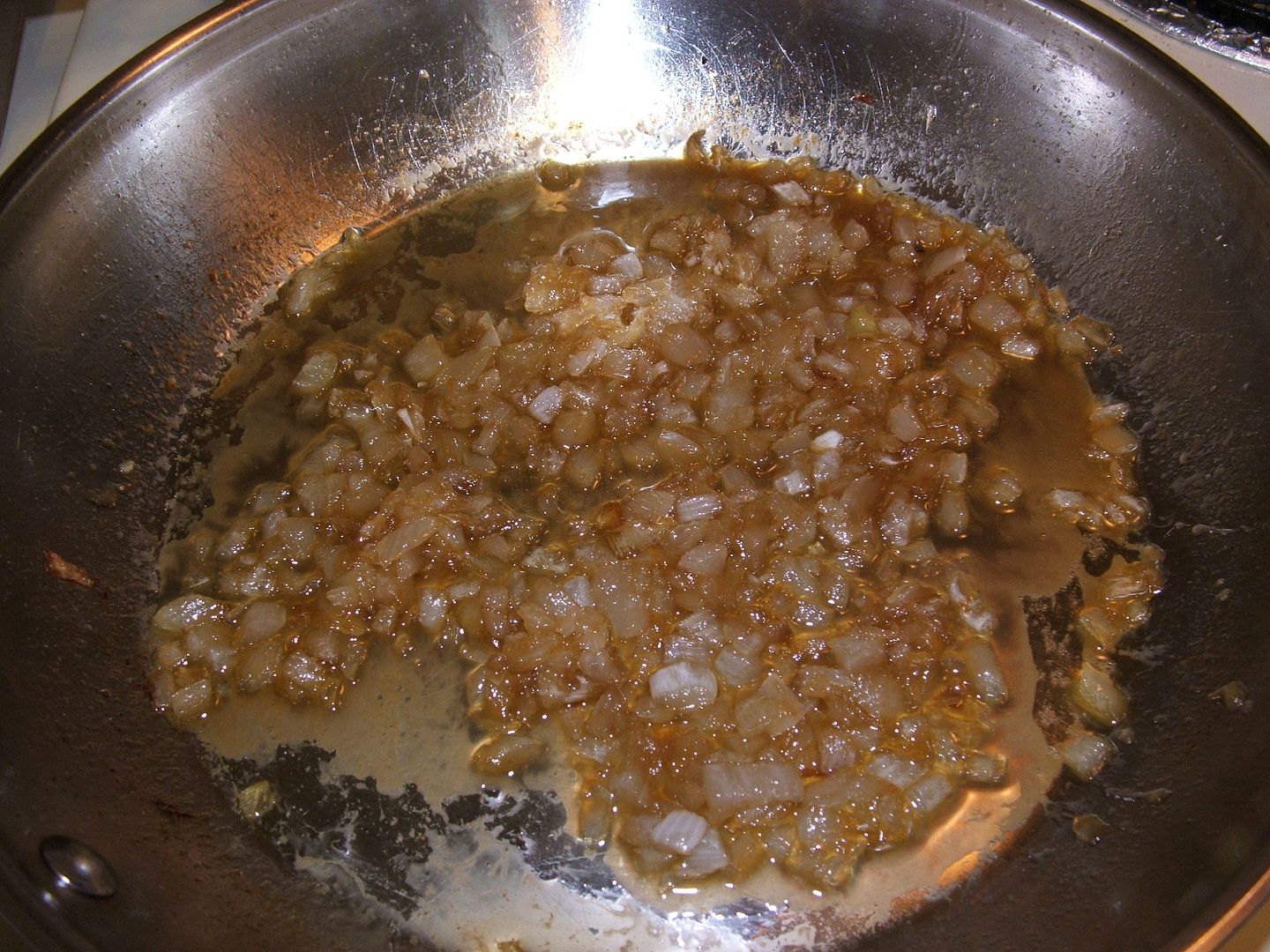 Printable Recipe
The Meatballs
1 large Vidalia Onion (peeled, finely chopped, sautéed in butter for 7 - 10 minutes with 1/4 cup brown sugar added near the end)
3/4 cup Italian breadcrumbs
1 teaspoon dried basil (click HERE to see how to dry your own basil)
1/4+ teaspoon ground black (or white) pepper
dash of Worcestershire Sauce
Prepare the onion as described above (see picture above) and set aside to cool. Mix all of the ingredients together (including the cooled caramelized onions) in a large bowl (see bottom left picture below). Form small balls with your hands until all of the mixture has been used up (about 20 to 25 meatballs). Spray or oil a large Pyrex baking dish. You can either place the meatballs directly into the Pyrex dish or place them on a rack & then put that rack in the Pyrex dish (this way any grease will drip down into the dish instead of be absorbed into the meatball) (see picture below to the right).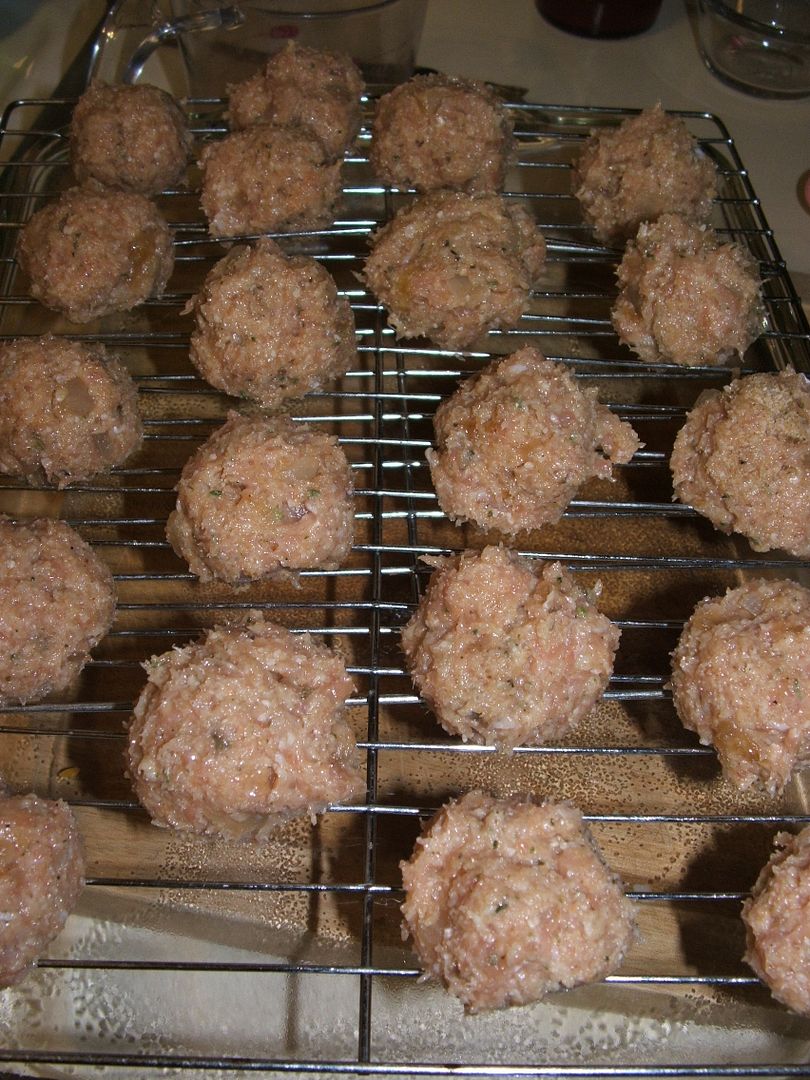 Bake in a preheated 400 degree oven for 20 to 25 minutes (or until desired browness is achieved)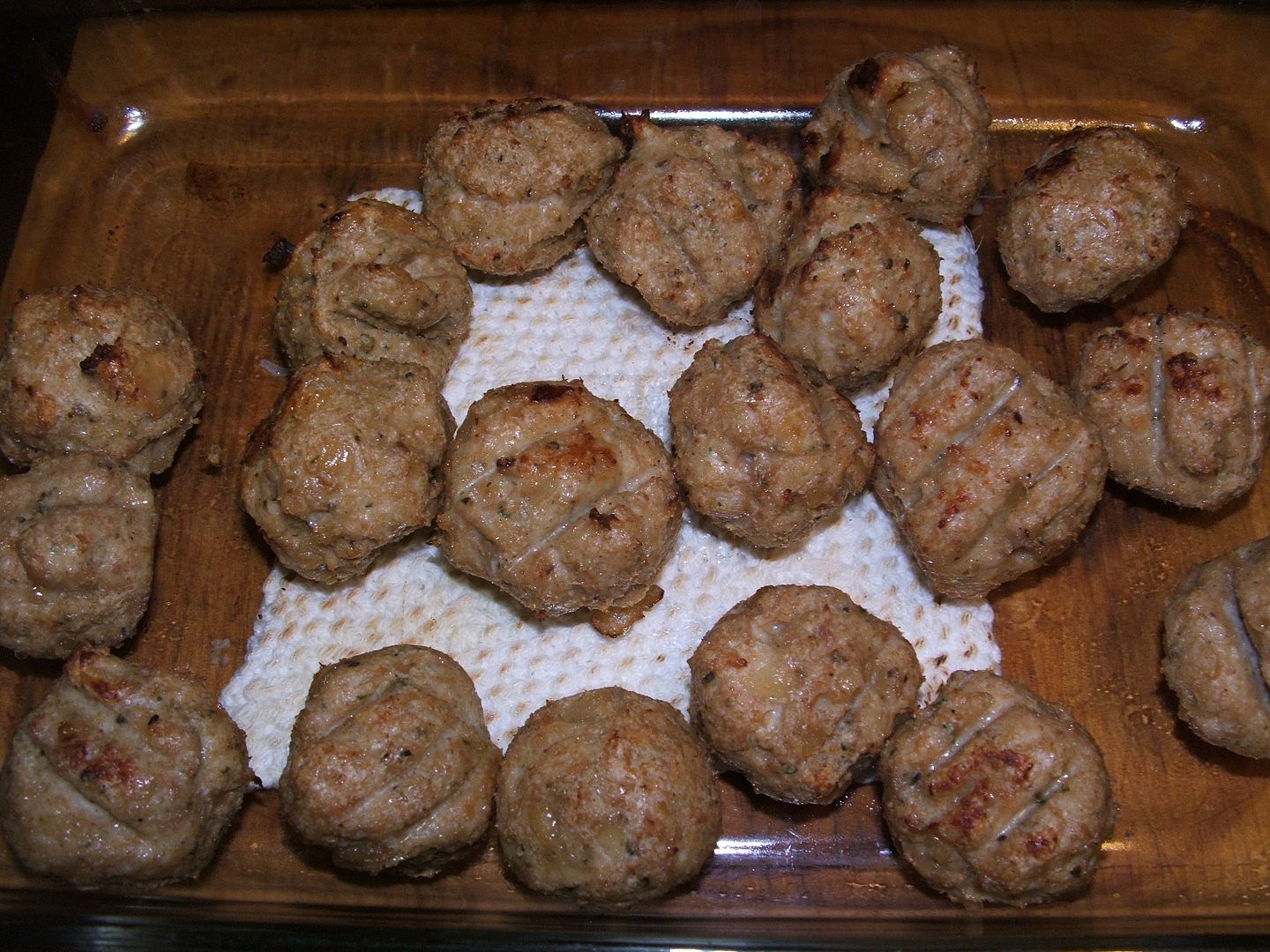 NOTE: Continue on & cook the noodles as directed & make the cream sauce while the meatballs are in the oven
1 package of Fettuncine Noodles (cook as directed)
Wine Cream Sauce
2 cups milk (I use whole milk)
1+ garlic clove(s) (minced)
1/2 Vidalia onion (peeled, chopped)
1/4 cup red or white wine (I used red)
(a little olive oil)
In a large frying pan - sauté the onion & garlic in a little oil for a few minutes - remove the onion & garlic & set aside for later. Melt the butter in this same frying pan and whisk the flour into the butter until mostly mixed together (see picture below).
Slowly add the milk - whisking all the time over medium heat (see picture below).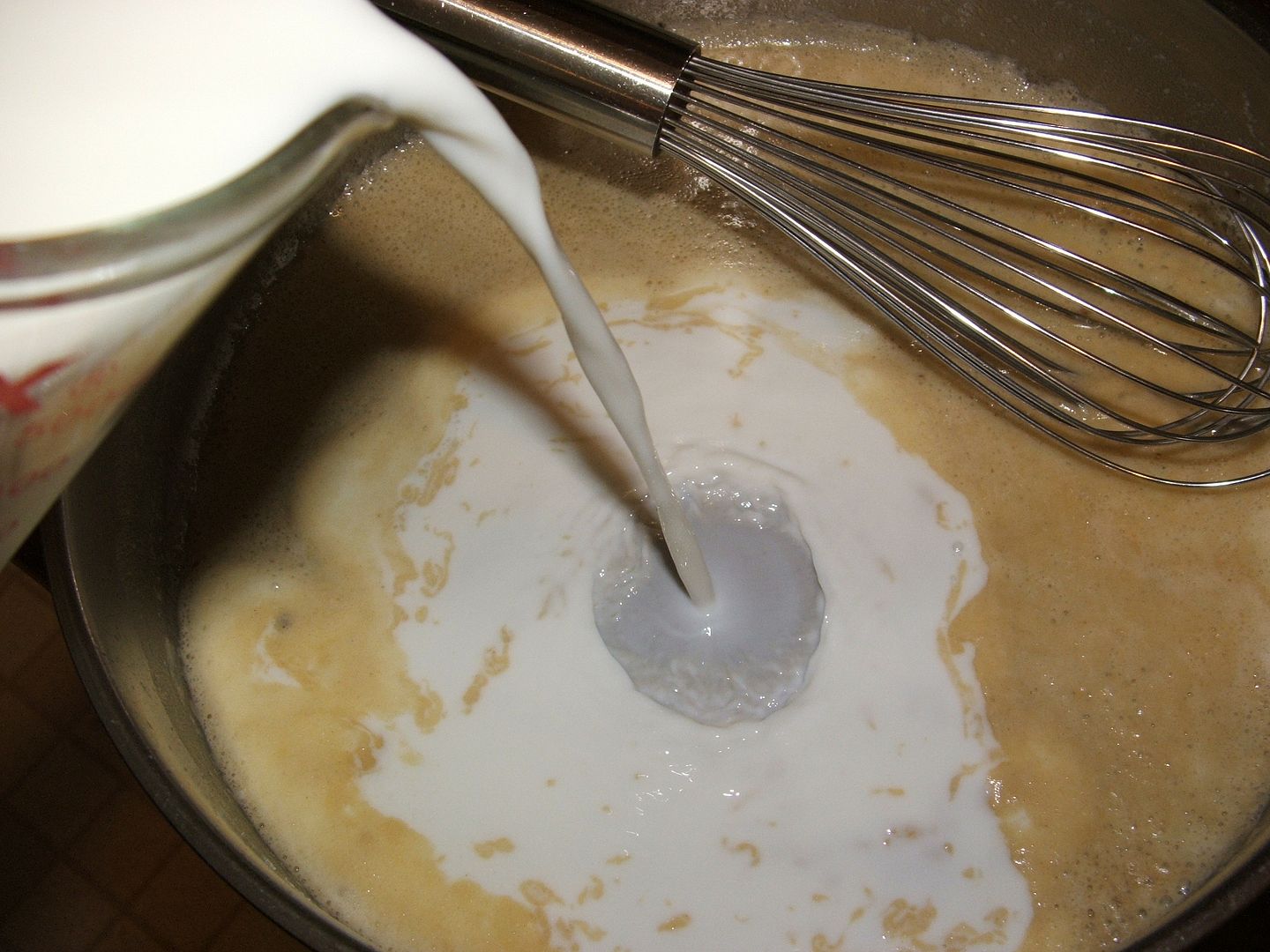 Keep stirring until the sauce thickens. Now add the wine, parmesan cheese, salt & pepper & stir until the cheese is melted. Finally add the onions & garlic from the previous step. You should have a silky cream sauce resembling the picture below.
Assembly: You can either place the meatballs on top of the noodles and cream sauce or place the meatballs on top of the noodles and top both with the Wine White Sauce.
ENJOY!!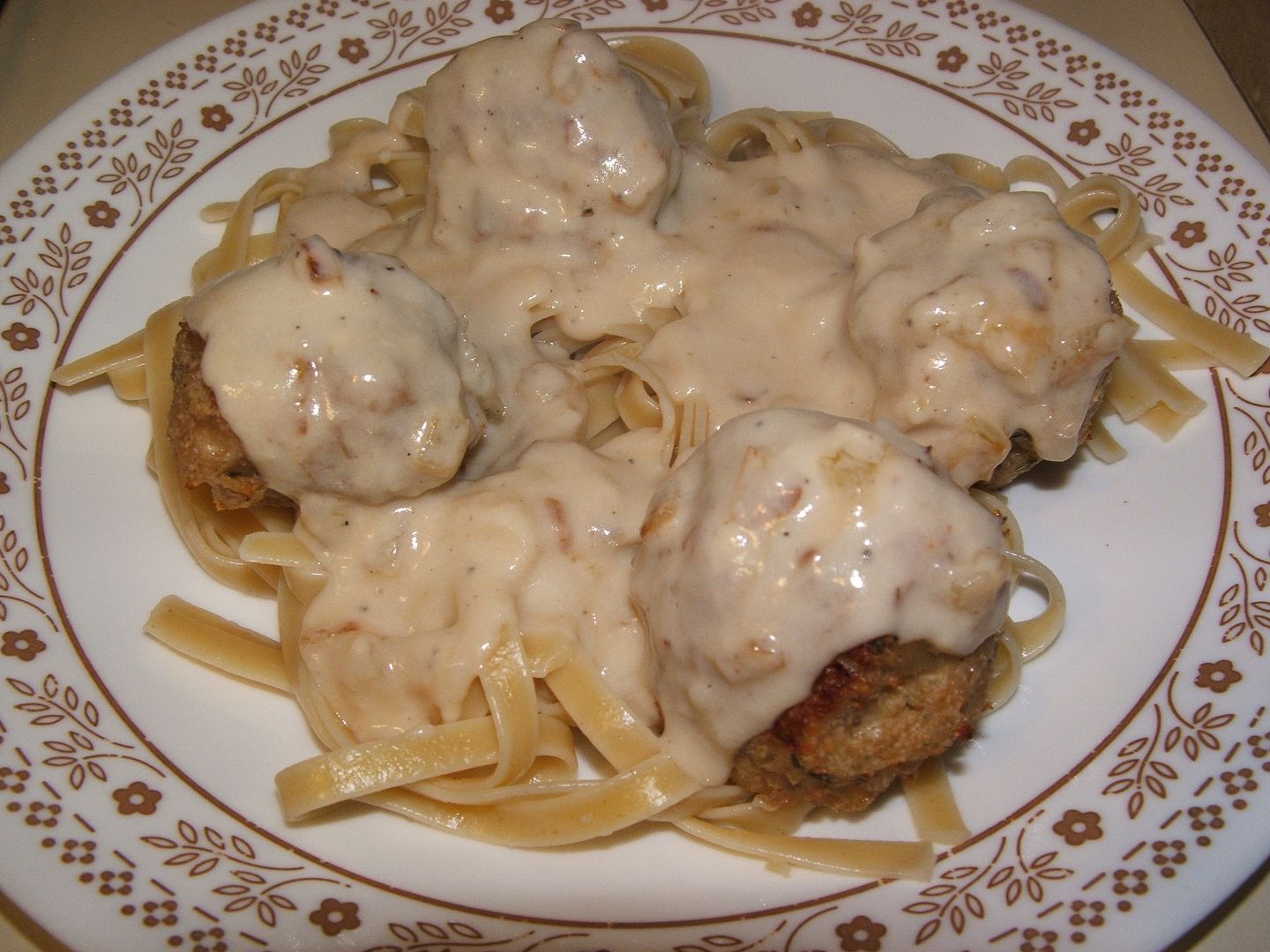 Linked to:
The Creative Home & Garden Hop
Mix it up Mondays
Tuesday with a Twist
All My Bloggy Friends
Adorned From Above
Live Laugh Rowe
Domesblissity
52 Mantels
Freedom Friday
Thursday Favorite Things
Home Acre Hop
__________________________________________________________________________
Please checkout this month's wonderful Sponsor!!
Michelle from
"Ya Gotta Have A Hobby" has such a fun blog full of unique craft ideas, delicious recipes and every hobby under the sun!!