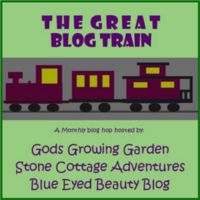 The seventh GREAT BLOG TRAIN was a blast! - We all safely reached our destination. It was a wonderful trip with 49 boxcars!! I'd like to thank all of you for travelling with us and I hope that you all had a wonderful time!
Since there are 3 Hostesses & 3 Rules I decided that I will "Pin" my 3 favorite boxcars from each Blog Train every month.
The next "Great Blog Train" will be departing from your local digital train station on

August 7th, 2013

- I hope that you will join us!
And don't forget - next month the July "Caboose" will be featured on all 3 of the Hostesses blogs!