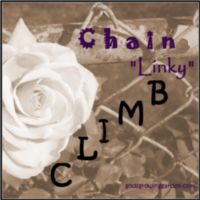 Please welcome The September Chain "Linky" CLIMB week#2 co-host: Julia from "Julia's Puella Aeterna"
(Click on the blog button below)
Julia is so creative and she has such a unique blog! You must stop by and see the beautiful jewelry and greeting cards that she makes. Not only does she have her own lovely Etsy Shop but on her blog she also features other Etsy items and artists. Please stop by her wonderful blog & shop!
To join in on this month's Chain "Linky" CLIMB (a month long blog hop) - please click HERE

Also, we are looking for more co-hosts - you will receive a FREE weekly ad on godsgrowinggarden.com just for co-hosting!!!!