"Each one should test his own actions. Then he can take pride in himself, without comparing himself to somebody else, for each one should carry his own load."
Galatians 6: 4 & 5
Since we are so close to Easter and since today is Palm Sunday I decided to change my monthly schedule and skip one month of my regular series "Living a Childless Life" & "Prayer Warriors - Prayer Proof" - these two series will continue in May.
We are saved by the blood of Christ and therefore have eternal life - this does NOT mean that we can live a life without problems and burdens. Life is difficult.
Many people think that being a Christian and having your sins forgiven means that you have a "free ride" and that life is without problems - that is so untrue! People also believe that trusting in God & trusting that He will take care of us means that we don't have to do anything - also so untrue!
Look at the verses above: "one should carry his own load." What do you think would happen if we didn't have to do anything & if everything was just given to us on a silver platter? - We would become arrogant, selfish & unsatisfied!! - Just look at Hollywood & the extremely wealthy - they are never satisfied & are always searching for something else.
These "elite" people that I just talked about are often also very lonely. That's why we (as Christians) are instructed to help other's with their burdens on top of carrying our own load! See verse 2 below - carry other's burdens & we fulfill the law of Christ. The law: "love the Lord your God with all your heart, mind, soul & strength and love your neighbor as yourself."
"Carry each other's burdens, and in this way you will fulfill the law of Christ." Galatians 6:2
You will never be lonely if you help those people around you with their hardships.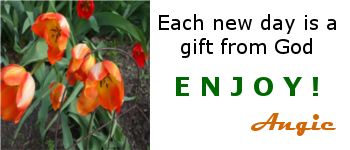 ______________________________
"Prayer Warriors United" is a google+ Community where Christians come together in prayer.
C
lick HERE to view or join this community
If you need prayer please fill out this