Tweet #ChainLinkyCLIMB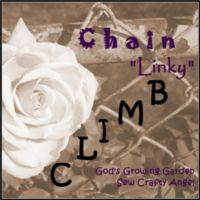 Please welcome The May 2014 Chain "Linky" CLIMB
week#4 co-hosts:
April from "100lb Countdown"
(Click on the blog button below)
April is our permanent week#4 co-host. Checkout what's been happening on "A Peek Into My Paradise" lately:
Is My Blood Pressure Rising?
Blogger Opp: Raising Reagan Celebrates TWO Years
Bee's Buzzings
Heidi from "
Heidi's Wanderings
"
(Click on the blog button below)
Heidi joins us again! Checkout what's been happening on Heidi's Wanderings lately:
Three Secrets To Finding Happiness
Is Your Cat A Demon Cat?
Wake Up Wednesday Linky
Silvie from "My Silly Little Gang"
(Click on the blog button below)

Silvie has such a fun blog! This is how she describes herself & her blog: "I am a mom of 3 rambunctious boys that I love with all my life! I am also a self proclaimed crafter and chef. This is a blog about my crazy but wonderful life and every adventure we encounter. I share craft ideas, recipes, giveaways, and lots more! Welcome & thanks for visiting."
Debbie from "Heartbeats ~ Soul Stains"
(Click on the blog button below)
Debbie is an amazing person with a wonderful blog - she is a "wife, mom, nurse & survivor of obstacles." She describes her blog as this: "sharing our lives living in controlled chaos, raising kids & coping with tragedy." Her blog is so inspiring!
_______________________________________________
WELCOME!
It's the month long Networking Blog Hop
With our seventh CLIMB GIVEAWAY!
Networking means helping each other grow!!
If you want to promote a CLIMB link, then use #ChainLinkyCLIMB on Twitter or Google+ so that we can all help each other grow!
Here's how the Giveaway & Co-hosting works - the co-hosts from the previous month's CLIMB will have the opportunity to participate in a Giveaway during the next CLIMB - that gives co-hosts 2 months in a row of blog growing fun!! (If you would like to co-host please sign up at the end of this post using the last "Linky")
Please enter below -one person will win:
- $50 Paypal Cash