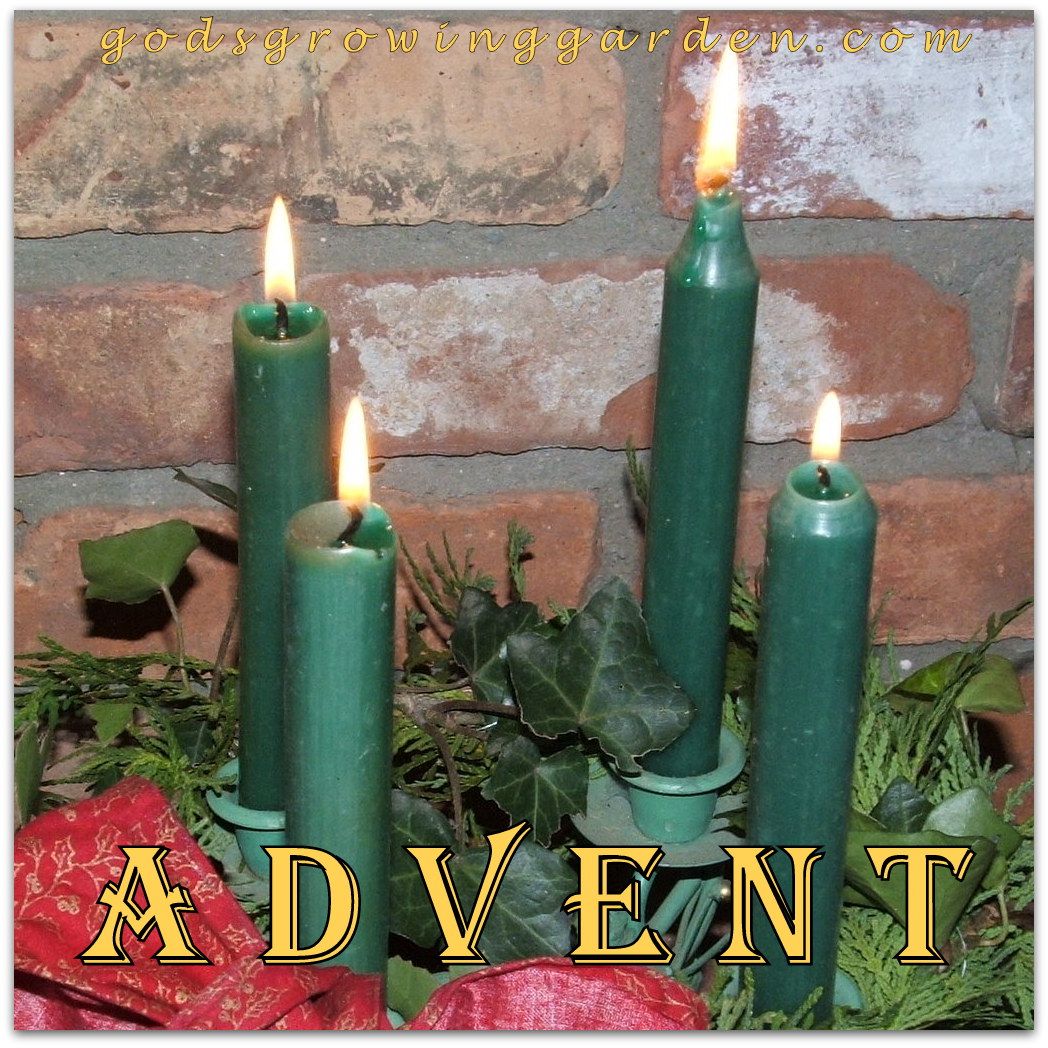 Family Advent time are some of my most precious and life changing memories from my childhood. On every Sunday during Advent my parents would gather my sister & I around the dining room table; turn off all the lights & light the candle(s) on the Advent Wreath. In that warm candlelit darkness we would read a passage from the Bible, discuss what we just read and then sing some Christmas hymns. I encourage you to do the same with your family.
Read this scripture:
"In the sixth month, God sent the angel Gabriel to Nazareth, a town in Galilee, to a virgin pledged to be married to a man named Joseph, a descendant of David. The virgin's name was Mary. The angel went to her and said, 'Greetings, you who are highly favored! The Lord is with you.' Mary was greatly troubled at his words and wondered what kind of greeting this might be. But the angel said to her, 'Do not be afraid, Mary you have found favor with God. You will be with child and give birth to a son, and you are to give him the name Jesus. He will be great and will be called the Son of the Most High. The Lord God will give him the throne of his father David, and he will reign over the house of Jacob forever; his kingdom will never end.' 'How will this be,' Mary asked the angel, 'since I am a virgin?' The angel answered, 'The Holy Spirit will come upon you, and the power of the Most High will overshadow you. So the holy one to be born will be called the Son of God. Even Elizabeth your relative is going to have a child in her old age, and she who was said to be barren is in her sixth month. For nothing is impossible with God.' 'I am the Lord's servant,' Mary answered. 'May it be to me as you have said.' Then the angel left her. Luke 1:26 to 38
Depending on the age of your children - now would be a good time to discuss the passage above.
Sing these hymns:
O Little Town of Bethlehem
by Phillips Brooks, 1835-1893 composed by Lewis H. Redner, 1831-1908
1. O little town of Bethlehem, How still we see thee lie! Above thy deep and dreamless sleep The silent stars go by; Yet in thy dark streets shineth The everlasting Light; The hopes and fears of all the years Are met in thee tonight.
2.For Christ is born of Mary, And gathered all above, While mortals sleep, the angels keep Their watch of wondering love. O morning stars, together Proclaim the holy birth, And praises sing to God the King, And peace to men on earth!
3. How silently, how silently The wondrous gift is given! So God imparts to human hearts The blessings of His heaven. No ear may hear His coming. But in this world of sin, Where meek souls will receive Him still, The dear Christ enters in.
4. O holy Child of Bethlehem! Descend to us, we pray; Cast out our sin, and enter in, Be born in us today. We hear the Christmas angels The great glad tidings tell; O come to us, abide with us, Our Lord Immanuel!
A special thanks to "Nat King Cole" for sharing this with us on YouTube
Angels We Have Heard On High
Old French-English Carol
1. Angels we have heard on high, Sweetly singing o'er the plains. And the mountains in reply, Echoing their joyouis strains.
CHORUS
2. Shepherds, why this jubilee? Why your joyous strains prolong? What the gladsome tidings be Which inspire your heav'nly song?
CHORUS
3. Come to Bethlehem, and see Him whose birth the antels sing; Come, adore on bended knee, Christ the Lord, the newborn King.
CHORUS
4. See Him in a manger laid, Whom the choirs of angels praise; Mary, Joseph, lend your aid, While our hearts in love we raise.
CHORUS
Chorus
Glo-------------------ri--a
in excelsis De------o Glo----------------
ri---a in excelsis De-----o
A special thanks to "
ChristmasSongsHD
" for sharing this on YouTube
Lo, How a Rose E'er Blooming
Traditional by Theodore Baker 16th Century Melody by Michael Praetorius, 1571-1621

1. Lo, how a Rose e'er blooming From tender stem hath sprung! Of Jesse's lineage coming As men of old have sung. It came a flow'r-et bright, Amid the cold of winter, When half spent was the night.
2. Isaiah 'twas foretold it, The Rose I have in mind, With Mary we behold it, The Virgin Mother kind. To show God's love aright, She bore to men a Savior, When half spent was the night.
A special thanks to "
rexlibris99
" for posting this Christmas hymn on YouTube
Copyright, Permissions& Disclaimer
Linked to:
TGIF Blog & Instagram Hop
#ChainLinkyCLIMB
Turn It Up Tuesday
Tuesdays with a Twist
LouLouGirls
______________________________
"Prayer Warriors United" is a google+ Community where Christians come together in prayer.
C
lick HERE to view or join this community
If you need prayer please fill out this
Prayer Request form