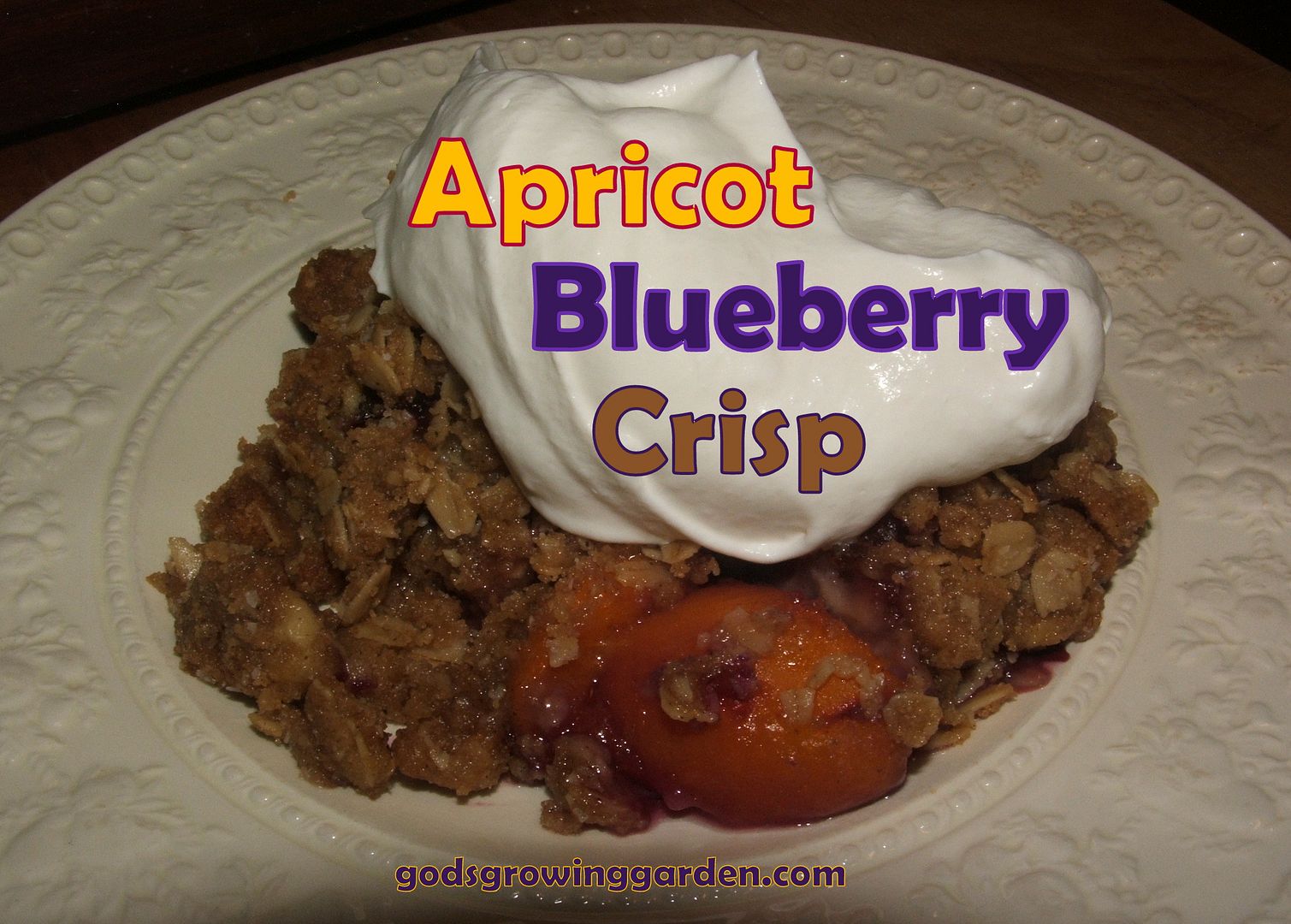 Apricot, Blueberry Crisp RECIPE
The "Crisp" is such a simple yet scrumptious dessert! My featured recipe today has a flavor combination that I'm sure will please even the most finicky of eaters - it's Apricot and Blueberry!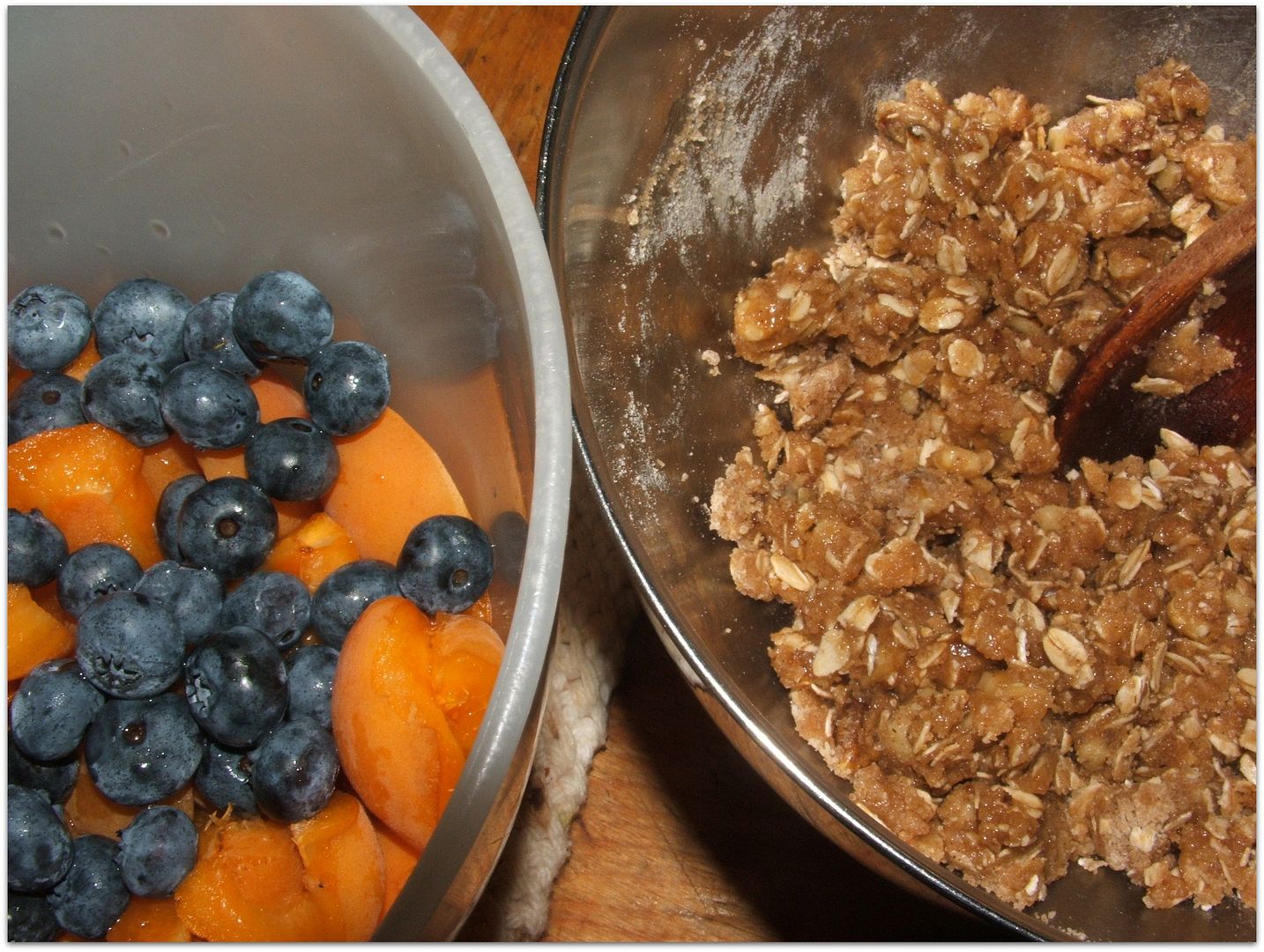 Printable Recipe
2 cups chopped fresh apricots (washed and pitted first)
1 cup fresh blueberries (rinsed and drained)
1/2 cup oatmeal (I used old fashioned rolled oats)
1/3 cup salted butter (melted and cooled to warm)
1/4 cup chopped nuts (I used walnuts)
(a pinch of salt if you used unsalted butter above)
Begin by preparing the fruit (washing, pitting, chopping, rinsing - etc) and set aside until later.
Spray or butter a square glass Pyrex baking dish. Pour the prepared fruit in the bottom of the sprayed baking dish and spread around evenly.
In a different mixing bowl combine the brown sugar, flour, oatmeal, cinnamon, and salt - stir until combined. Now stir in the melted butter and you will notice the mixture to be a little clumpy (see picture above). Finally, stir in the chopped nuts just until distributed.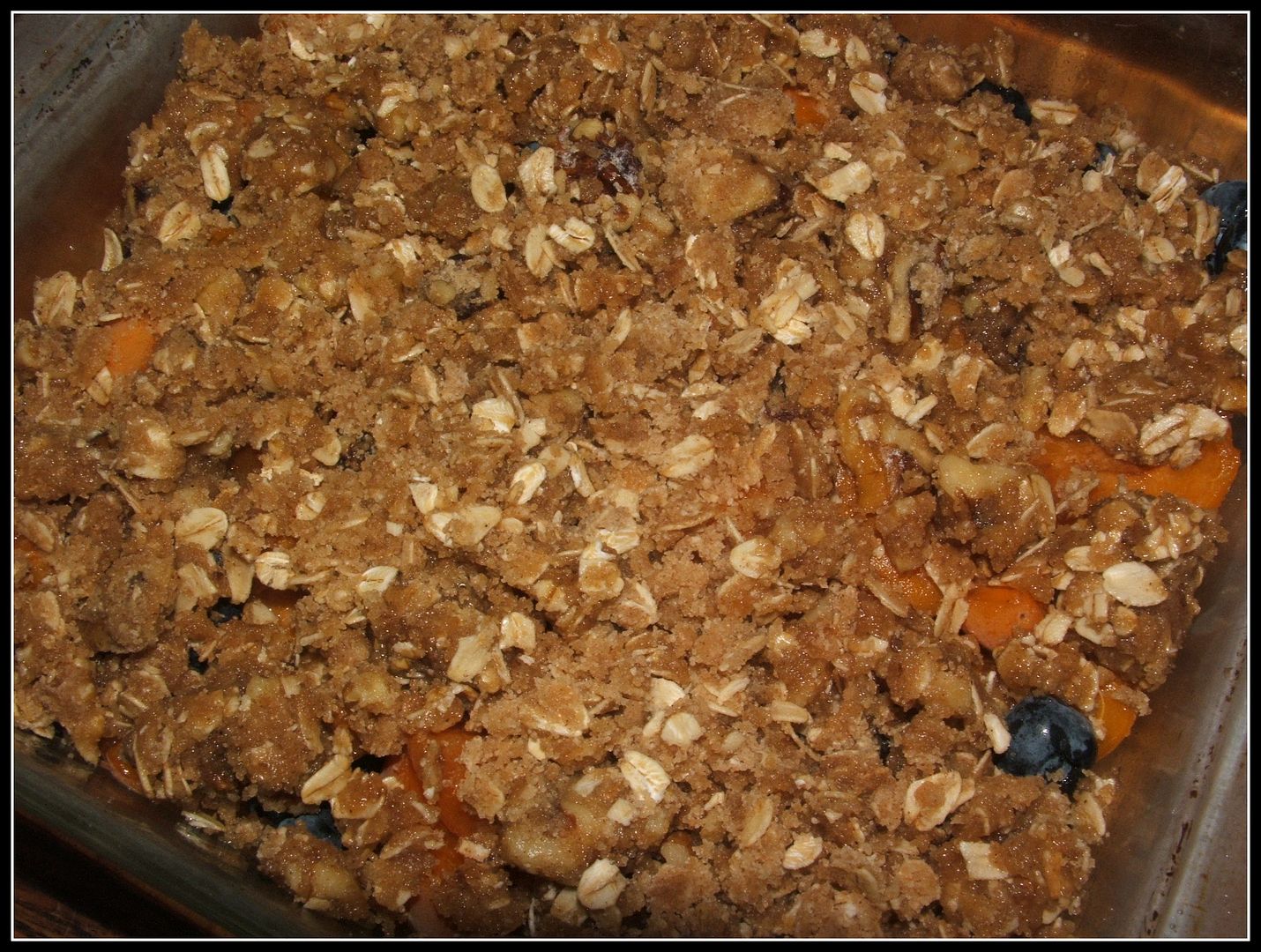 Cover the fruit with the oatmeal mixture (see picture above or below).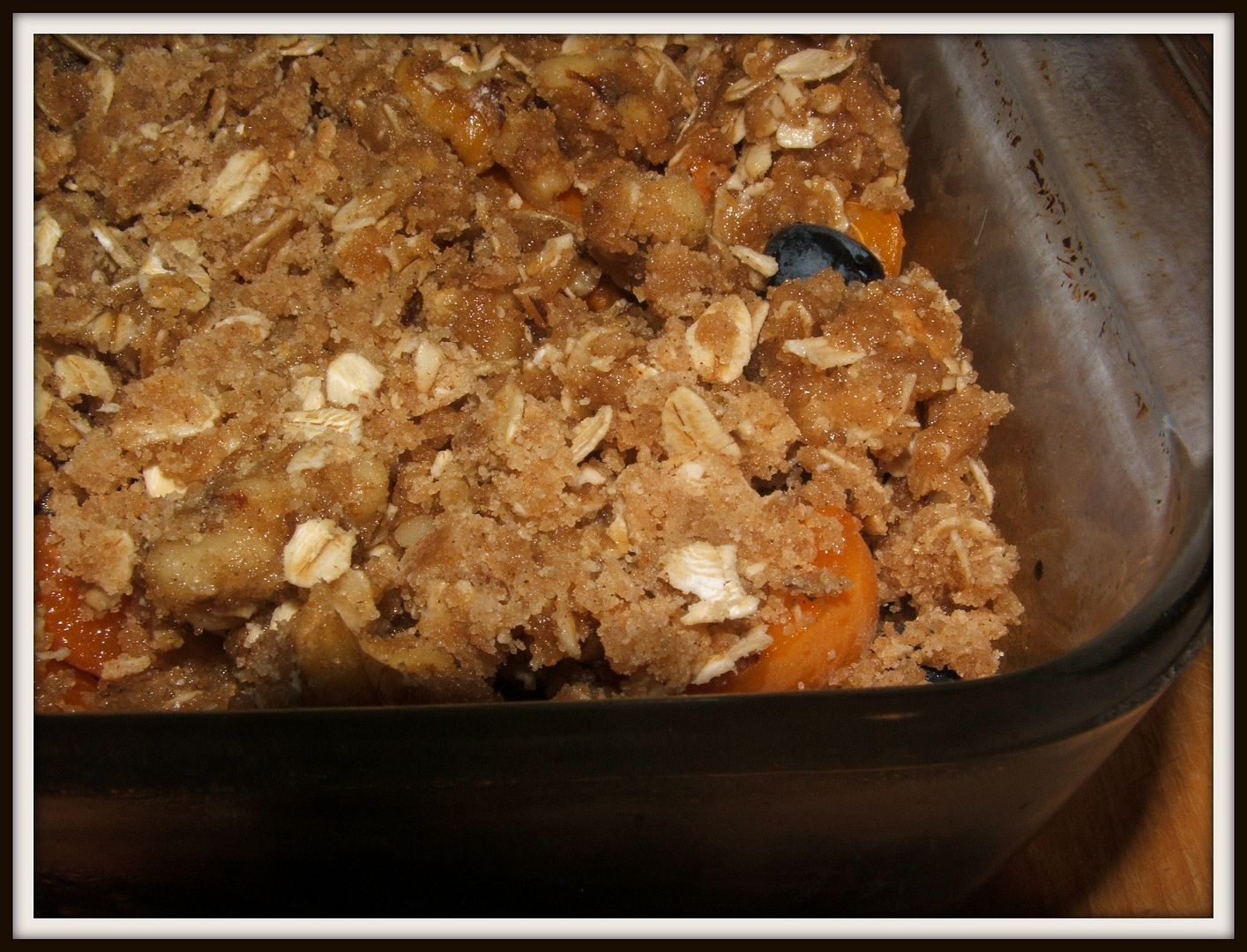 Bake in a preheated 375 degree oven for about 30 minutes (or until desired golden brown color is achieved) Remove from the oven and cool on a rack (see picture below).
After it has cooled, scoop out a portion, top with whipped cream (or just eat plain) and
ENJOY!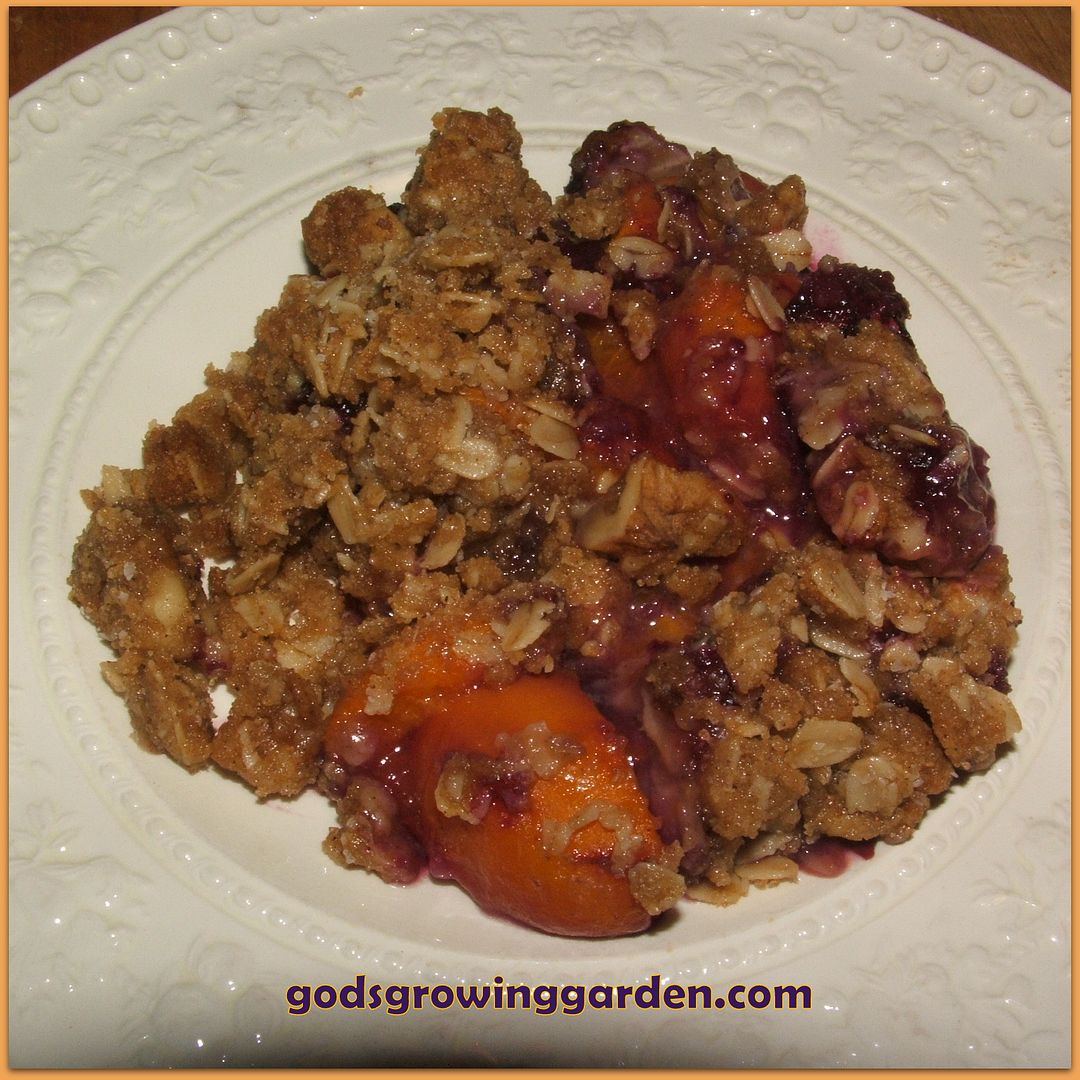 Copyright, Permissions & Disclaimer

Linked to:
You're the STAR
Friday Feature Linky Party
Tuesdays with a Twist
Over the Moon Linky Party
Happiness is Homemade
___________________________________________________________________

Are you in need of Online Counseling?
Professionally Licensed
Spiritually Informed
Readily Accessible


click logo image above
or
click
HERE
to view Faithful Counseling website
_____________________________________________________________________


Take Up The THANKFULNESS Challenge!
I challenge you to thank God for something everyday for one year! Either write it down in a diary OR share with us on a blog. If you have a blog & would like to share your THANKFULNESS posts with us, then please fill out this form:
365 Days of Being THANKFUL form - click HERE
and you will be added to the THANKFULNESS page.