The Importance of Prayer - G U I D A N C E
The featured Bible passage today is Isaiah 58:11 - "The Lord will GUIDE you always".
Let's look that word up in the dictionary:
Guidance - "help or advice that tells you what to do: the act or process of guiding someone" (Merriam-Webster).
"The Lord will guide you always, he will satisfy your needs in a sun-scorched land and will strengthen your frame. You will be like a well-watered garden, like a spring whose waters never fail." Isaiah 58:11
I know that when I am in need of guidance or advice on a problem or even if I'm at a positive crossroads; I always seek God's direction through prayer. I've found that God answers in two main ways:
1. Through the urgings of His Holy Spirit - These urgings/feelings/thoughts might not come at the time when you are praying (although sometimes it might happen right away) but rather these urgings/feelings/thoughts might happen later when you are going about your daily chores or maybe even during a crisis. However, diligent prayer will open up your heart to hear and pay attention to those urgings even if they happen many hours or days after prayer.
"But when he, the Spirit of truth, comes, he will guide you into all truth. He will not speak on his own; he will speak only what he hears, and he will tell you what is yet to come." John 16:13
2. Through those around us or through situations - God places people in our lives not always for us to witness or minister to them but sometimes God might be working through them as an answer to our prayer. Or, God might place us in a situation that will give us the answer that we've been searching for.
Important note: patience is the most important part of searching for guidance through prayer. You can't expect to be given the answer immediately (although that's a possibility - just don't expect it) - God is our God for ever & will never give up on us, so we can NEVER give up on Him or give up on searching out His will for our lives.
"For this God is our God for ever and ever; He will be our guide even to the end." Psalm 48:14
_______________________________________________
Prayer Stories showing that Prayer works (click on each title below to view the entire post):
If you have a true life story about answered Prayer and would like to share this "Prayer Proof" with us here on this blog then please fill out this form

: click HERE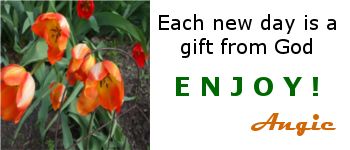 Linked to:
Homemaking Party
Saturday Soiree
______________________________
"Prayer Warriors United" is a google+ Community where Christians come together in prayer.
C
lick HERE to view or join this community
If you need prayer please fill out this