WELCOME to the first "Shop Hopping & Shopping" Linky Party!!
You might not know that there have been many changes for the small online shop owner over the past few months and unfortunately they have not been good changes. Many online shops have just closed their digital doors and that makes me very sad. I love all of the creativity out there & wanted a way to help all of the online shop owners with a Linky for shop items only.
LINK UP YOUR SHOP ITEMS!!
Each month I will feature the item from last month that received the most "likes" & the most "clicks" combined. Since this is the first Linky Party I featured one of my own items: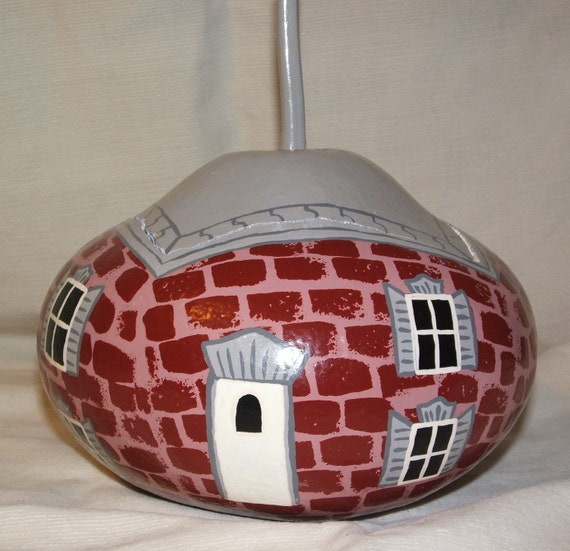 THE GOURDONS OF GOURDONVILLE ARE THE CREATION OF ARTIST ANGIE OUELLETTE-TOWER
EACH GOURD IS GROWN IN HER OWN ORGANIC GARDEN AND ALL OF THE NATURAL FURNISHINGS INSIDE THE GOURD HOUSE ARE COLLECTED FROM THE SURROUNDING WOODS AND FIELDS
THE PURPOSE OF THE GOURDONS IS TO BRING YOUR HOME, YARD AND GARDEN HAPPY DAYS AND YEARS OF GOOD LUCK
MS. OUELLETTE-TOWER IS A REGIONALLY RENOWNED ARTIST. EACH OF HER GOURDS ARE ORIGINALLY HANDCRAFTED, SIGNED AND NUMBERED. FOR INDOOR USE ONLY
The two caterpillars seen in the last 3 pictures call this "Red Brick Victorian" their home. I made the caterpillars from polymer clay. The roof lifts off and inside the home you will see that there is a couch, a little leaf coffee table on the side of the couch. Also, there is a wood shaving bunk bed where the caterpillars sleep. The interior walls are decoupaged with the caterpillar's version of wall paper - pressed leaves.
One Rule - Link up to 5 family-friendly items per shop each month (any item that is not family friendly will be removed).
(by linking up you are giving me permission to feature your item next month if you receive the most "likes" & "clicks" totaled - Thank you)
Even if you don't have your own online shop -- please feel free to do some SHOPPING!
____________________________________________________________
Hop on board the Great Blog Train & travel with us to Athens, GREECE!!
Click HERE to link up!