Tweet #ChainLinkyCLIMB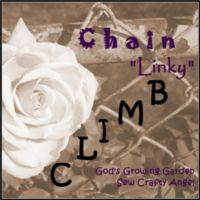 Please welcome The January 2015 Chain "Linky" CLIMB
week#3 co-hosts:
(Click on the blog button below)
Cathy is our permanent week#3 co-host. Checkout what's been happening on "A Peek Into My Paradise" lately:
$1450 Romantic Cash Giveaway
Happy 50th g+ Growing Circles Hop
Our "Friends & Family" Mickey Mouse Bathroom
&
Myrabev from "A July Dreamer"
(Click on the blog button below)

Myrabev's blog is gorgeous ! She shares so many wonderful fashion, beauty & lifestyle tips and reviews. Her blog motto is : "More doing less procrastinating". She also offers many Giveaways (click HERE to view her current Giveaways and enter for your chances to win amazing prizes!)
&
Lisa from "Blogghetti"
(Click on the blog button below)

Lisa's scrumptious blog will make your mouth water! There are so many wonderful recipes and fun blog hops including "Wake Up Wednesday Linky"! This is how she describes her blog: "We all have cookbooks that we cherish with dog-eared pages, bookmarks, and even scraps of paper
sticking out of them with other recipes we want to keep. You probably even have cookbooks that you've picked
up places for one or two recipes and that's all you've found in them to make so far. Not to mention, the many,
many pages we've printed from the food blogs we've read. I see you shaking your head reading this, so you know what I'm talking about! That's where my blog started. I got tired of keeping the small scraps of papers in the books, and not being able to find ones I needed. I wanted – needed them all to be in one place. What better place than the internet where with the click of a mouse, I can have them in sight and get on with the cooking! Now, I want that and more from this blog. You'll find recipes of all types here and sometimes even non-food DIY projects that I have completed like the mini Laundry Room Make Over.
"
________________________________________________
We are looking for wonderful Bloggers like YOU to cohost the February 2015 CLIMB!!
(please sign up in the "linky" at the very end where it says "sign up to cohost HERE")
WELCOME!
It's the month long Networking Blog Hop
With our CLIMB GIVEAWAY!
Networking means helping each other grow!!
If you want to promote a CLIMB link, then use #ChainLinkyCLIMB on Twitter or Google+ so that we can all help each other grow!
Here's how the Giveaway & Co-hosting works - the co-hosts from the previous month's CLIMB will have the opportunity to participate in a Giveaway during the next CLIMB - that gives co-hosts 2 months in a row of blog growing fun!! (If you would like to co-host please sign up at the end of this post using the last "Linky")
Please enter below -one person will win:
- a beautiful 11x14 print from Helen's Etsy Shop called "Flower Wagon" - HFernsOriginals $25 value (with shipping)
- A lovely Kitten Paw Sea Shell Necklace with Peach Freshwater Pearl by
ShorelineDesigned - $20 value
COPPER TONE FAN NECKLACE
by ShorelineDesigned
Copper Tone Fan - Natural Color Kitten Paw Sea Shell with Peach Freshwater Pearl, Sparkly Pure Copper Delicate Chain Necklace
"I personally had the awe inspiring pleasure of plucking this naturally brightly colored Kitten Paw seashell (I like to call them "fans" or "pretty paws") full of bright peach and white from the sugar white sands of the Cape San Blas Beach in the Florida Gulf of Mexico. I have carefully drilled a 2.1 mm hole into the seashell to utilize it as a pretty pendant. All its metal findings are pure copper. The fine and dainty super sparkly high quality copper chain is 17 inches with a strong lobster clasp. The beautiful peach freshwater pearl connector is a 7 mm pearl with pure copper 24 gauge wire. I make sure my jewelry findings are of fine quality."
by
ShorelineDesigned

by Helen Fern
"Flower Wagon" 11x14 print by "
H Fern Originals
": (shop description) "
My goal is to provide you with quality greeting cards and photographs at an affordable price. I have experienced each image you see and tried to capture the feeling in the photograph. Please look around, send me comments - both praise and suggestions - and feel free to ask me any questions. ."
Total prize value is $125!!
CLIMB Giveaway Rules & Conditions:
- this is open worldwide (void where prohibited)
- You must be 18 years or older to enter
- You MUST have a blog to win the Ad spaces (
otherwise these will become a second place prizes)
- You must live in the lower 48 of the United States to win the Necklace & the print (otherwise these will become second place prizes)
- You MUST have a valid PayPal account to win the Paypal Cash (otherwise these will become a second place prizes)
- This Giveaway is open from January 2nd, 2015 until January 30th, 2015
- Winner must respond to email within 48 hours or a different winner will be chosen
- Giveaway Hosts & Co-hosts can NOT enter this Giveaway!, however - JANUARY 2015 CLIMB blog hop co-hosts ARE allowed to enter this Giveaway (provided they are not also part of the Giveaway)
- correspondence is done through email and the winner's email addresses will only be used to deliver or set-up e-prizes. Email addresses will NEVER be sold or shared.
- All prizes will be delivered by the contributing Bloggers/Shop Owners.
- if you have any questions or concerns about this Giveaway please email one of the hosts:
a Rafflecopter giveaway
Now onto the CLIMB (blog hop):
We have changed it up a bit - instead of linking your homepage you may now link up to 4 of your family friendly blog posts per month!!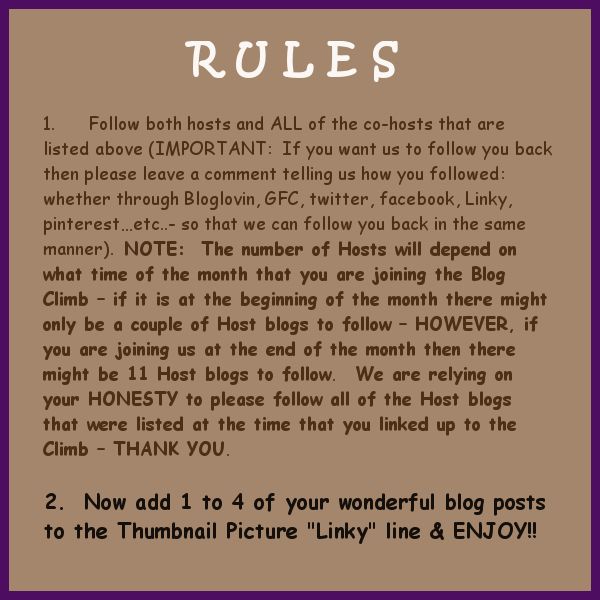 By participating in this blog hop your understand that your link might be promoted on social media. Also, by participating in this blog hop your email address will be added to our CLIMB list & you will be sent an email reminder next month.

Remember - If you co-host you will receive a free Weekly Sidebar Ad and your blog button will appear on both Angie's blog & Angel's blog!!
(The Ad will run live a few weeks after you have co-hosted)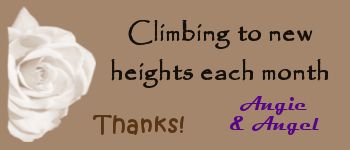 ____________________________________________________________
Hop on board the Great Blog Train & travel with us to Athens, GREECE!!
Click HERE to link up!