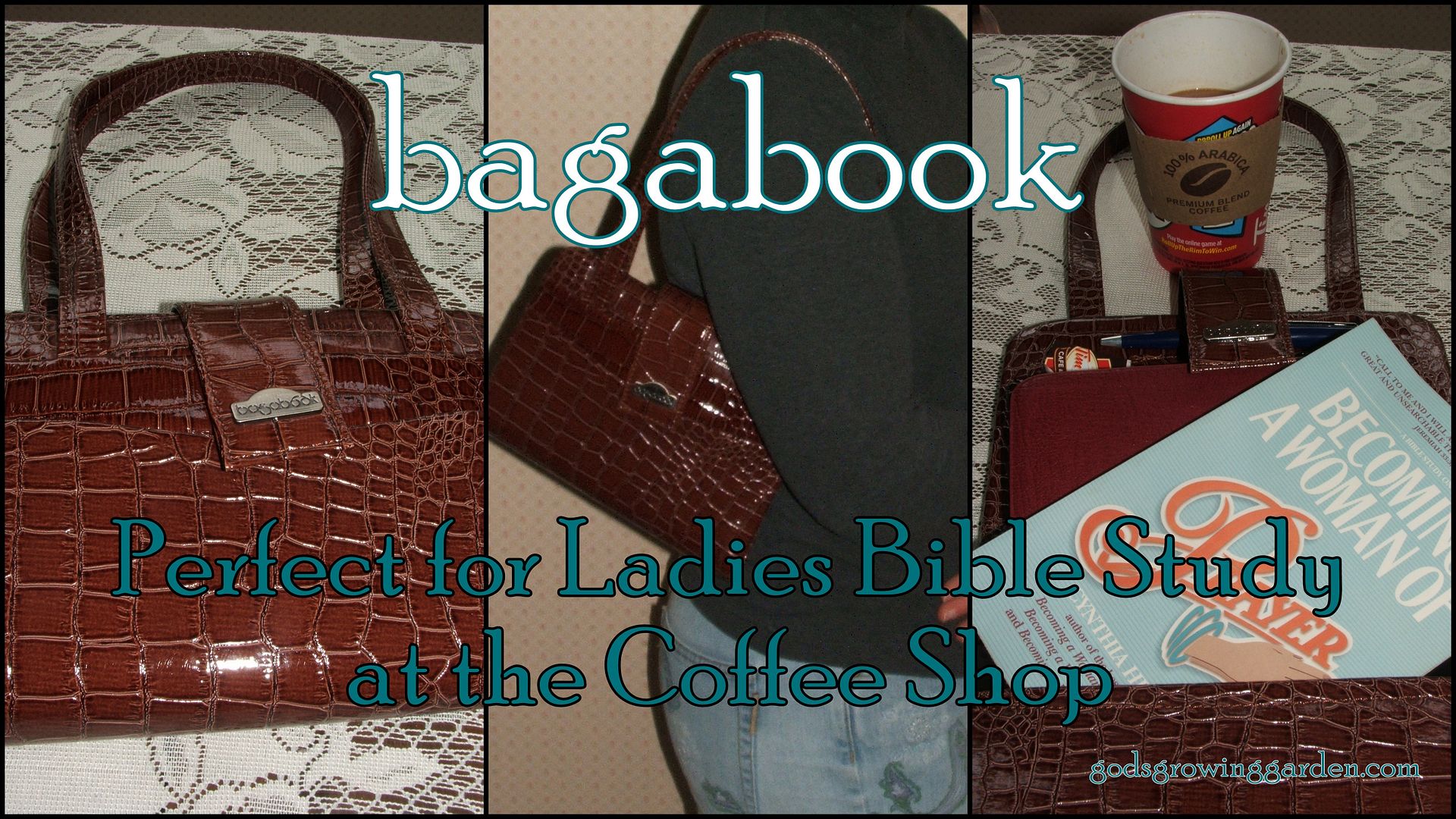 "bagabook" - Perfect for Ladies Bible Study at the Coffee Shop (REVIEW)
You wouldn't think that there could be a new creation that would revolutionize how one carries a book but there is! It's called "bagabook". It looks like a purse but it is actually a fashionable bag for a book!
One day left to enter this great bagabook Giveaway:
http://www.bagabook.com/prizedraw
Follow bagabook on:
facebook
https://www.facebook.com/Bagabookltd
twitter
https://twitter.com/Bagabook
NOTE If you are interested in purchasing from "bagabook" then please use this code:

GGG20

for 20% off!!
I picked out this lovely brown "bagabook" to match my purse almost exactly (click HERE to view this style "bagabook"). There are two inner pockets for placing the front book cover & back cover, there is also a ribbon bookmark attached to the bag so you will never loose your place in your book. The magnet clasp makes opening and closing very smooth, simple and secure.
I used my "bagabook" a little differently than many: it's my new Bible study carry case! I have slipped my entire study booklet (Becoming a Woman of Prayer) into one side pocket and in the other pocket I have inserted the back cover of my small King James Version Bible (which just happens to be marked with the ribbon bookmark).
I also included my "Coffee Rewards" card in the card slot and don't forget to slip a pen through the pen loop (see picture above). Everything that I need for Ladies Bible Study at the Coffee Shop.
(NOTE: At home I use my giant N.I.V. Bible to study and answer my questions for that week but then for the actual Bible study I bring my smaller Bible to the study - a large Bible will not fit into this bag).
"bagabook" comes in many different colors and textures to match your wardrobe and your specific style. It is very comfortable to wear over the shoulder and in Winter when you have to wear a bulky coat I suggest holding it in your hand or around your forearm instead of your shoulder.
I am overjoyed with this lovely item & I would recommend "bagabook" to any avid reader!
I just happen to open my Bible to this verse and found it appropriate:
"Make a joyful noise to the Lord all the lands! Serve the Lord with gladness! Come into his presence with singing!" Psalm 100:1&2
_____________________________________________________________
Click the button below to enter the Great Giveaways going on now!!: