Flowers by Color - YELLOW
This is my second installment of a new post series featuring flowers by color. For the next few months I will pick a different color and share my favorite flowers of that color (these lists are NOT a complete list of all flowers of that color, simply just my favorites). This week is YELLOW flower week.
Certain featured flowers have links to previous posts on this blog - please feel free to click on these links to view the entire posts (they will be how-to-grow or maintenance posts).
Firstly, you will need to know the difference between annual, perennial & biennial:
Annual Plant - completes its lifecycle in one season/year. By "lifecycle" I mean from germination to seed formation. Here are some examples of annual plants: green beans, petunia, sage, sunflower, morning glory and so much more.
Perennial Plant - lives for more than 2 years but produces seed in one season without dying afterward. Some examples of perennials: most fruit trees like apple, vegetables like asparagus or leeks, day lilies, peonies and so much more.
Biennial Plant - 2 years to complete its lifecycle. Examples are: parsley, caraway, foxglove, parsnips and so much more.


Forsythia
This is perennial shrub/bush that is very easy to grow. I would recommend trimming when it gets larger otherwise it will become out of control. This blooms even earlier in the Spring than tulips.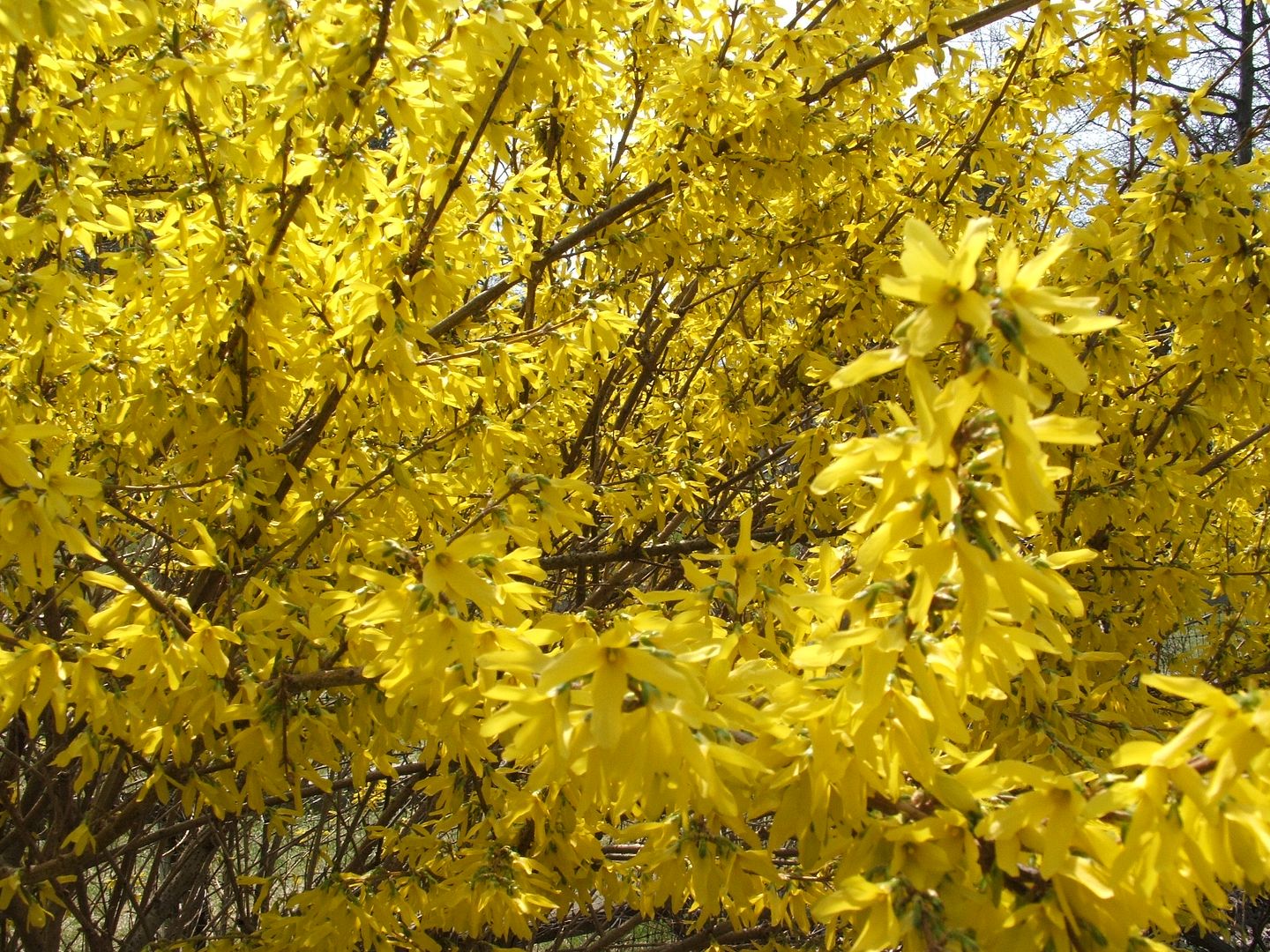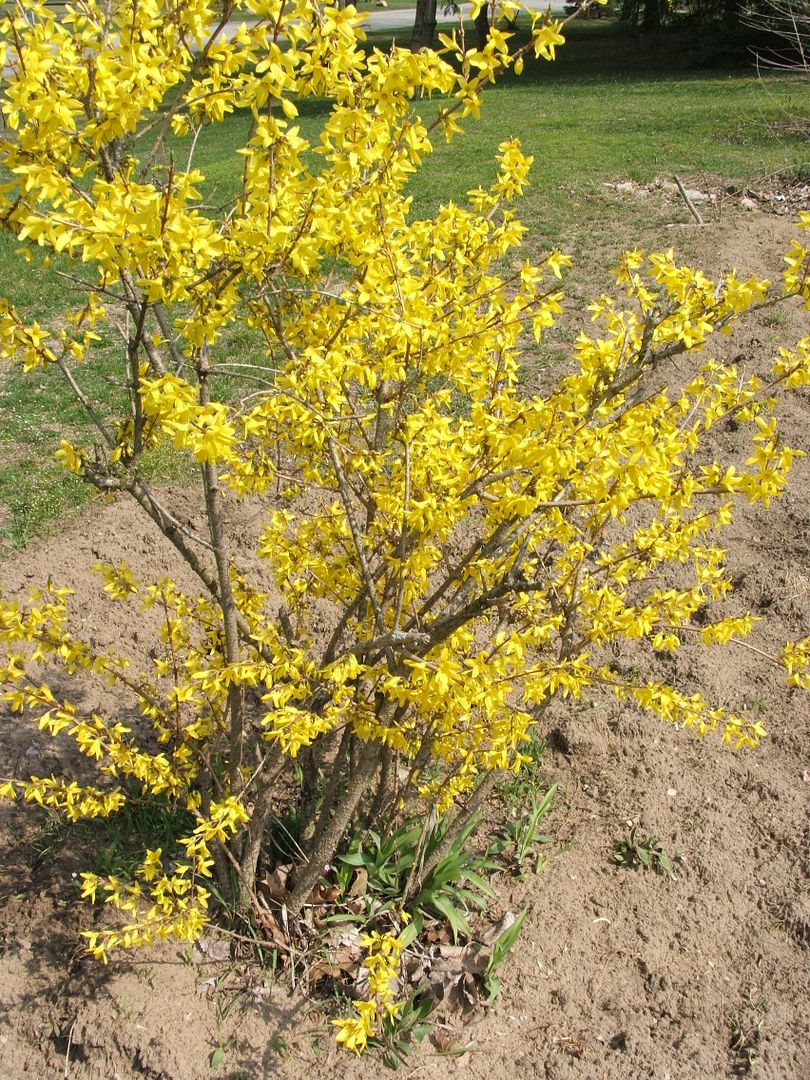 Rose
I did a series on this blog five years ago called "Frank's Flowers" - Frank is my dad and he is a master at growing roses.
Zinnia
This is an annual flower. Zinnias are susceptible to powdery mildew but otherwise a joy to grow.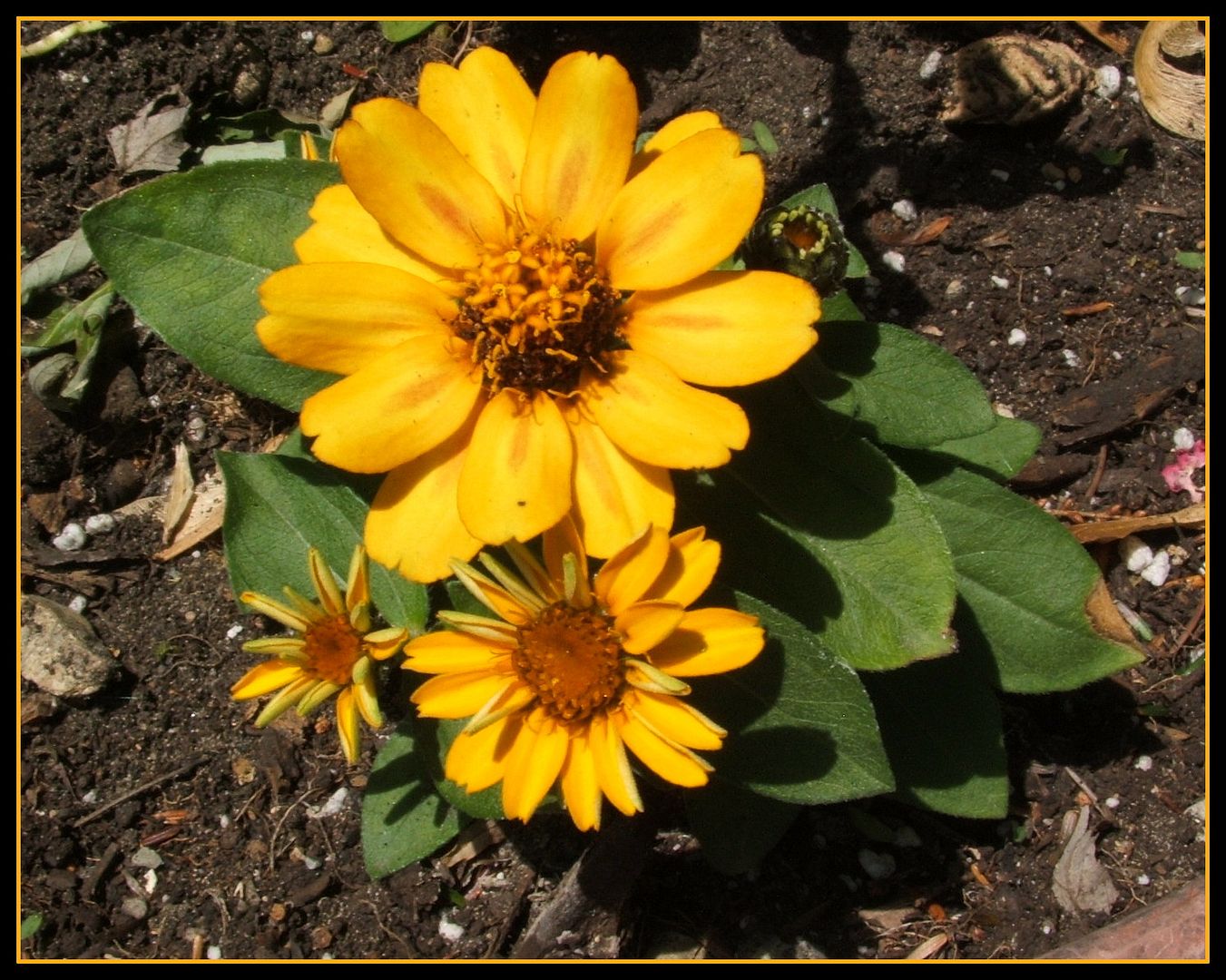 _______________________________________________
Before I reveal my favorite yellow flower - I wanted to share this fantastic website with you:
Specifically, checkout this article that has many creative and wonderful edging ideas for your flower garden
(please click on the title below):
9 Amazing Affordable Landscape Edging Ideas
_______________________________________________
SUNFLOWERS - 7 Different Yellow Varieties
Vincent's Choice
click HERE to view
This sunflower variety was named after my favorite Impressionist artist: Vincent VanGogh.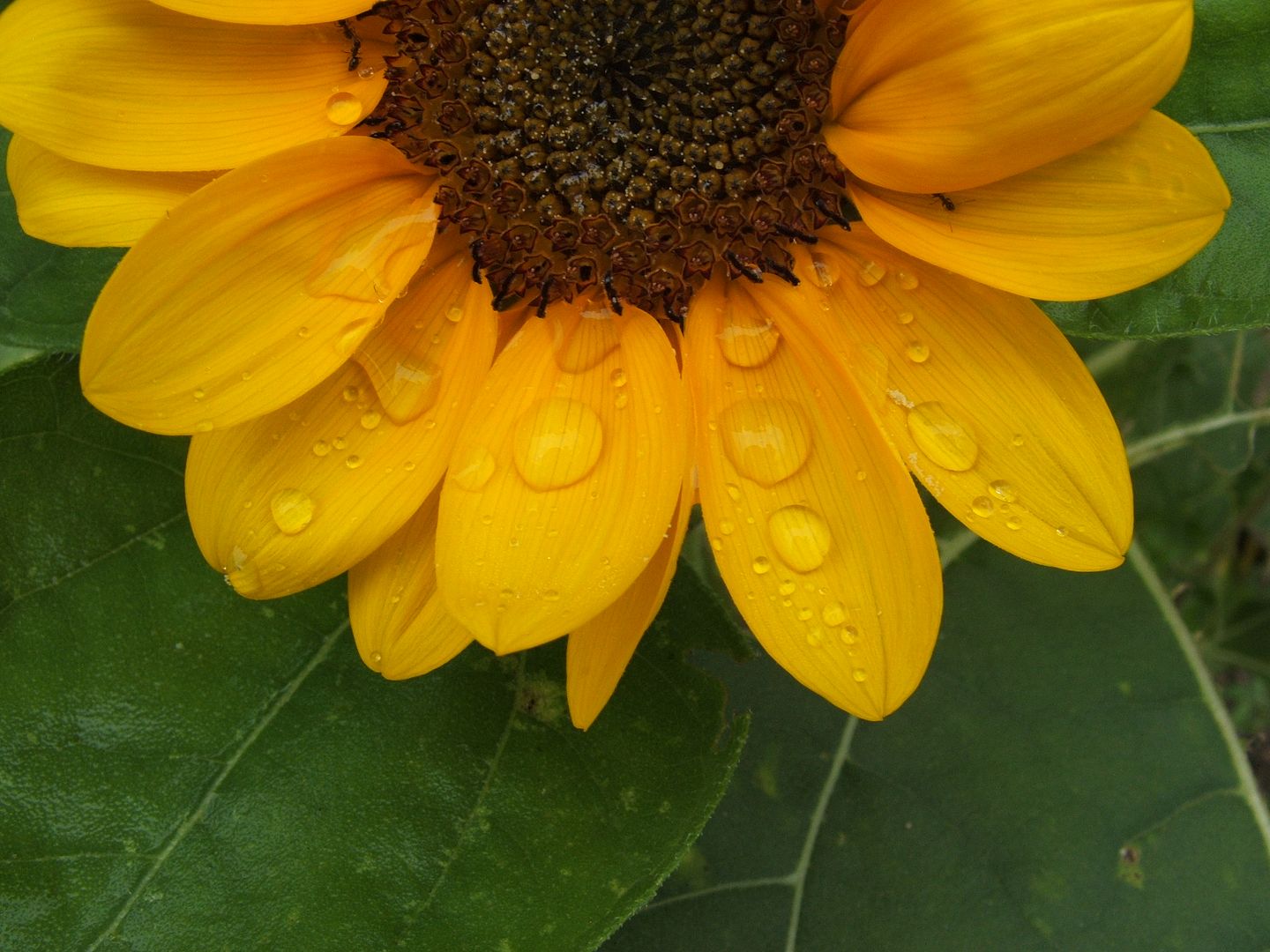 Photo by Angie Ouellette-Tower
Tiny "Giant Sungold"
click HERE to view
The original name of this sunflower made be chuckle "Giant Sungold" since the flowers were quite miniature in sunflower terms. I renamed this variety "Tiny Giant Sungold".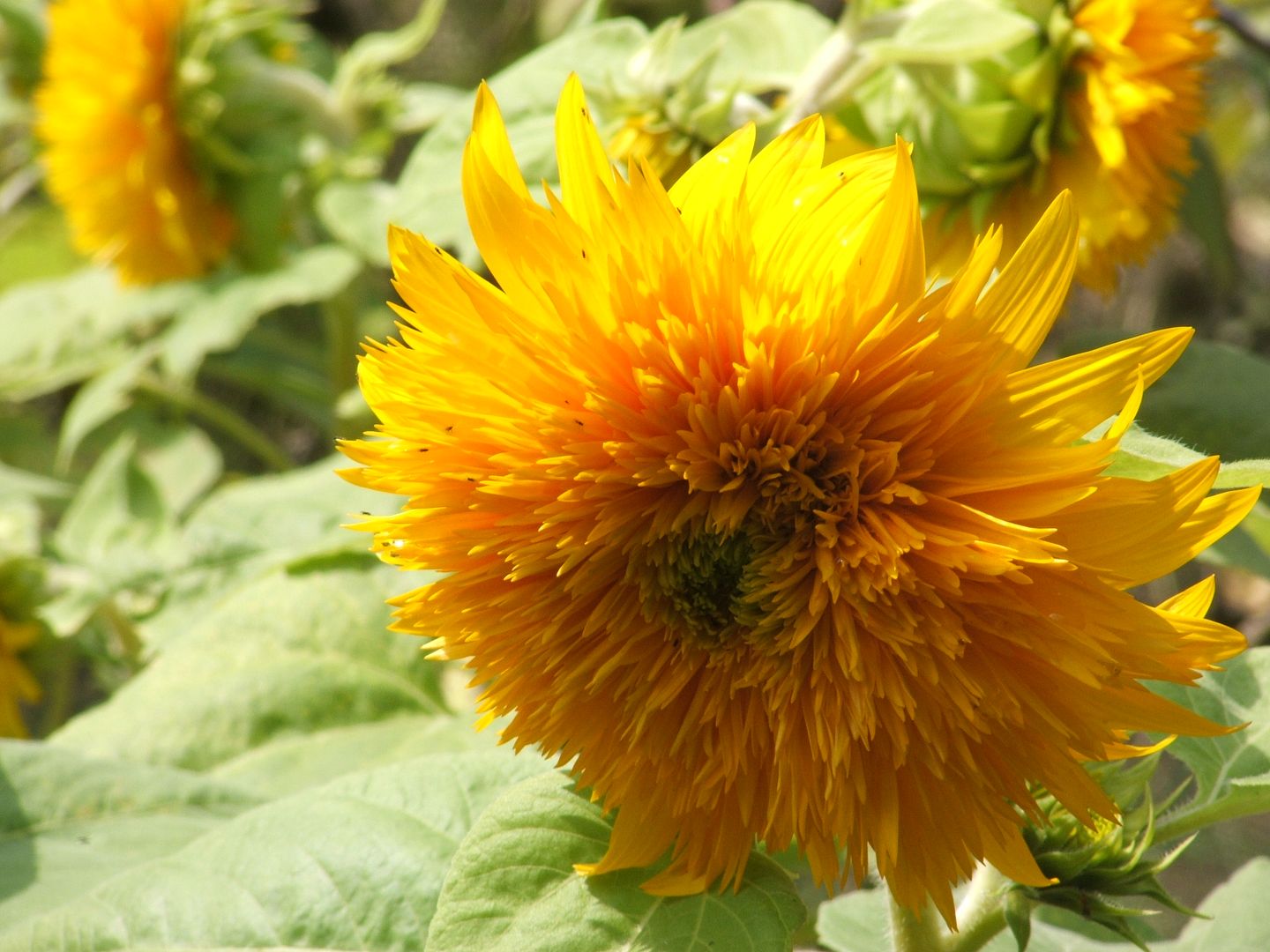 Photo by Angie Ouellette-Tower
Giant Gray Stripe
click HERE to view
I could never understand why this was called "Gray Stripe" since there isn't a bit of gray in this flower. Then a friend of mine answered my confusion when she said: "that's because of the gray stripe on the seed" - hahahaha - that makes sense.
Photo by Angie Ouellette-Tower
Starburst Blaze
click HERE to view
This unique sunflower was a mixture of 3 distinct colored sunflowers including this light lemon yellow color. (You will just have to click on the link above to view the other two colors).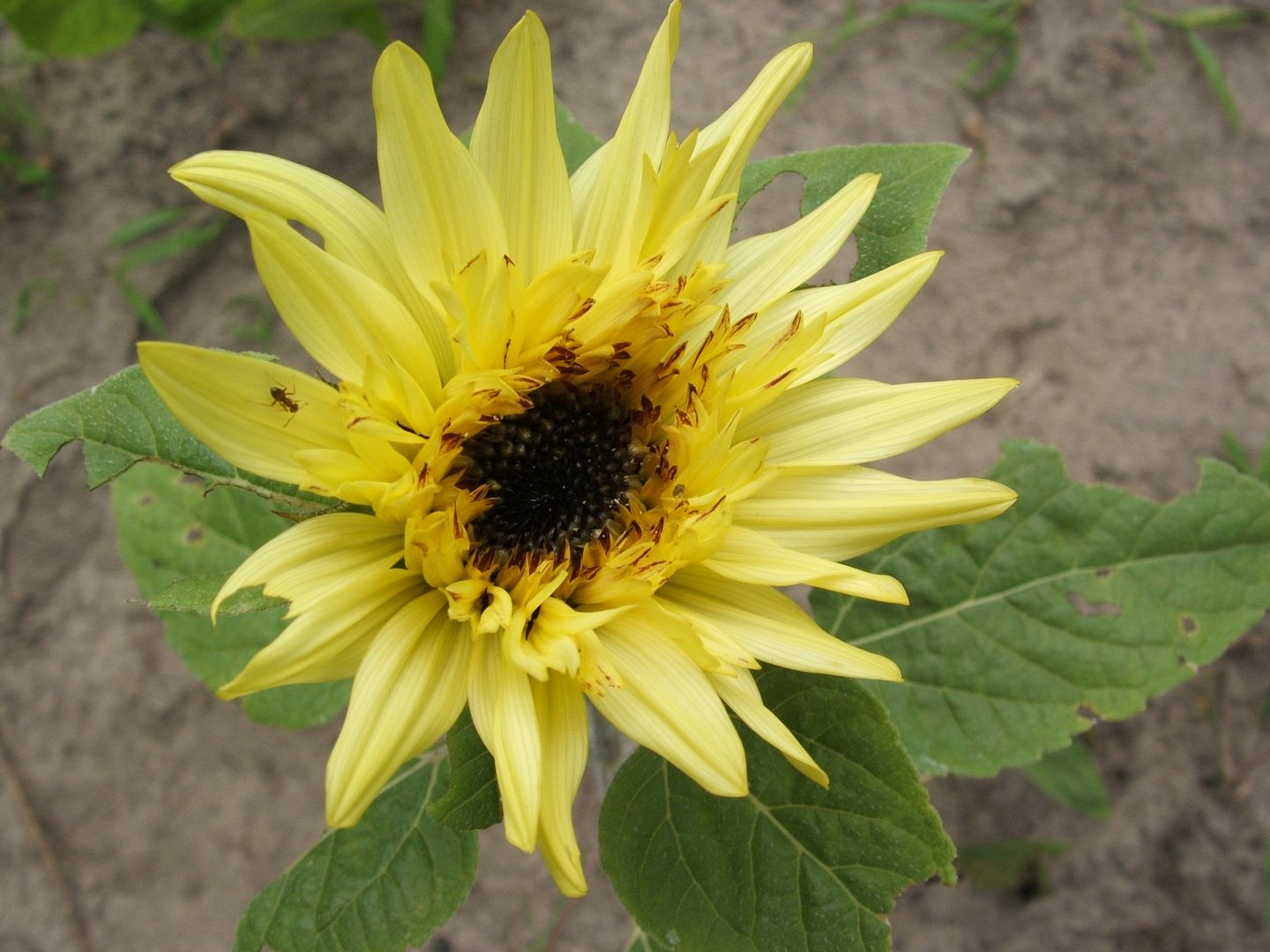 Mammoth
click HERE to view
This variety was the star of my garden in 2012. It truly is a mammoth beauty.

photo by Angie Ouellette-Tower
Soraya
click
HERE
to view
I was not the only one that enjoyed this sunflower variety - insects also enjoyed every inch. They devoured these flowers. If you try to grow organically (like I do) then I suggest growing a different sunflower variety.
Monet's Palette Mixture
click
HERE
to view
I think there must have been a mistake with this sunflower seed packet because I only had 2 colors: yellow and a dark red (almost brown). If you know anything about the artwork of Monet then you know that these two colors certainly do NOT define his mastery.




photo by Angie Ouellette-Tower
Copyright, Permissions &Disclaimer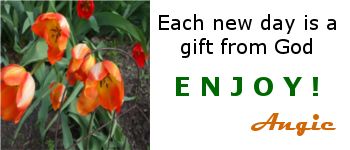 This post received the most clicks on:
Over the Moon Link Party
Linked to:
Pretty Pintastic Party #158
Happiness is Homemade
Tuesdays with a Twist
Lou Lou Girls
Turn It Up Tuesday
Wonderful Wednesday Blog Hop
Friday Feature Linky Party
Over the Moon Linky Party
____________________________________________________________________
Recently on "Essential Oil Saturdays"
We learned how essential oils are extracted from flowers/leaves/roots.
Click HERE to read.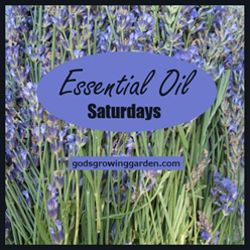 Click HERE to view more about Essential Oils